The SoloPRO consists of two pieces of steel which interlock and are held together with screws. Inside it is the DataCast (ioSafe's trade name) endothermic insulation (which was described in the last discussed patent). Since hard drives are comparatively low power (in the 5-20 W range), a hatchless design with no moving parts is used. The HydroSafe (again, ioSafe's trade name) barrier is the water resistant enclosure described in one of the inventions listed in the second patent. The photograph below shows the internals of the ioSafe SoloPRO. Note the two zip ties used to seal the wires going into the waterproof pouch.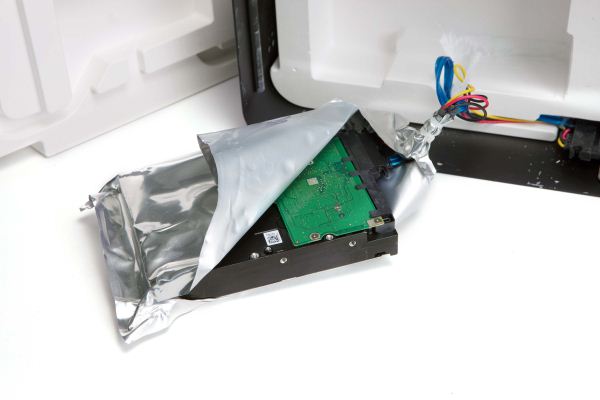 We looked at the technology behind ioSafe's products in the previous section and had a look into the internals just now. But, how effective is the technology? Instead of subjecting the unit to fire and water damage, and just presenting readers with results which a number of other excellent reviews have already done, we decided to concentrate on covering the technology behind the unit. That said, we went through a large number of ioSafe videos on YouTube and decided to present one particular destruction / recovery attempt which, we believe, brings across the disaster proof nature of ioSafe's offerings in a realistic scenario. Embedded below is the video review of an ioSafe unit by GearDiary's Larry Greenberg
The above video also shows how to recover the data from an ioSafe unit subject to fire and water damage. In almost all cases, however, the users just need to mail the drive back to ioSafe for data recovery (and getting another ioSafe unit with that data).
There are other videos on YouTube showing how ioSafe's offerings stand up to various destruction attempts, and we believe there was nothing we could do in our testing that could one-up those professional destruction attempts.
Home users dealing with small amounts of data can always back up their contents using cloud services like Dropbox and Box.net. Serious businesses always have an off-site tape backup or some other similar mechanism for data backup. However, the former is not suitable for large amounts of data (say, more than a few hundred GBs), and the latter is not suitable for making a disaster proof copy of recently changed files. Keeping this in consideration, it is also necessary to evaluate the performance metrics of the unit.