Package Contents, Fan, and Power Rating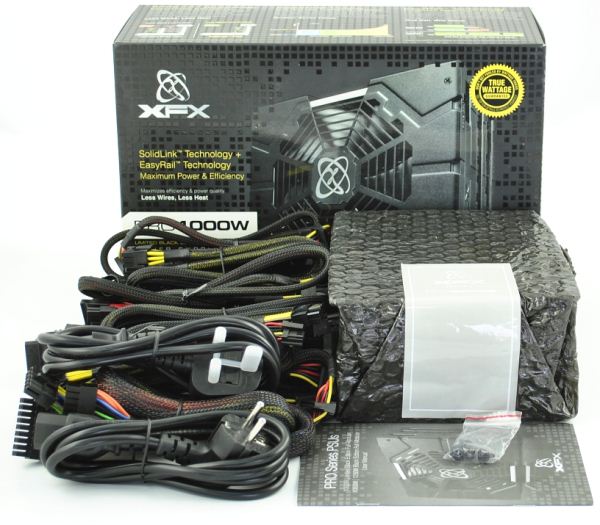 The contents of the package are not very generous this time. Besides a relatively short user manual, two different power cords, and some screws, XFX delivered the modular cables without any bag or cable ties. Of course the electronics is much more important, but customers should get more for the high price. Features of the product include the 80 Plus Platinum certificate, a 5-year warranty, the "EasyRail Technology" (single +12V output) and the "SolidLink Technology". The last item is a nearly wireless connection to the modular PCB. In addition XFX says that this PSU is ready for the most pretentious gamer PCs with CrossFire certification, but that's hardly surprising given the wattage and efficiency rating.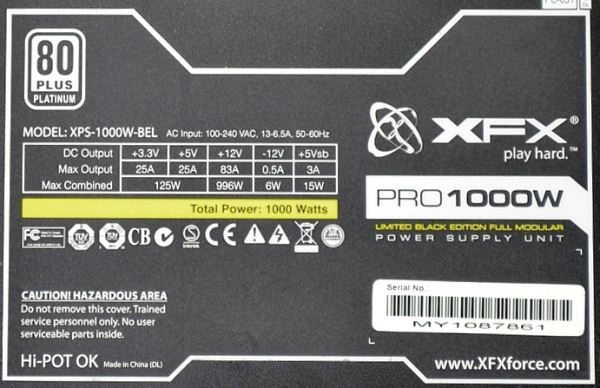 According to the label this PSU has a single +12V output rated at 83A, which is quite a lot. Both +3.3V and +5V get fed by this output and are specified at 25A each. Those outputs can provide up to 125W, which is as high as the values we saw from Seasonic and more than sufficient for all modern PCs, though older PCs might need more power here. The +5VSB at 3A is also relatively strong.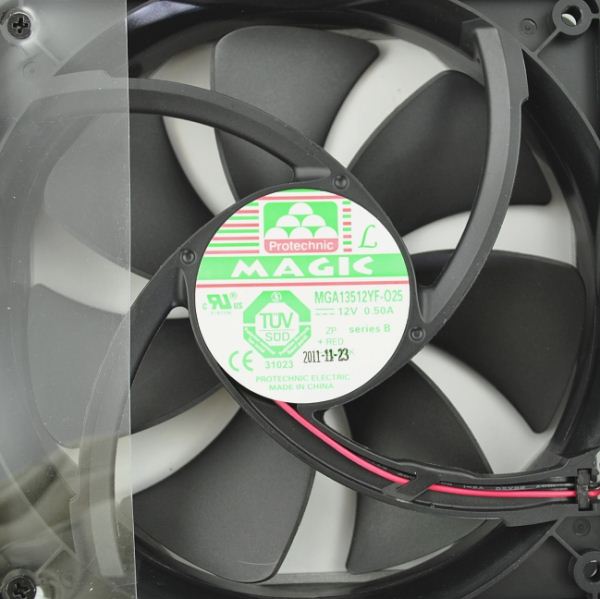 The Protechnic MGA13512YF-025 is a good fan with a fluid dynamic bearing (FDB is a kind of long-life version of the sleeve bearing), but we'd like to see Sanyo Denki here. In this case the fan is sharp-edged and more audible than the San Ace one. XFX could get Sanyo Denki without any problems since Seasonic uses them as well. However, this version is still better than the quality Yate Loon or equivalent that other companies use. The fan is the only moving part in a PSU so it's nice to see that XFX chose a FDB.