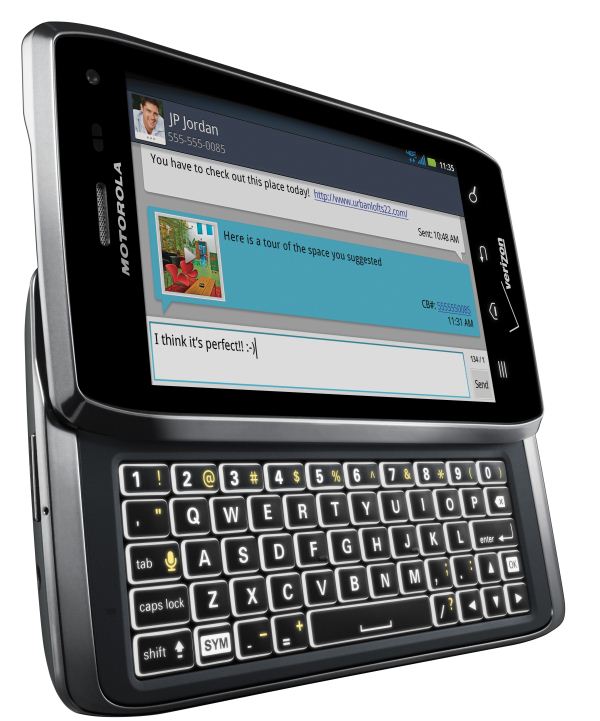 It feels like we first saw images of the Droid 4 just a few days after our review went live. And so seven months later, looks like Verizon customers will finally have a chance to get their hands on the latest iteration of the Android phone that started it all (on Verizon, at least). Officially announced at CES (peep our hands-on here and here), the Droid 4 continues Motorola's recent history of marginally iterating with each new model. So, while the screen size (4.0"), resolution (qHD) and chipset (TI OMAP 4430) remain the same, the clock speed (1.2GHz), RAM (1GB) and form factor have been reworked.
The design mirrors the look of the Droid RAZR, including the sealed battery (now up to 6.8 Whr), and svelte design. Ironically, the phone is a hair thicker than the Droid 3 it replaces (13.1 mm vs. 12.9 mm), and some of that added thickness is a result of the inclusion of an LTE radio. There aren't a whole lot of QWERTY LTE phones, and the Droid 4 bests Samsung's Stratosphere 4G in thinness by nearly a millimeter. The 4.0" screen is TFT-LCD with PenTile RGBW at 960x540, likely the same one as the Droid 3.
Like all phones not called the Galaxy Nexus, the Droid 4 will ship with Gingerbread (skinned with not-Blur), and an Ice Cream Sandwich upgrade will be incoming at a later date. Positioning the device at $199 gives buyers the option of the super-thin RAZR or the QWERTY inclusive Droid 4, with the cutting-edge Galaxy Nexus or the RAZR MAXX with its huge battery. Stay tuned, Droid 5 rumors should be trickling in any minute now.
Source: Verizon