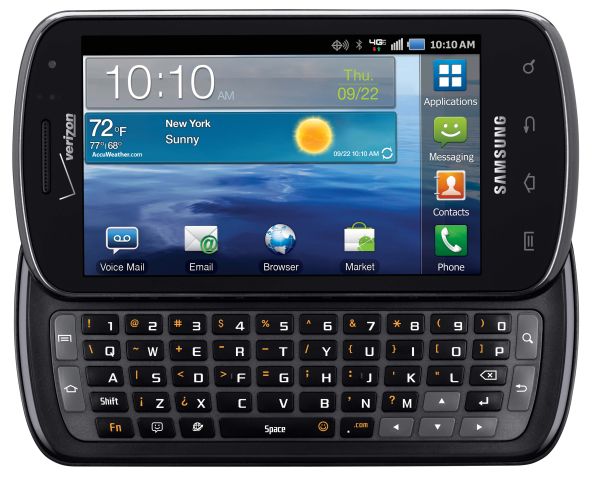 With Palm essentially dead, and RIM undergoing a less than smooth transition, it seems at times that more companies are going after the suits and ties crowd that have been ardent devotees the the former mobile giants. And so, in the press release today announcing the Samsung Stratosphere, the first LTE device on Verizon Wireless to include a QWERTY keyboard, the bulk of the text involves the business features of the device, with just a few lines to discuss media features and a single mention of playing games. Nonbusiness types might have a few nice things to say about the Stratosphere, though.
Sporting a 4" SuperAMOLED WVGA display, a 1 GHz Hummingbird SoC, 1.3 MP front-facing and 5 MP rear-facing cameras and running Gingerbread, the Stratosphere is basically, a Galaxy S. So, this may be last years internals, but the reportedly slim form factor, keyboard and LTE may strike a note for those itching to upgrade. There's no mention of TouchWiz, though the press stills feature its familiar home screen. Microsoft Exchange ActiveSync is present for e-mail, calendar and contacts. Cisco's AnyConnect provides corporate VPN connectivity, and Sybase Afaria provides remote device management, so work issued phones can be wiped by IT when you leave yours in a cab.
We're curious just how thin the device might be, certainly Samsung has experience building devices that compete on thin, but thin QWERTY is hard to do. To find out, check your local Verizon store Oct. 13th, and if the upgrade bug bites you this'll ring up to $149 on contract after a mail in rebate.
UPDATE: We got the Stratosphere's dimensions in and are including them in a comparison chart below, and at 0.55" thick, this isn't Galaxy S 2 territory, nor was it expected to be. It is however thicker than its most recent competitor on VZW, the Droid 3, whose 0.51" doesn't have to make do with the additional LTE chip. Still, it is comparable to other LTE stablemates and to other QWERTY's on the market.
Physical Comparison
T-Mobile MyTouch 4G Slide
Motorola Droid 3
Samsung Stratosphere
Samsung Droid Charge
Height
122 mm (4.8")
123.3 mm (4.85")
126.0 mm (4.96")
129.9 mm (5.11")
Width
66 mm (2.6")
64.1 mm (2.52")
64.5 mm (2.54")
67.5 mm (2.65")
Depth
14 mm ( 0.55")
12.9 mm (0.51")
14.0 mm (0.55")
11.90-14.96 mm (0.47"-0.59")
Weight
184 g (6.49 oz)
184 g (6.49 oz)
164.4 g (5.8 oz)
143 g (5.04 oz)
CPU
1.2 GHz Dual Core Snapdragon MSM8260
1 GHz Dual Core Cortex-A9 OMAP 4430
1 GHz Hummingbird S5PC110
1 GHz Hummingbird S5PC110
GPU
Adreno 220
PowerVR SGX 540
PowerVR SGX 540
PowerVR SGX 540
RAM
768 MB LPDDR2
512 MB LPDDR2
512 MB LPDDR2
512 MB LPDDR2
NAND
4 GB NAND with 8 GB microSD Class 4 preinstalled
16 GB NAND, up to 32 GB microSD
??
2 GB NAND + 32 GB microSD preinstalled
Camera
8 MP AF/Dual LED flash, f/2.2, 1080p30 video, VGA front facing
8 MP with AF/LED Flash, 1080p30 video recording, VGA (0.3MP) front facing
5 MP with AF/LED Flash, 480p video recording, 1.3 MP front facing
8 MP with AF and LED flash, 720p30 video capture, 1.3 MP front facing
Screen
3.7" 800 x 480 S-LCD
4.0" 960 x 540 RGBW LCD
4.0" 800 x 480 SuperAMOLED
4.3" 800 x 480 SAMOLED+
Battery
Removable 5.62 Whr
Removable 5.65 Whr
???
Removable 5.92 Whr
Source: Verizon