Normalized Clocks: Separating Architecture & SMs from Clockspeed Increases
While we were doing our SLI benchmarking we got several requests for GTX 580 results with normalized clockspeeds in order to better separate what performance improvements were due to NVIDIA's architectural changes and enabling the 16th SM, and what changes are due to the 10% higher clocks. So we've quickly run a GTX 580 at 2560 with GTX 480 clockspeeds (700Mhz core, 924Mhz memory) in order to capture this data. Games that benefit most from the clockspeed bump are going to be memory bandwidth or ROP limited, while games showing the biggest improvements in spite of the normalized clockspeeds are games that are shader/texture limited or benefit from the texture and/or Z-cull improvements.
We'll put 2 charts here, one with the actual framerates and a second with all performance numbers normalized to the GTX 480's performance.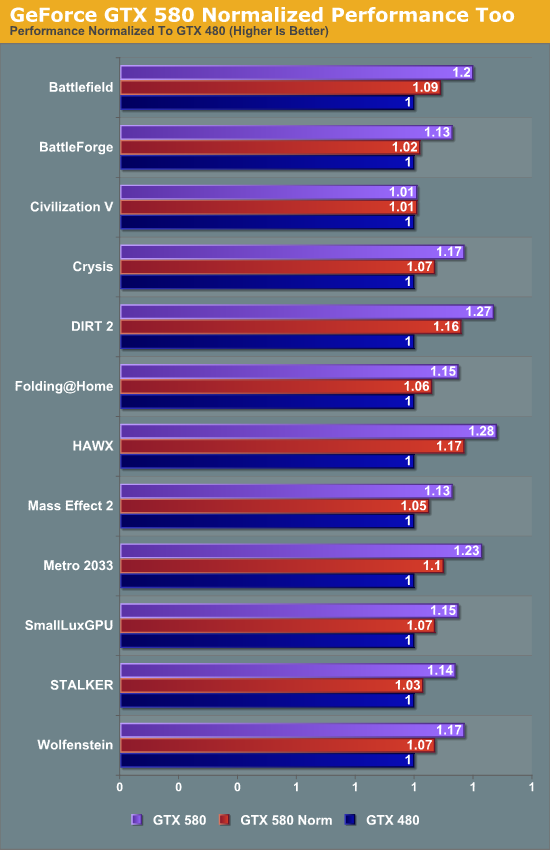 Games showing the lowest improvement in performance with normalized clockspeeds are BattleForge, STALKER, and Civilization V (which is CPU limited anyhow). At the other end are HAWX, DIRT 2, and Metro 2033.
STALKER and BattleForge hold consistent with our theory that games that benefit the least when normalized are ROP or memory bandwidth limited, as both games only see a pickup in performance once we ramp up the clocks. And on the other end HAWX, DIRT 2, and Metro 2033 still benefit from the clockspeed boost on top of their already hefty boost thanks to architectural improvements and the extra SMs. Interestingly Crysis looks to be the paragon game for the average situation, as it benefits some from the arch/SM improvements, but not a ton.
A subset of our compute benchmarks is much more straightforward here; Folding@Home and SmallLuxGPU improve 6% and 7% respectively from the increase in SMs (theoretical improvement, 6.6%), and then after the clockspeed boost reach 15% faster. From this it's a safe bet that when GF110 reaches Tesla cards that the performance improvement for Telsa won't be as great as it was for GeForce since the architectural improvements were purely for gaming purposes. On the flip side with so many SMs currently disabled, if NVIDIA can get a 16 SM Tesla out, the performance increase should be massive.