Earlier this year, NVIDIA quietly announced 3DTV Play, a driver add-on for 3D TV owners that would allow them to take full advantage of the HDMI 1.4a port on their 4xx GPUs / 3D Vision GPUs by enabling 3D over HDMI. Without 3DTV Play, the NVIDIA 3D PC experience had been restricted to NVIDIA 3D Vision capable monitors with specialized glasses, and for 3D TVs the experience was limited to just Blu-Ray 3D. Now after some months in limbo, 3DTV Play is finally being released and shifts this experience to the big screen.

Introduction

It is no secret that TV makers are heavily betting on 3D becoming popular to drive sales. However, the market reception has been lukewarm at best due to two reasons. First, 3D TVs are not the ideal home experience due to the necessity for glasses and the health warnings associated with 3D content viewing. Secondly, there is a lack of content from the perspective of both console games and Blu-Ray movies to shift consumers to 3D TVs. There are very few channels broadcast in 3D, and the cost associated with covering events and programs in 3D is much more than the standard 2D broadcast. Studios are unwilling to invest much further in this till the consumer demand for such channels increase. In this scenario, the PC platform emerges as the leading provider for 3D content. In addition to a large number of 3D game titles, we are also starting to get user generated 3D content such as those from the recently introduced Fujifilm 3D camera and Panasonic camcorders. With years of development for the 3D ecosystem behind them, NVIDIA has taken up the opportunity to bring it to the TV platform with 3DTV Play.

Technical Details

3D Vision has been around for quite some time, and it uses a dual link DVI connector to supply the 120Hz refresh rate necessary to sync with shutter glasses in order to provide a 3D effect. With the bandwidth available in dual link DVI connectors, it is possible to push across 120Hz signals at up to 1920x1200 for a smooth HD 3D experience. Unfortunately, 1080p60 (120Hz actual, 60Hz per eye) is not part of the HDMI 1.4a standard. Present day 3D TVs support upto 720p30 and 1080p24 for 3D signals. These are the type of video signals which 3DTV Play enables over the HDMI port of the 4xx GPUs. With 3DTV Play, consumers can experience 3D games and photos on their big screen TV.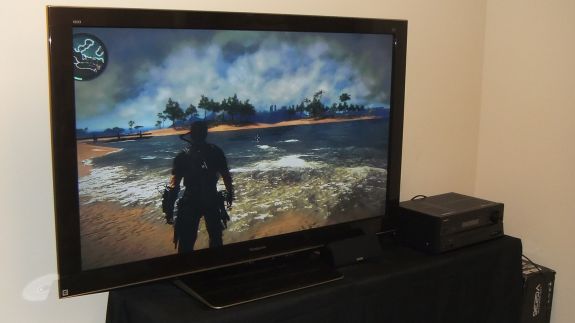 3D Gaming with 3DTV Play on a Panasonic Viera 3DTV
From a developer perspective, the handling of the display of 3D games on a 3D TV is transparent. The game developer needs to develop only for 3D Vision and 3DTV Play handles the rest. And of course playback of 3D movies over HDMI onto a 3D TV already works and doesn't require this add-on.

Business Partners

Dell launched their new lineup of XPS laptops today. Featuring GF108 GPUs from NVIDIA, all of them have HDMI 1.4a ports. 3DTV Play comes bundled with the laptops. In addition to Dell, systems from ASRock (the Vision 3D, which we already reviewed) and some upcoming systems from Zotac also have this add-on bundled. Frankly GF108 systems aren't going to be the best examples of 3DTV Play, given the heavy overhead of stereoscopic rendering in games. The best platform for 3D gaming would be using GF104 (and ideally a pair of them), which at the moment may be a bit hard to swallow in an HTPC.
For consumers already in the NVIDIA 3D ecosystem (i.e. own a 3D Vision kit), 3DTV Play will be a free upgrade. Consumers without a 3D Vision kit but interested in using 3DTV Play with their TV's existing hardware will need to purchase it from NVIDIA for $39.99.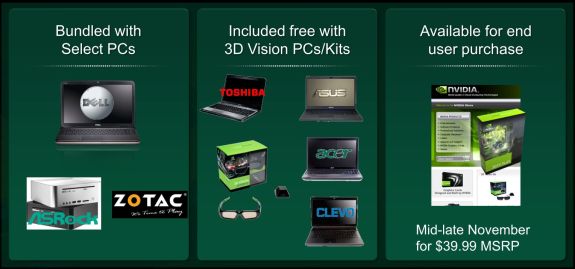 Charging for what is essentially a driver update might be a little hard to digest. However, the fact remains that people wanting to purchase 3DTV Play standalone are those who have invested in a 3D TV before the technology goes mainstream. $40 for a value add-on is probably not much for such consumers.

As we said in the GT 430 review, lots of companies are betting on consumers getting enamored by 3D for the upcoming holiday season. ATI will also be getting into the action soon with their 6xxx series GPUs. How important is 3D technology to you? Feel free to echo your thoughts in the comments. Your opinion will be one of the important factors which influence our coverage in this area.