Gaming: No Change, so Let's Update the Drivers
We ran several gaming tests as well and found all the scores were unchanged—as expected. Since NVIDIA just released their beta 256 series drivers, we figured now would be a nice time to see if it helps at all. Given we're using a lowly 310M, we weren't expecting much… and we weren't disappointed. Only one game showed slightly improved performance, three were unchanged, and five of the tested games actually ran slower. Granted, this is a beta driver, but we were hoping things would at least stay the same rather than dropping. All of these tests are run at low/minimum detail settings and 1366x768.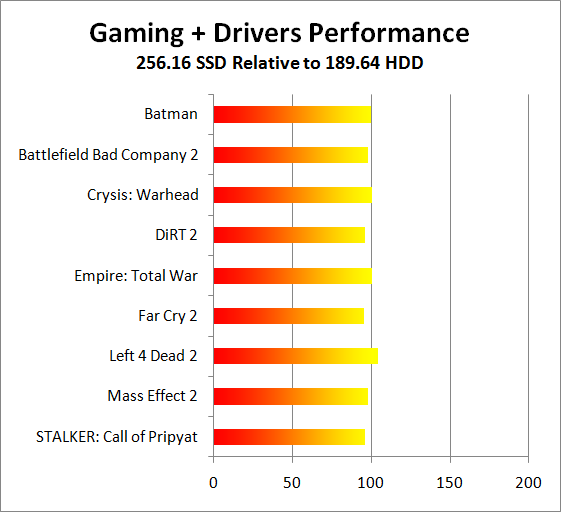 Left 4 Dead 2 is the sole beneficiary in our short set of testing. We updated the Intel IGP drivers as well, and we're happy to report that there were no issues with NVIDIA's Optimus drivers and the Intel drivers playing nicely. Despite the driver update, however, we noticed that at least Empire: Total War continues to limit us to selecting "Medium" detail settings. It appears the game queries the Intel IGP capabilities rather than the 310M—not that the 310M can really handle anything above Medium in Empire: TW.
Games and levels do tend to load a bit faster with an SSD, but the difference is on the lower end of the scale—around 10% faster, give or take. Removing startup videos for games will make a far greater difference. There may be games where storage access happens more frequently, but in general having 4GB of RAM means most of the game data will be available from main memory after the initial load. Just don't try gaming while running anti-virus, BitTorrent, etc. and conventional HDDs work fine—not to mention the fact that many modern games can easily suck up 10GB or more of storage. With our test suite installed (including the above games), our 120GB Vertex SSD is nearly full. As an example, DiRT 2 uses 10GB, which means we just used $27 worth of SSD just to store the game (though thankfully you can uninstall and get a "refund").