Power and heat output are often issues which stride the minds of graphics card enthusiasts. Sufficient cooling and a beefy power supply are often a prerequisite if one wishes to invest in NVIDIA's latest Fermi offering. So what happens when we catch word of a single slot graphics card containing a Fermi GPU?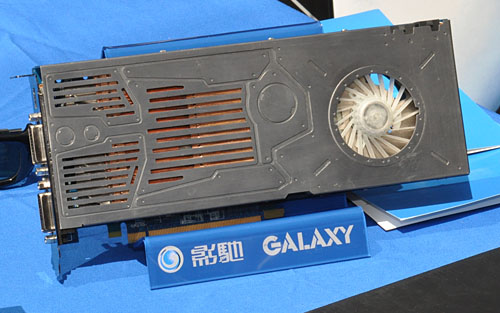 Hot on the heels of Galaxy's custom GTX470 GC, the GTX470 Razor (or 'Katana' in Japan) is set to be officially launched at Computex 2010, and looks like the bigger brother of the Galaxy GTX260+ Razor, released in September 2009. It is an air cooled, 10 inch long blue PCB, with a fan that draws air in from all sides. Galaxy is utilizing a vapor chamber cooler to better channel heat from the GPU straight to the to the all-copper heatsink and fin assembly in this compact design, with air pushed throughout the assembly and back into the case - not an ideal situation, especially in multi-GPU setups. Requiring a 6-pin and 8-pin power connectors, the card is expected to have NVIDIA specified reference clock speeds, 1280MB of GDDR5 memory across a 320-bit interface, coupled with dual DVI-D and mini HDMI outputs.
With the card being single slot, the fan will have a lot of work to do to keep the card within a reasonable temperature window – on our test of the reference GTX470 design, we saw a load temperature during Crysis of 93ºC, so expect the Galaxy fan to run fast and loud. Also, at a 10 inch length of PCB (0.5 inches over the reference design), a sufficient length case would be required. The single slot nature of the card will in no doubt appeal to folders (who don't mind using an open test-bed), wishing to stick six or seven of them into a single motherboard with a couple of power supplies to boot.
The use of a GTX480 style PCB, in terms of length and power connectors, also gives rise to the potential of a single slot GTX480 in the future. No indication of prices or release date yet, we may receive that information when Computex 2010 opens on June 1st.