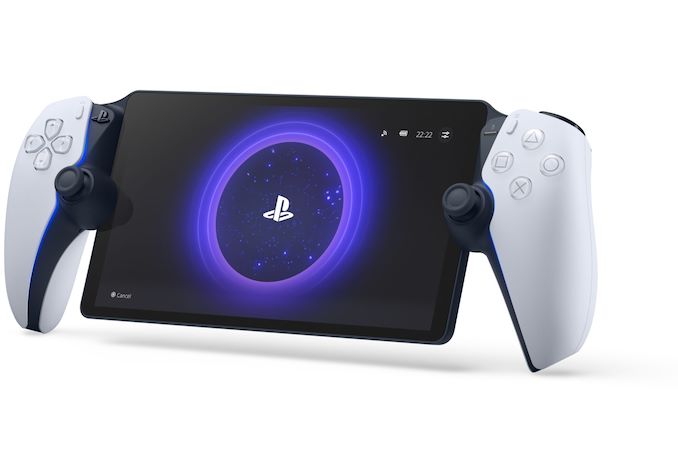 For all of their ups and downs in the handheld game console space over the years, one of Sony's bigger successes has been their local game streaming support, better known as Remote Play. Allowing the PS3 and PS4/PS5 consoles to be remotely played on the Playstation Portable and PS Vita respectively, it's been a defining feature of Sony's consoles for the past decade and a half. And while Sony is no longer making dedicated gaming handhelds, the company is still eager to leverage their remote play capabilities to provide new experiences and sell new hardware. To that end, this week Sony unveiled their dedicated remote play companion device for the PS5.
The PlayStation Portal is designed to enable portable gaming experiences for PlayStation 5 owners. It comes equipped with an eight-inch, 1080p LCD display, with remote play able to stream games at up to 60fps. While the PlayStation Portal is a device that has its own system-on-chip that runs its operating system and connects to the Internet using Wi-Fi, the Portal is not designed to run games on its own and can only enable remote play on a PlayStation 5 using Wi-Fi.
Designed to extend the PS5 experience as much as reasonably possible, the PlayStation Portal comes with controllers that closely resemble the design and functionality PS5's DualSense controllers. These built-in controllers provide gamers with familiar haptic feedback and adaptive triggers, ensuring a consistent gaming experience. Additionally, the device has the PlayStation 5's home screen, offering a dedicated section for media playback.
Avid readers will certainly ask about latency since the Portal is a remote gaming devices. A review from IGN has demonstrated the device's minimal latency during gameplay.

Meanwhile, the PlayStation Portal will not be compatible with Sony's anticipated cloud streaming service for PS5 titles, according to The Verge. This means that the handheld is only able to stream games already installed on a user's PS5 console, and from no where else.
Despite the overall simplicity of the device, Sony has also made a notably odd choice with regards to audio capabilities. In short, the handheld device lacks Bluetooth audio support. Instead, Sony is using the Portal to introduce its proprietary PlayStation Link wireless technology, which promises to deliver lossless, lag-free audio. As a result, the handheld is not compatible with existing wireless headsets from Apple, Beats, Samsung, and even Sony itself. in order to get wireless audio out of the Portal, gamers will have to use Sony's new wireless headphones and earbuds, which are being released alongside the handheld and will be the first audio devices with PlayStation Link support. Thankfully, for those who prefer wired audio, the device also includes a 3.5mm headphone jack.
While many details about the PlayStation Portal have been shared, Sony still hasn't disclosed some specifications, such as the expected battery life. However, indications suggest that Sony is aiming for a battery duration comparable to its DualSense controller, which is around seven to nine hours, according to Cnet. At any rate, Sony has left itself plenty of time to work out these details; for the moment, the device lacks a public launch date, with Sony saying the Portal will be released "later this year."
Source: Sony