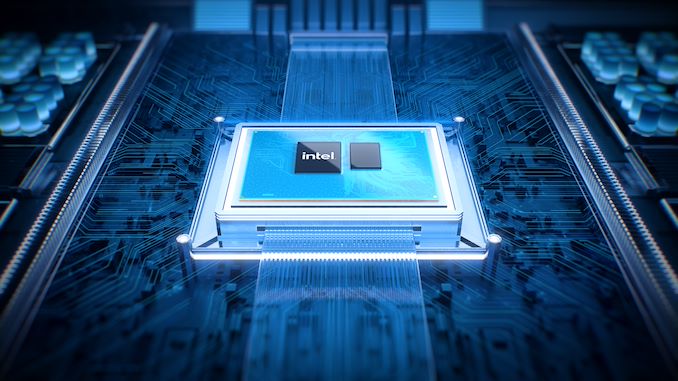 Although Intel's 13th Gen Core mobile announcement tends to steal the limelight away from many of its other product announcements, Intel has also announced four new SKUs from its N-series of processors. Representing the entry-level, Intel's latest N-series processor for mobile and desktop (codenamed Alder Lake-N), replacing Intel's Tremont architecture-based Jasper Lake platform. Alongside up to 8 CPU cores, these new low-end SoCs include Wi-Fi 6E connectivity, GNA 3.0 background noise suppression, and integrates IPU and MIPI camera support rolled into one solution. This makes it a suitable series of products designed for video conferencing and high-end wireless connectivity for entry-level notebooks, Chromebooks, and low-power users.
Based around the same Gracemont CPU microarchitecture Intel uses for efficiency (E) cores in its 12th and 13th Gen Core processors, Intel's N-Series processors are designed for low-powered and affordable slimline notebooks and desktops, where efficiency is vital. Intel is also claiming double-digit performance gains with the latest quad-core Intel Inside N200 processor compared to the previous series, with 28% better overall application performance and up to 28% gains in web browsing performance.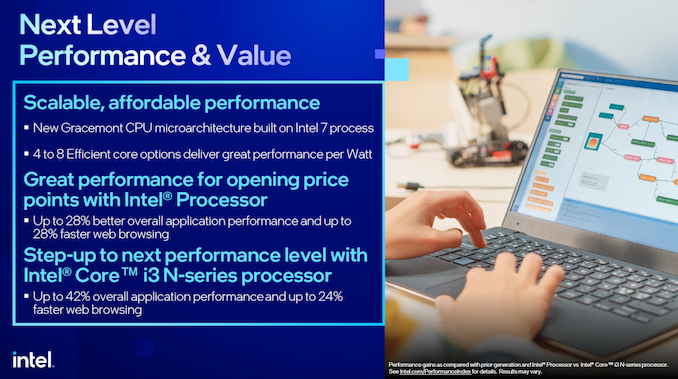 Stepping up to the Core i3 N-series processors, Intel is claiming gains of up to 42% in overall application performance, which is advantageous from an efficiency and performance per watt perspective. Not only is the N-series the entry-level processors designed for budget Windows notebooks and Chromebooks, but Intel's claims look to surpass its previous Jasper Lake models, such as the N6000, out of the water. With either eight or four Gracemont cores, the same efficiency (E) core is used in Intel's 13/12th Gen Core series families.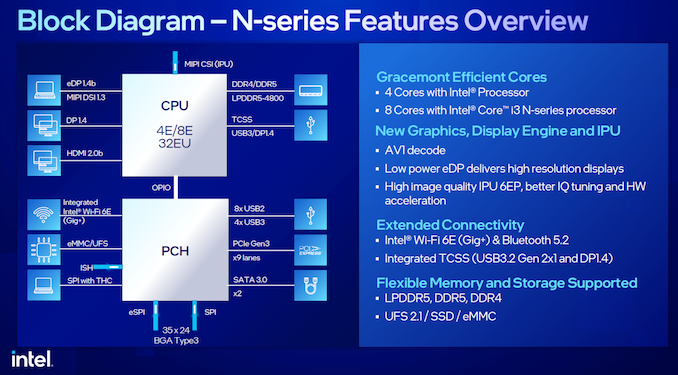 Regarding features, Intel has plenty up its sleeve as it promises advantageous video conferencing capabilities due to its integral Image Processing Unit (IPU) and MIPI camera interface, along with dynamic noise suppression for microphones. With noise suppression handy for video conference calls and eliminating background noise, it uses a low-powered Gaussian and Neural Accelerator (GNA 3.0) technology to achieve this.
Focusing on connectivity, the N-series can accommodate up to four USB 3 and eight USB 2 and has nine PCIe 3.0 lanes available for devices and controllers. By proxy, the Intel N-series now also benefits from Intel's WI-Fi 6E CNVi with BT 5.2 device connectivity, along with USB 3.2 Gen 2 and DisplayPort 1.4 support.
Intel N300/200/100-Series (Gracemont Core on Intel 7)
AnandTech
Cores
C/T
E-Core
Base
E-Core
Turbo
L3 Cache
(MB)
Processor
Graphics
Memory
Support
Turbo
W
i3-N305
8/8
?
3800
6
32 EU
DDR5-4800
DDR4-3200
15
i3-N300
8/8
?
3800
6
32 EU

DDR5-4800




DDR4-3200

7
IP N200
4/4
?
3700
6
32 EU

DDR5-4800




DDR4-3200

6
IP N100
4/4
?
3400
6
24 EU

DDR5-4800




DDR4-3200

6
The Core i3 N-series CPUs come with eight cores and eight threads, versus the four cores and four threads of the Intel Processor N200 and N100 chips. The Core i3-N305 is the top-tier SKU for the entry-level series, with eight Gracemont cores that can turbo up to 3.8 GHz and a maximum turbo TDP of 15 W. Memory support is similar to its 13th Gen Core family with DDR5-4800, LPDDR5-4800, and DDR4-3200 support across all four SKUs.
The Core i3-N300 has similar specifications, including 32 EU graphics cores and 6 MB of L3 cache, but with just over half the power budget available with a maximum turbo TDP of 7 W. Focusing on the two entry-level Intel Processor branded chips, the IP-N200 and IP-N100 both include four Gracemont cores and four threads, along with 6 MB of L3 cache. Both feature a turbo TDP of 6 W, although the IP-N200 hs an E-core turbo of 3.7 GHz, with 32 EU graphics core units, while the entry-level N100 has a maximum clock speed of 3.4 GHz and just 24 EU graphics cores.
Intel has specified that it has over 50 OEM designs ready to go with its N-series processors, including partnerships with Windows OEMs such as HP, ASUS, and Lenovo, as well as partnerships with ChromeOS and leading Chromebooks. It hasn't been stated when the N-series will start filtering into retail models, but this is expected to be soon.