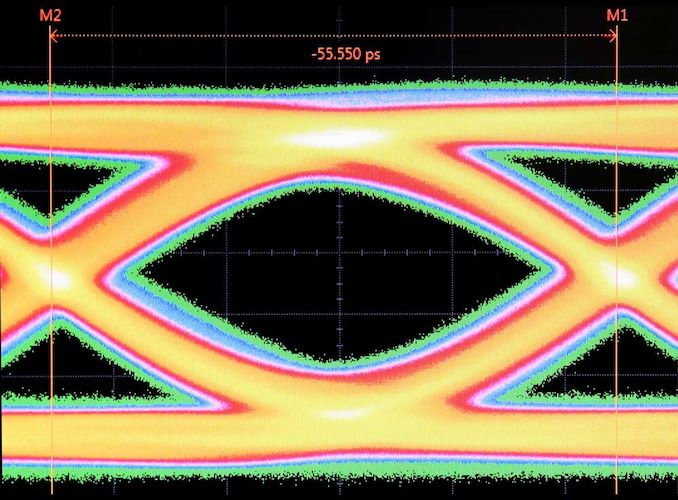 While GDDR6 is currently available at speeds up to 14Gbps, and 16Gbps speeds are right around the corner, if the standard is going to have as long a lifespan as GDDR5, then it can't stop there. To that end, Rambus this week demonstrated operation of its GDDR6 memory subsystem at a data transfer rate of 18 GigaTransfers/second, a new record for the company. Rambus's controller and PHY can deliver a peak bandwidth of 72 GB/s from a single 32-bit GDDR6 DRAM chip, or a whopping 576 GB/s from a 256-bit memory subsystem, which is what we're commonly seeing on graphics cards today.
The Rambus demonstration involved the company's silicon-proven GDDR6 PHY implemented using one of TSMC's 7 nm process nodes, accompanied by Northwest Logic's GDDR6 memory controller and GDDR6 chips from an unknown maker. According to a transmit eye screenshot published by Rambus, the subsystem worked fine and the signals were clean.
Both GDDR6 controller and PHY can be licensed from Rambus by developers of SoCs, so the demonstration is both a testament to how well the company's highly-integrated 7 nm GDDR6 solution works, and a means to promote their IP offerings.
It is noteworthy that Rambus, along with Micron and a number of other companies, has been encouraging the use of GDDR6 memory in products besides GPUs for quite some time. Various accelerators for AI, ML, and HPC workloads as well as networking gear and autonomous driving systems greatly benefit from the technology's high memory bandwidth and are therefore a natural fit for GDDR6. The demonstration is meant to show companies developing SoCs that Rambus has a fine GDDR6 memory solution implemented using a leading-edge process technology that can be easily integrated (with the help of engineers from Rambus) into their designs.
For the graphics crowd, Rambus' demonstration gives a hint of what to expect from upcoming implementations of GDDR6 memory subsystems and indicates that GDDR6 still has some additional room for growth in terms of data transfer rates.
Related Reading:
Source: Rambus