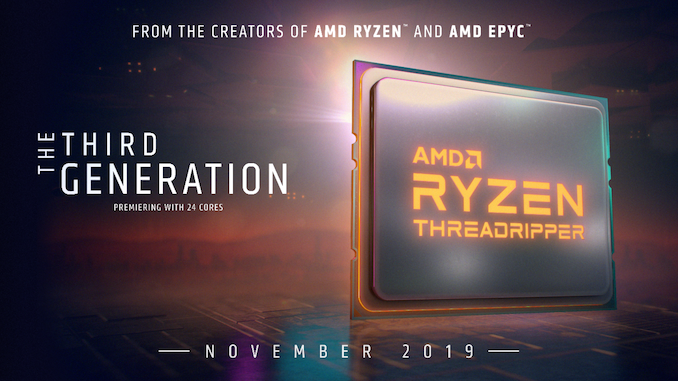 AMD has already officially confirmed plans to launch its 3rd Generation Ryzen Threadripper processors this November, but naturally kept all the details to itself. At the time, it stated that the first products to market will be 24-core products. According to the company's Product Master document that was published by AMD, it looks like some preliminary information about the CPUs is now in.
Based on the document (as well as previously released claims by the company), AMD's Ryzen Threadripper 3000-series family will include 16-core, 24-core, and 32-core CPUs with a TDP up to 280 W for its most extreme parts. This is up from a 250 W TDP featured by AMD's Ryzen Threadripper 2000 processors with up to 32 cores. The new process technology along with a higher thermal design power will likely enable the new CPUs to run faster and offer a significant performance increase when compared to predecessors (plus, keep in mind performance boost from the Zen 2 microarchitecture).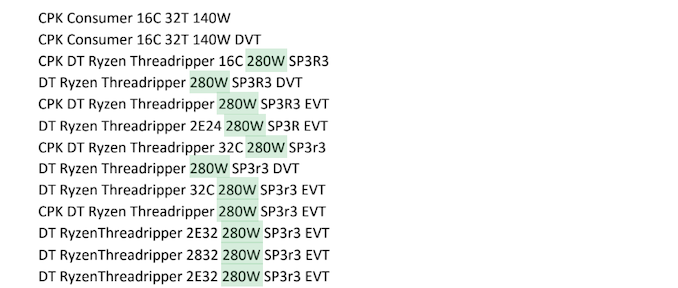 From AMD's Master Product Document
The new CPUs are also said to use a new variant of the SP3 socket called SP3r3, which questions if they will be drop-in compatible with previous-gen motherboards. Considering the fact that AMD is preparing new chipsets for its next-generation Ryzen Threadripper processors, but has been stated with providing socket compatibility, it will be interesting when AMD defines the compatibility table. This is likely a differentiator for PCIe 4.0 support.
AMD's Product Master list is seemingly targeted at the company's sales teams and contains OPN codes along with US ECCN, HTS, and CCATS codes that are required by the US export regulators. Although the document mentions a variety of products, at least some of them are potential or partner-specific devices not exactly located in the company's roadmap for mass products. Therefore, the information from the list should be taken with a grain of salt, as some of these parts may not be hitting the market.
Related Reading
Sources: AMD, Reddit, Tom's Hardware, Komachi_Ensaka/Twitter, Planet3DNow.de