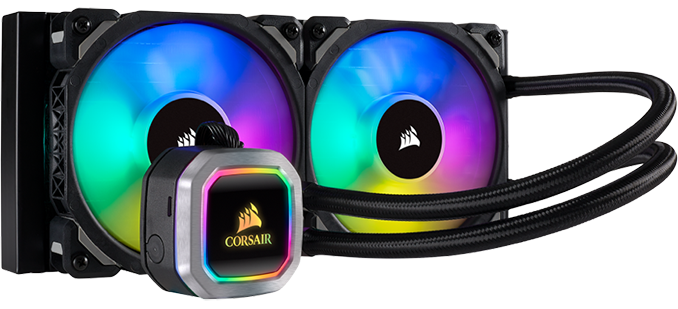 Corsair on Thursday introduced two new closed-loop CPU liquid cooling systems, both of which feature its magnetic levitation fans and RGB lighting. The new Hydro Series RGB Platinum LCSes also feature what Corsair is calling a Zero RPM cooling profile, which stops the fans entirely at low processor temperatures to further reduce the noise levels generated by the PC.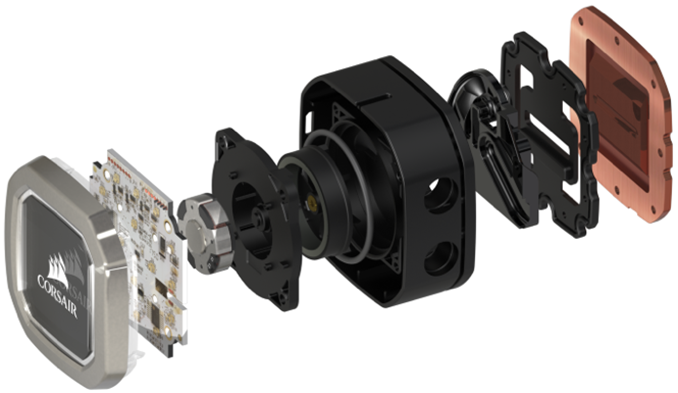 Corsair's Hydro H100i RGB Platinum and Hydro H115i RGB Platinum use the company's new pump with a copper base and integrated RGB lighting, as well as new magnetic levitation PWM fans that minimize the friction on their magnetic bearings. The company's mag lev bearing promises to generate high airflow and static pressure while making less noise than fans featuring ball bearings. The H100i model is equipped with two 120-mm fans spinning at 400 – 2400 RPM and a 240-mm radiator, whereas the H115i model is outfitted with two 140-mm fans spinning at 400 – 2000 RPM as well as a 280-mm radiator.

Corsair does not disclose maximum amount of heat that its new Hydro Series RGB Platinum LCSes can dissipate, but given the fact that the coolers can handle AMD's Ryzen Threadripper and Intel's Core X parts, it is safe to say that their thermal performance is well north of 250 W (400 W is a relatively safe bet, but it is not an official figure). Besides AMD TR4 and Intel 2066-pin processors, the coolers also come with mounting brackets for AMD's AM2/AM3/AM4 CPUs as well as Intel's 115x-pin chips.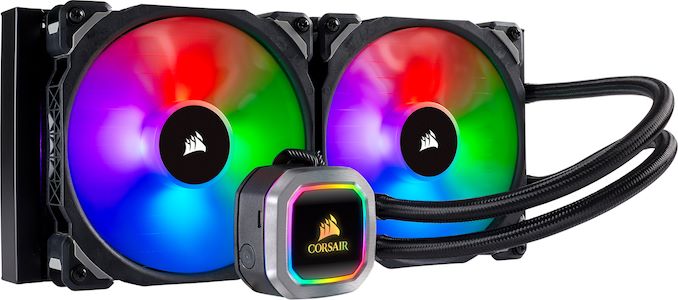 One thing to keep in mind when using the Hydro Series RGB Platinum coolers with AMD's Ryzen Threadripper is that they feature a square base and therefore they cannot cover 100% of the large TR4 IHS surface. This won't prevent reliable operation of these processors, but it remains to be seen how efficient they are going to be in cooling overclocked AMD HEDT products.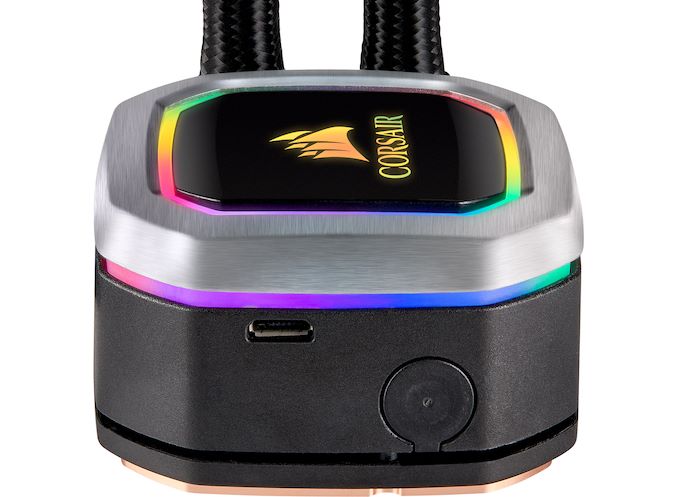 Modern high-end PC hardware not only has to perform well, but also look good in a bid to attract the enthusiast/modding community. The new Hydro Series RGB Platinum closed-loop liquid coolers from Corsair do just that: they feature 16 addressable RGB light LEDs in the pump and four ARGB LEDs in each fan. The lights can be controlled using Corsair's iCUE software, which can also adjust pump and fan speeds as well as create custom cooling profiles that automatically regulate speeds in accordance with a range of monitored system temperatures.
Specifications of Corsair Hydro Platinum RGB Cooling Systems
Hydro H100i Platinum RGB
Hydro H115i RGB Platinum
CPU Socket Compatibility
Intel: 2066, 2011-3, 2011, 115x
AMD: AM2/AM3, AM4, TR4
Radiator
Material
Aluminum
Dimensions
277 × 120 × 27 mm
322 × 137 × 27 mm
Fan
Dimensions
120 x 120 x 25mm
140 x 140 x 25mm
Speed
400 ~ 2400 RPM (PWM)
400 ~ 2000 RPM (PWM)
Air Flow
up to 75 CFM
up to 97 CFM
Air Pressure
up to 4.2 mm H2O
up to 3 mm H20
MTTF
?
Noise Level
up to 37 dBa
Connector
4-Pin (PWM)
Pump
Dimensions
?
MTTF
?
Noise Level
?
Connector
4-Pin
Price
$160
$170
Warranty
5 Years
Corsair's Hydro H100i RGB Platinum as well as Hydro H115i RGB Platinum liquid coolers are backed by a five-year warranty and are available immediately from the company's resellers as well as directly. The smaller H100i model costs $160, whereas the bigger H115i model is priced at $170.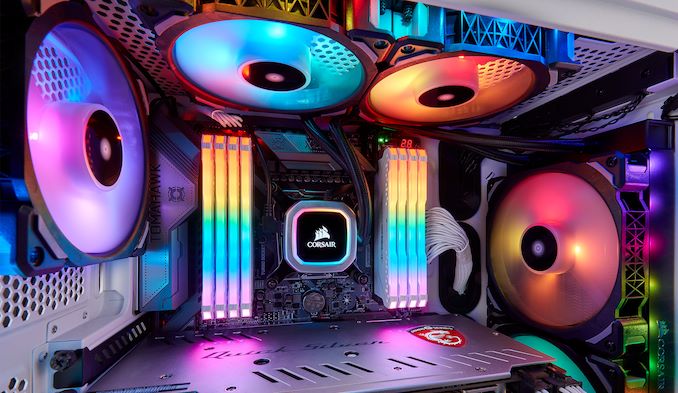 Related Reading:
Source: Corsair