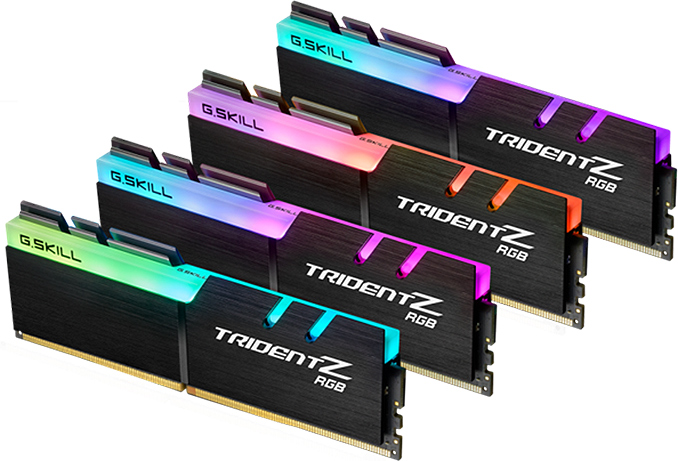 Every major CPU platform announcement brings a host of new motherboards and faster memory modules to the market. The launch of Intel's 9th Gen Core processors and Z390 chipset brings no surprises from this point of view. There are dozens of motherboards based on the new PCH from various makers. To that end, G.Skill has already introduced its "Double Capacity" 32 GB UDIMMs and, of course, it also has new high-performance memory kits that push the bar further.
To support performance-hungry enthusiasts with platforms based on the Z390 chipset, G.Skill introduced two high-performance Trident Z RGB dual-channel memory kits: a 16 GB (2×8 GB) kit rated for DDR4-4800 CL19 22-22-42 operation, and a 32 GB (4×8 GB) kit rated to work at DDR4-4500 CL19 22-22-42. Just like other contemporary UDIMMs designed for extreme data transfer rates, the new Trident Z RGB modules are based on 8 Gb Samsung B-die chips, feature XMP 2.0 SPD profiles, and are outfitted with aluminum heat spreaders.
G.Skill's Trident Z RGB Memory for Intel's Coffee Lake/Z390 Platform
Speed
CL Timing
Voltage
Kit
Config.
Kit
Capacity
Family
DIMM PN
DDR4-4500
CL19 22-22-42
1.5 V
2×8 GB
16 GB
Trident Z RGB
F4-4500C19-8GTRG
DDR4-4800
CL19 22-22-42
4×8 GB
32 GB
F4-4800C19-8GTRG
The new kits are "torture-tested" on the latest ASUS ROG Maximus XI Gene motherboard, but they should work at DDR4-4500 and DDR4-4800 speeds on other high-end mainboards with a quality and clean DRAM power supply as well. Both kits require 1.5 Volts, which is a 25% increase over default DDR4 voltage, so they have to be installed in an enthusiast-grade mainboard.
G.Skill traditionally announces products weeks before their actual availability, so expect its 16 GB DDR4-4800 and 32 GB DDR4-4500 dual-channel kits in November or December. Pricing will depend on market conditions, but since we are dealing with unique and exclusive products for enthusiasts, expect them to be priced accordingly. Right now the fastest thing G.Skill sells are dual-channel 16 GB DDR4-4600 kits priced at $384 - $500, depending on the color. So, the new flagship DDR4-4800 kits will either be in the same range (pushing DDR4-4600 lower), or will go higher.
Related Reading: