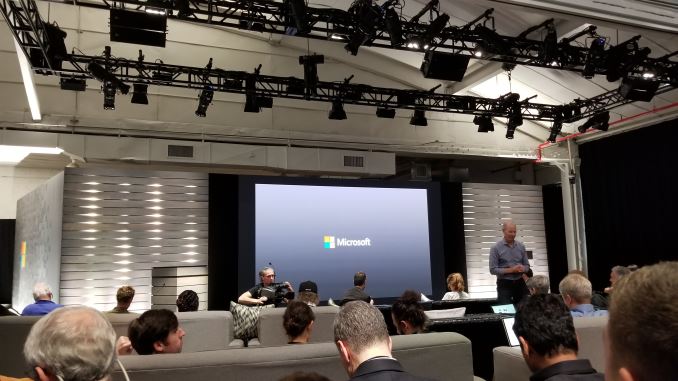 03:54PM EDT - It's about that time of year again. It's time for Microsoft's fall event of 2018, imaginatively titled the 'Oct. 2 Event' and described in advance in just as much detail
03:56PM EDT - Unofficially, of course, Microsoft's upcoming new Surface products are more-or-less the headliner
03:59PM EDT - Frank shaw now starting the show...
04:00PM EDT - Among the items on the docket, Modern Live services and Surface
04:01PM EDT - Now starting with the somewhat general 'Modern Life' segment
04:02PM EDT - All about the 'whole life' and saving time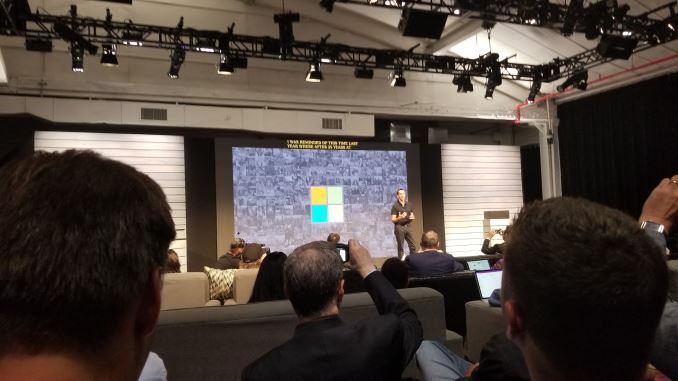 04:03PM EDT - And a video rolling about a family and how they use technology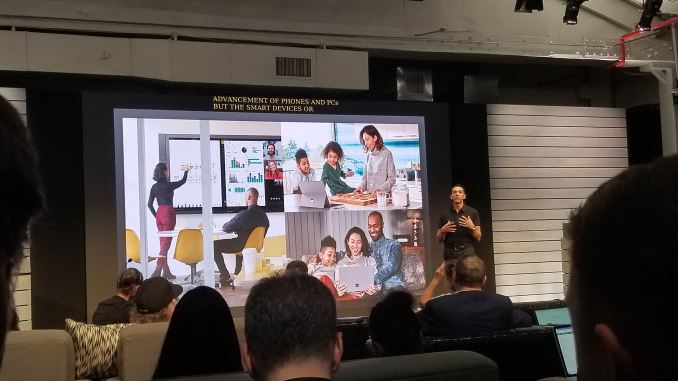 04:05PM EDT - 'Three dynamics that shape our product strategy'
04:05PM EDT - First is the new non-9-to-5 work/life balance
04:06PM EDT - Second, a constant battle for our attention
04:06PM EDT - The biggest case-in-point, the modern smartphone
04:06PM EDT - And lastly is a desire for meaning
04:07PM EDT - Microsoft's angle is personal productivity (naturally)
04:08PM EDT - Organizing and developing your whole life
04:08PM EDT - This comes in 5 parts. #1 is Surface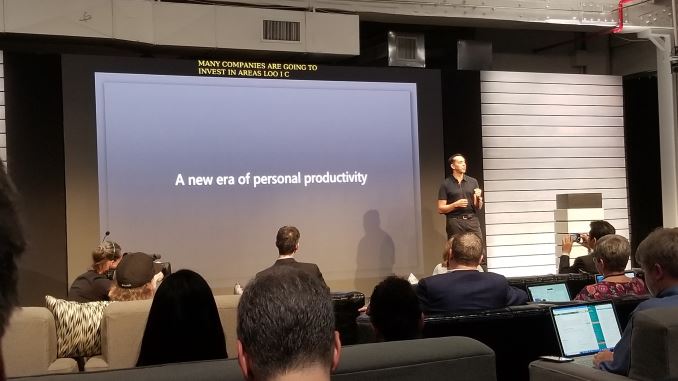 04:09PM EDT - #2 is phone/PC integration and cross-access
04:09PM EDT - #3 is saving time, and organizing your time
04:09PM EDT - (Time to start using Outlook for groceries and family dinners)
04:10PM EDT - #4 is peace of mind, basically meaning security
04:10PM EDT - As well as mitigating interruptions like hacking incidents, etc
04:10PM EDT - #5 is 'unlock your creativity'. 'Everyday AI brought into Office 365, Surface Pen'
04:11PM EDT - Also announcing the Windows 10 October 2018 Update, available today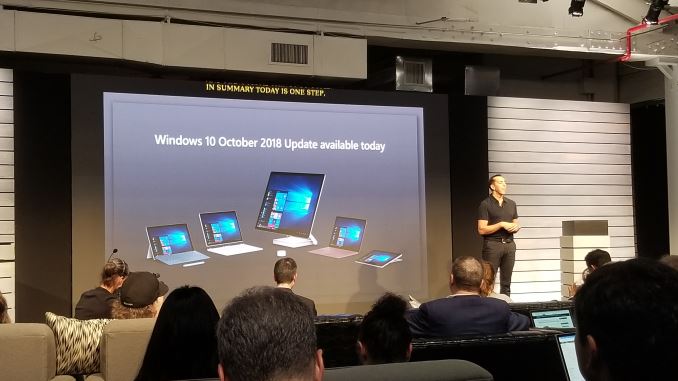 04:12PM EDT - Now time for the chief product officer
04:12PM EDT - 'Why do we make our products? It comes down to one word: people'
04:12PM EDT - 'People who want to do more, create more'
04:13PM EDT - And now talking about 'technology in the background'
04:14PM EDT - He wants to make a point about 'flow', and there's a small video playing of his daughter playing the piano that as an example
04:15PM EDT - All the mechanics of the piano have to mold to her, etc, is what he's saying
04:15PM EDT - 'For people to get into their flow, the technology needs to fade into the backgroud'
04:16PM EDT - (by the way, this is not a non-contentious argument. The sheer existence of PC enthusiasts is somewhat at odds with this idea'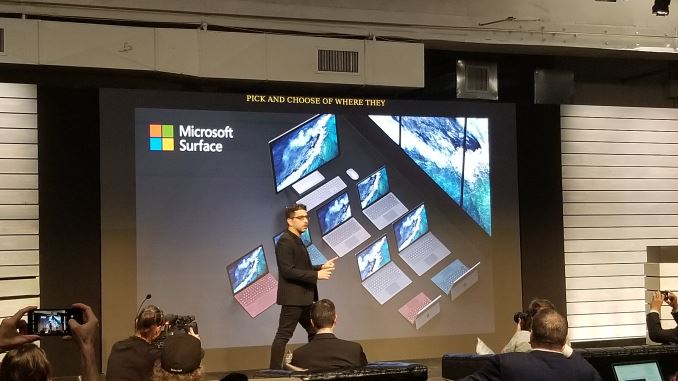 04:17PM EDT - Bringing this around to Surface. 'People who use Surface, love Surface'
04:19PM EDT - Anyway, if you've been paying attention to the marketing angles of modern tech companies, you get the idea
04:20PM EDT - Anecdote heavy and difficult to convey through live blog in both message and meaning
04:20PM EDT - But the concepts at play are really about 'it just works'
04:21PM EDT - And now a video on the new Surface
04:22PM EDT - Microsoft Surface Pro 6
04:22PM EDT - Yes, the black finish is real
04:23PM EDT - And they've stuck a quad-core CPU in there, too
04:24PM EDT - Talking about holistic design, faster performance, better battery life
04:24PM EDT - Comparing directly to iPad Pro and Macbook Pro
04:25PM EDT - And now a video on the Surface laptop
04:26PM EDT - Surface Laptop 2. This is the successor to the Surface-branded conventional form factor laptop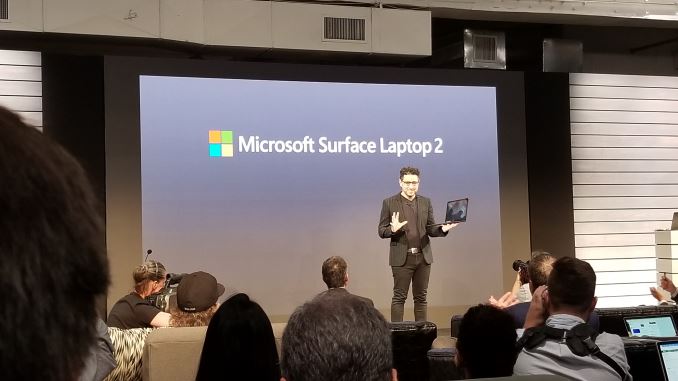 04:27PM EDT - Talking about the keyboard and how the typing experience really defines a laptop when working on the go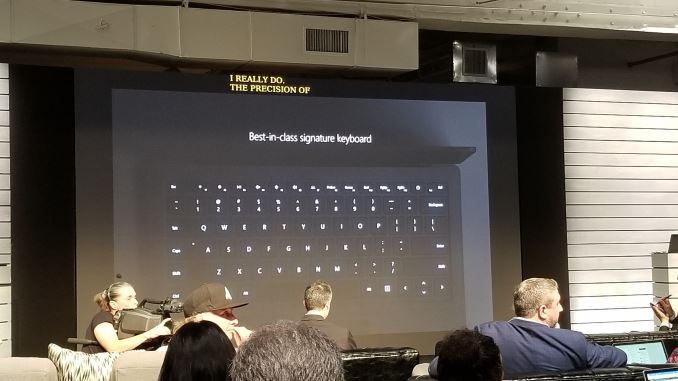 04:28PM EDT - Instant On, better battery life, 'AI is throughout the product, you don't need to see it'
04:29PM EDT - 1500:1 contrast, 8th gen Intel quad core, PixelSense touch
04:30PM EDT - Surface Pro i5 starts at $899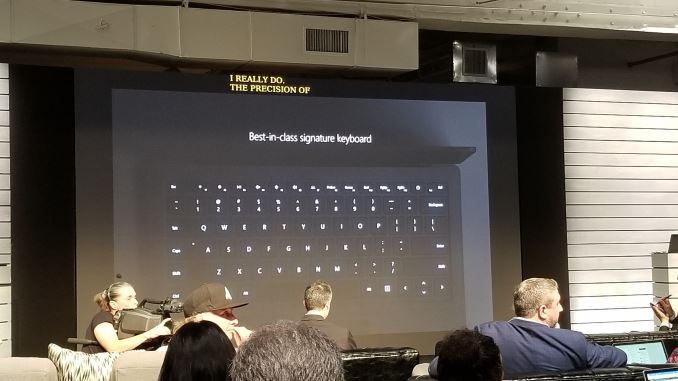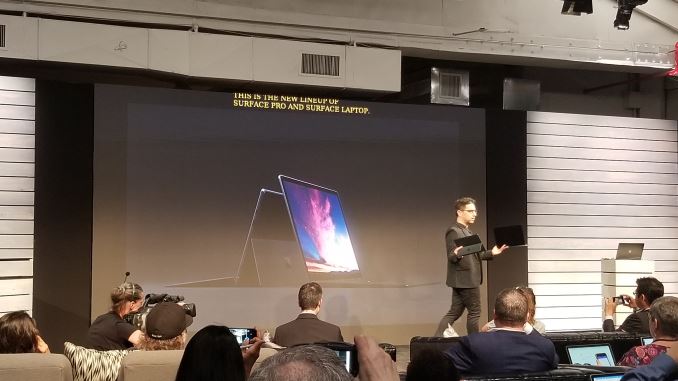 04:31PM EDT - Now going into some of the ideas behind the original Surface, in terms of breaking the barrier between tablet and laptop
04:31PM EDT - Leading up to breaking the barrier between the flow between smartphone and PC
04:32PM EDT - (if only Windows phones were still alive)
04:33PM EDT - Switching gears to Windows 10 October 2018 update
04:34PM EDT - Starting with organizing your life, since everyone is busy
04:35PM EDT - Upcoming feature for Outlook: To-do Task sidebar
04:35PM EDT - With calendar integration
04:35PM EDT - Across devices as well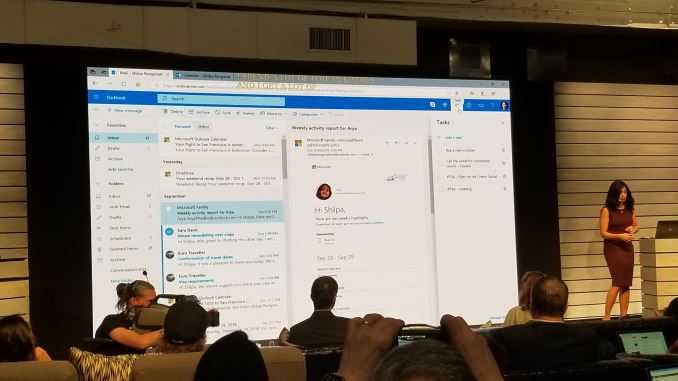 04:36PM EDT - And also talking about the Android Microsoft Launcher
04:36PM EDT - A number of new features in beta available today
04:38PM EDT - Other features, like integrated quick translate
04:38PM EDT - 'Everyday AI'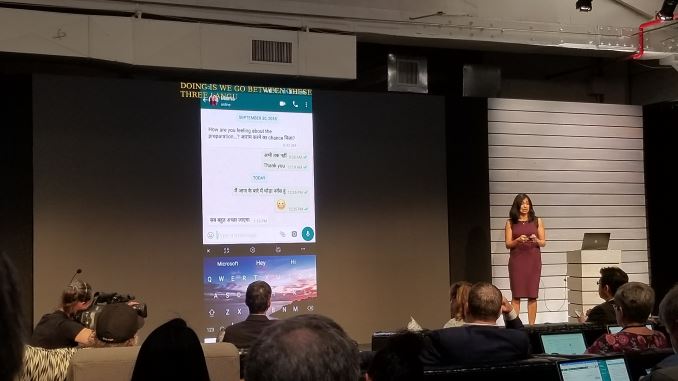 04:39PM EDT - Your activity is all going to be in the 'Timeline', so you never need to remember where you saved XYZ file. Powered by MS Graph
04:41PM EDT - And now moving onto Windows getting notifications from your phone
04:41PM EDT - It's a Phone app now available in the October Update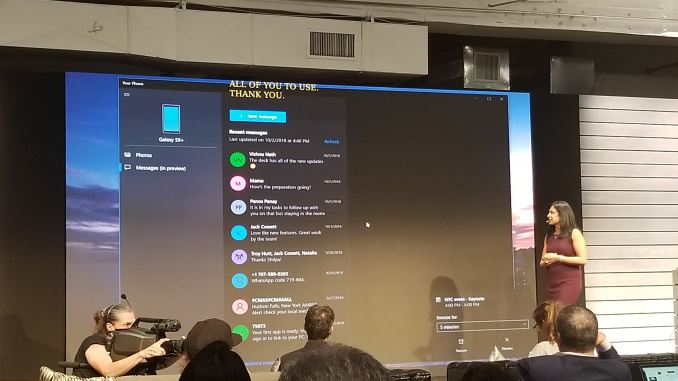 04:42PM EDT - Your phone on your PC, in other words
04:43PM EDT - And that includes features like accessing apps (for example, Snapchat, as is being shown in the presentation)
04:45PM EDT - But also means that you can drag-and-drop phone photos into something like PowerPoint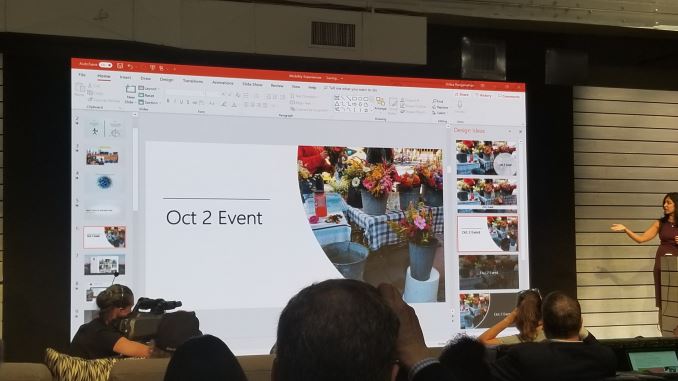 04:46PM EDT - Back to Panos now (the Surface guy)
04:47PM EDT - And now for another product. The Surface Studio
04:48PM EDT - A new Studio 'for more of the high end graphics you need'
04:48PM EDT - Unsurprisingly a video that we can't record (and for an event that is not livestreamed)
04:50PM EDT - Surface Studio 2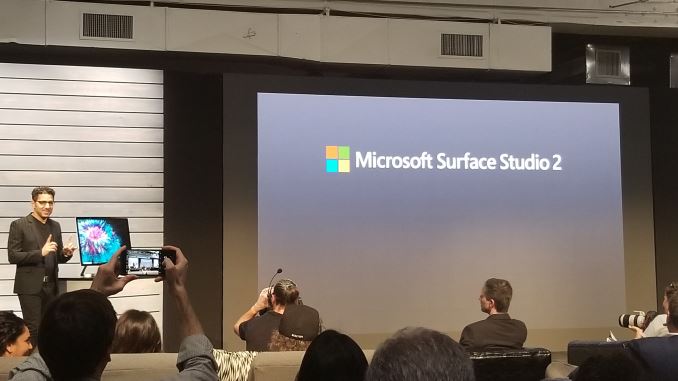 04:51PM EDT - And getting Stevie to talk about the technology in it
04:52PM EDT - 192 DPI, 13.5M pixels on 3:2 aspect ratio, DCI-P3 gamut (same as studio 1)
04:52PM EDT - Two new things for the Studio 2: a new oxide transistor color, and new LCD tech (unspecified)
04:53PM EDT - Better aligning the liquid crystal to the polarizer, permitting deeper blacks
04:54PM EDT - So 'creators need more' for graphics. And so Studio 2 introduces Pascal
04:55PM EDT - And 2 TB SSD (a big increase from the Studio 1 SSHD offerings)
04:57PM EDT - And a 6 TFLOPS GPU, which is 1070-ish (officially 6.5 TFLOPS)
04:57PM EDT - Now talking about the Surface Pen
04:58PM EDT - And the AI word again. Automatically converting writing to typed letters
05:00PM EDT - And looking at using the Surface Pen with the Windows 10 Mail app (not to be confused with the Outlook application)
05:02PM EDT - Doodling a handwritten email reply to his daughter
05:02PM EDT - And another Surface product
05:02PM EDT - Surface headphones
05:03PM EDT - With Cortana, call answering, wireless, adjustable sound cancelling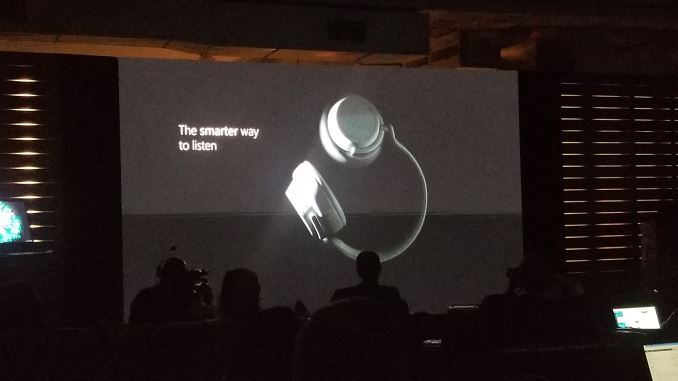 05:06PM EDT - Studio 2 and Headphones will be available this holiday, the others available for preorder now
05:06PM EDT - And Microsoft Surface All Access starting at $24.99/month
05:08PM EDT - And an interlude for a thank you, and a closing video
05:10PM EDT - Overall, the lineup is very much iterative. Evolutionary not revolutionary is the usual schtick to say. Not that that is necessarily a bad thing, as the Studio 2 is getting some much needed upgrades in the new graphics card
05:12PM EDT - Otherwise, pricing is another element but that info has been disclosed separately and not covered in the presentatino
05:15PM EDT - Ultimately, the most unusual element, the headphones, are yet to be launched. We'll check those out in the hands-on showcase, which is starting now
05:16PM EDT - On that note, we'll sign off to take a peek, and we'll be sure to let you guys know with the hands-on impressions. Thanks for joining us!