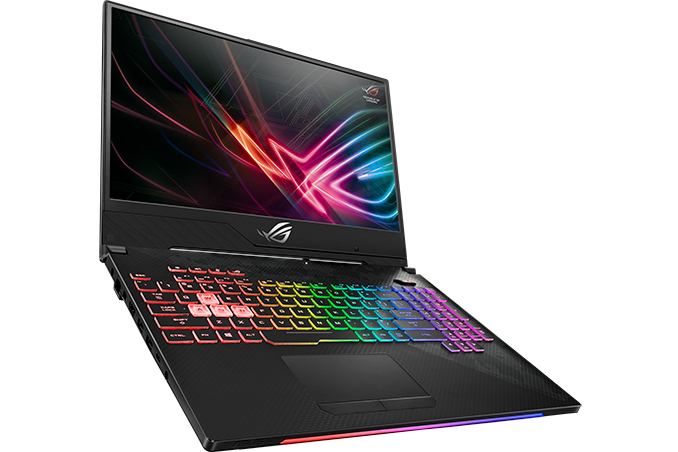 ASUS on Monday introduced its new ROG Strix Hero II and ROG Strix Scar II gaming laptops. Originally, ASUS positioned the ROG Strix family of notebooks as its entry-level gaming systems. The new GL504-series notebooks use different chassis, feature better display options, and up to GeForce GTX 1070 graphics. Quite predictably, they are also more expensive than their predecessors.
Before jumping to details, let us remind you the key difference between the said notebooks. The ASUS ROG Strix Hero II and ROG Strix Scar II GL504-series laptops are based on exactly the same 15.6-inch platform, but the manufacturer positions them differently. The Strix Hero II PCs are designed for MOBA gamers, whereas the Strix Scar II — called after the SCAR rifle — are aimed at FPS gamers. Therefore, the latter may be outfitted with a better GPU, a display featuring a 144 Hz refresh rate (up from 120 Hz on the previous-gen models), whereas the former may come with a more affordable screen. Now, back to business.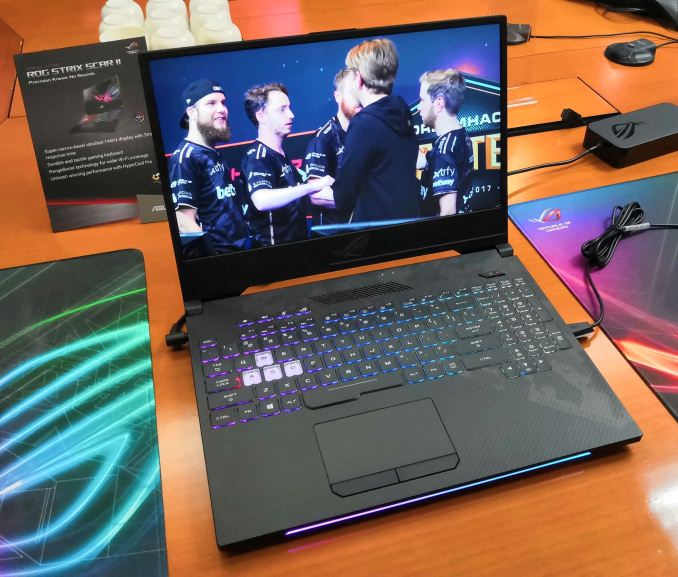 The Base & Cooling
The new ASUS ROG Strix Hero II and Scar II GL504-series notebooks use Intel's quad-core Core i5-8300H or six-core Core i7 8750H processors joined by up to 32 GB of DDR4-2666 memory and equipped with a hybrid storage system comprising of an up to 512 GB PCIe/NVMe SSD and an HDD (or Seagate's FireCuda SSHD in case of entry-level SKUs). The ROG Strix Hero II is outfitted with NVIDIA's GeForce GTX 1060 GPU (an upgrade when compared to the GL503), whereas the ROG Strix Scar II may come with either the GTX 1060 or a considerably more powerful GeForce GTX 1070 GPU.
To cool down the rather powerful components, ASUS equips the new ROG Strix Hero II and the ROG Strix Scar II laptops with its latest cooling system dubbed the HyperCool Pro. The cooling system is comprised of two 12-Volt blowers capable of spinning at a very high speed (according to ASUS, which does not quantify the claim) along with multiple heat pipes and radiators featuring 0.1-mm thick fins installed around the perimeter of the chassis. Furthermore, the most powerful Strix Scar II GL504GS SKU comes with additional heat pipes for the GPU and VRMs that also tend to generate a lot of heat. The advanced cooling system enables CPUs to run in Turbo mode for longer periods of time. Meanwhile, ASUS allows users to set up their preferences for performance (Overboost mode) and silence (Silent mode), so the two blowers are not going to annoy when they are not needed (at least based on what ASUS says).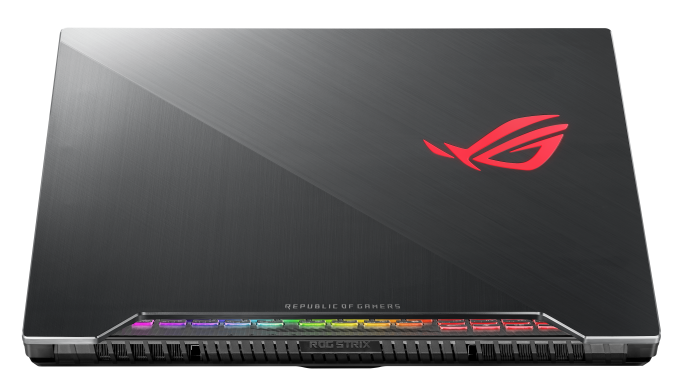 The Display & Chassis
In addition to the upgrade of internal components, the GL504-series laptops from ASUS also got a new chassis and a new 15.6-inch IPS Full HD display panel option. From now on, the manufacturer will offer the said laptops with an optional 144-Hz IPS Full HD panel from AUO featuring a 3 ms response time and an anti-glare coating (for some reason, ASUS never mentions NVIDIA's G-Sync in its press release). In fact, all the GL504 machines come with the aforementioned coating.
It is important to note that the LCDs that ASUS uses on the GL504-series machines feature thinner bezels when compared to 15.6-inch GL503-series laptops, which reduces the width of the machines by about an inch, according to ASUS. Meanwhile, the new chassis are 2.61 cm (1.02 inch) thick whereas the previous-gen enclosure had a 2.28 cm (0.9-inch) z-height. So, while the systems have gotten narrower, they have also gotten thicker. Meanwhile, the weight of the laptops remained at about 2.4 kilograms, as before.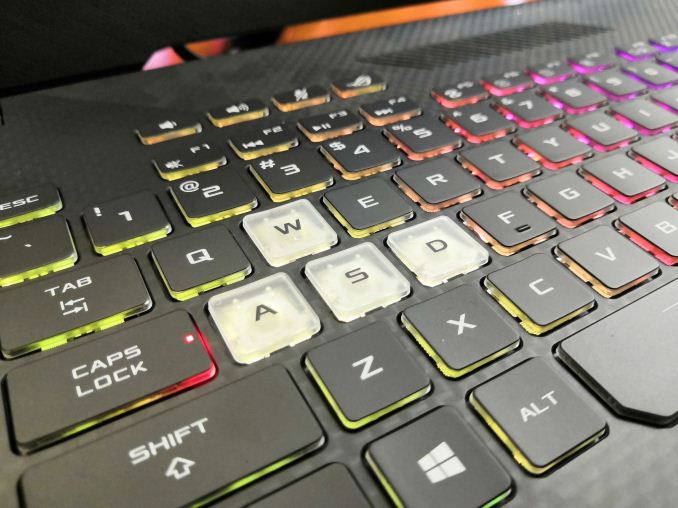 Moving on to style aspects of the new chassis. Since the Strix Hero II is designed for MOBA actions, it features highlights on the QWER keys, whereas the Strix Scar II, being at the service of FPS gamers, highlights WASD buttons. Meanwhile, like all ROG-branded laptops (and ROG hardware in general), the GL504-series features RGB-lit keyboard as well as a customizable set of RGB LEDs on the back of the display. Obviously, ASUS' Aura Sync technology is supported to handle compatible peripherals.
Connectivity
When it comes to connectivity, then the main upgrade of the GL504-series vs. the previous generation is Intel's Wireless-AC 9560 2x2 802.11ac Wave 2 Wi-Fi + Bluetooth 5.0 controller that can provide throughput of up to 1.73 Gbps when working over 160 MHz channels. In fact, ASUS says that it further improves Wi-Fi performance using its software RangeBoost technology that monitors which antenna has the best signal and prioritizes its usage.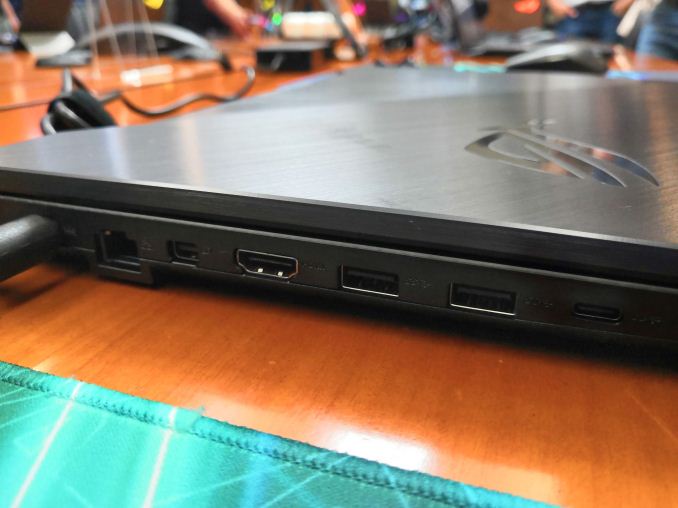 As for other I/O features, they are fairly standard by today's standards: a GbE port, multiple USB 3.1 Gen 1/2 Type-A headers, a USB 3.1 Gen 2 Type-C connector, an SD card reader, an HDMI 2.0 output, a TRRS audio connector, a webcam, a microphone array, speakers, and so on.
Pricing
The new GL504-series ROG Strix Hero II and ROG Strix Scar II laptops raise the bar for the whole series in terms of performance and features, which is why they cost more than predecessors. The Strix Hero II starts at $1,699, whereas the Strix Scar II starts at 1,999.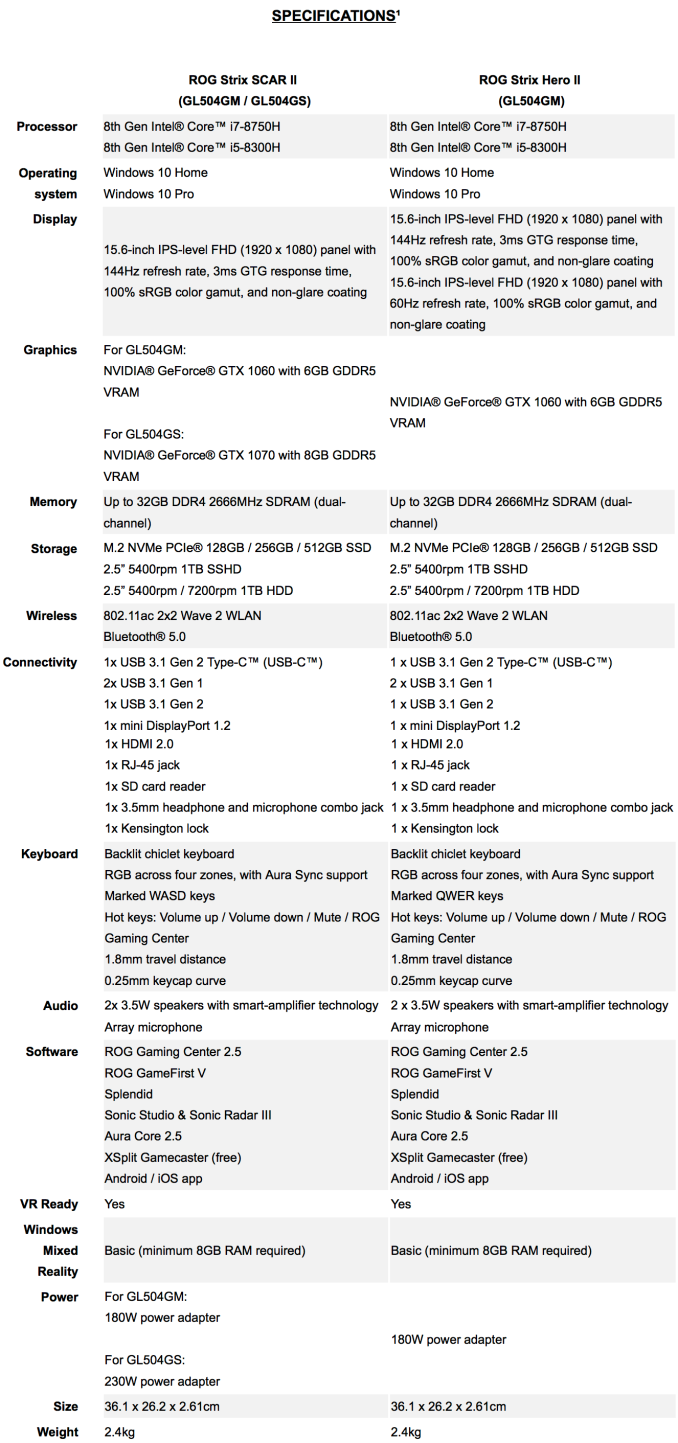 More coverage from Computex 2018 can be found in the link below.
Want to keep up to date with all of our Computex 2018 Coverage?

Laptops

Hardware

Chips
Follow AnandTech's breaking news here!