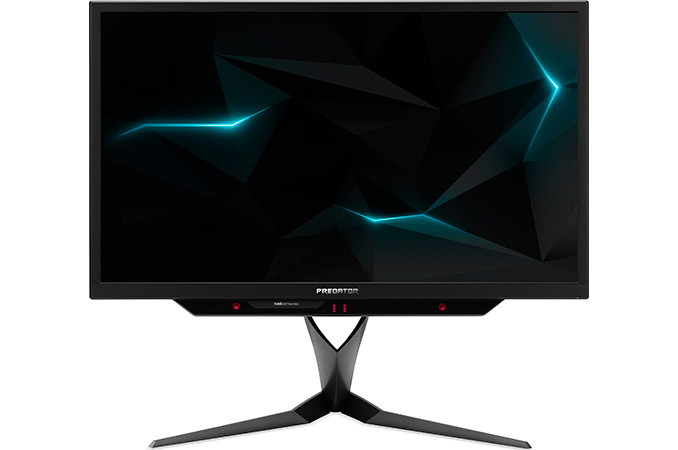 Select European retailers have begun to take pre-orders on G-Sync HDR-supporting monitors from Acer and ASUS that are expected to hit the market as early as late this month. Pricing of the Acer Predator X27 and the ASUS ROG Swift PG27UQ displays appears to be between €2500 and €3000 with VAT, which looks expensive even when European prices and VAT are taken into account.
Acer and ASUS first showcased their 27-inch 4K 144 Hz displays supporting NVIDIA's G-Sync HDR technology at last year's CES, but could not bring them to market in 2017. Last month NVIDIA — which developed and assembled the prototypes for these monitors — said that both highly-anticipated LCDs would ship in April to rejoice of gamers. However pricing for these monitors has never officially been unveiled, as Acer and ASUS were waiting until closer to the displays' launch to release that information.
According to Geizhals.eu, a price-search service, there are a number of retailers in Austria, Denmark and Germany, who are accepting pre-orders on the the Acer Predator X27 and the ASUS ROG Swift PG27UQ. The displays are expected to ship in late April, or in May, but their prices look rather extreme.
G-Sync HDR Monitor Pre-Order Prices
Retailer
Local Price with VAT
Price in USD with VAT
Price in USD without VAT
Acer Predator X27
Komplett.dk
18,495 DKK
$3,068
$2455
ASUS ROG Swift PG27UQ
XITRA.de
€2,442
$3,017
$2535
I-CS.at
€2,604
$3,218
$2682
Built-Direkt.de
€2,646
$3,270
$2748
K&M
€2,919
$3,607
$3031
Bora Computers
€2,919
$3,607
$3031
The Acer Predator X27 and the ASUS ROG Swift PG27UQ monitors will be the first monitors to support NVIDIA's G-Sync HDR technology, with their high-end technology setting them up to fetch a high-end price. From a hardware perspective, they are based on AU Optronics' M270QAN02.2 AHVA panel featuring a 3840×2160 resolution and a 144 Hz refresh rate, this is a rare combination of features these days. Secondly, the monitors must support the DCI-P3 color gamut and a 1000 nits brightness, another challenging combination to be supported by the backlighting. Thirdly, these monitors feature a direct LED backlighting system with 384 zones, which is currently used on one professional monitor. Last but not least, the monitors need a new scaler that supports NVIDIA's G-Sync HDR, which was developed by NVIDIA, which fetches a further premium.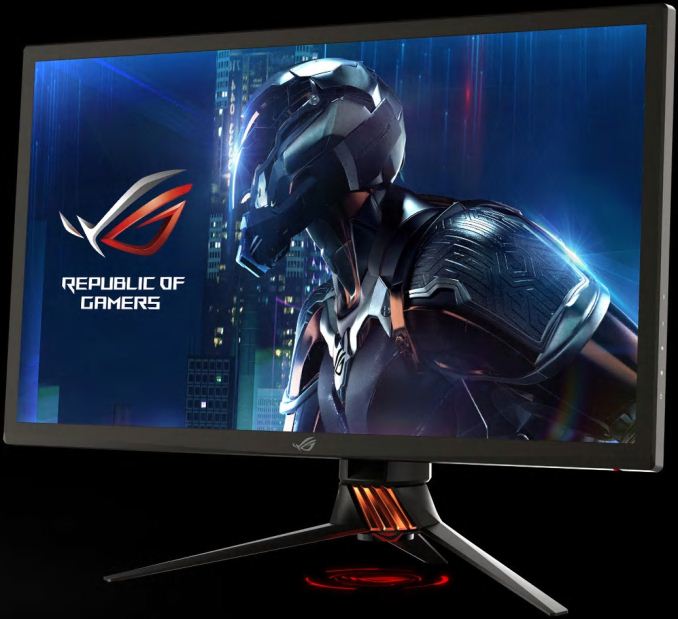 Overall, initial pricing projections for the monitors had them at around $2000. These pre-order prices in Europe are higher still, but at the same time European hardware prices tend to run high even without the impact of VAT. So it remains to be seen where US pricing will end up. But regardless of the speciifc price tag, it looks like G-Sync HDR will remain a prerogative of ultra-premium LCDs and PCs for the time being.
Related Reading:
Sources: Geizhals.EU, TechPowerUp, TechReport