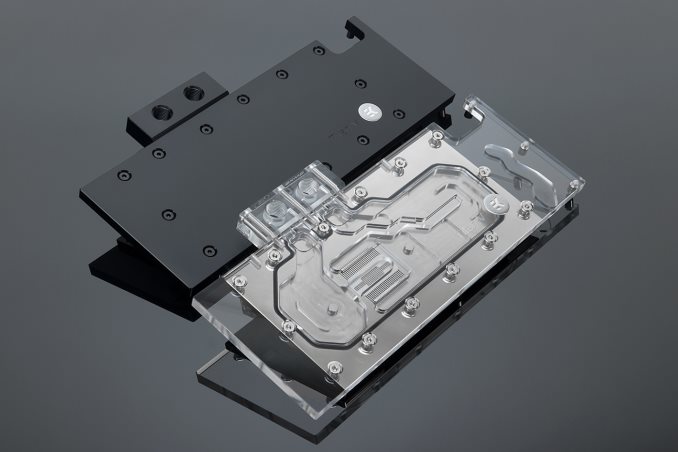 EKWB is releasing water blocks for NVIDIA's flagship GPU offering in the Volta-powered GeForce Titan V. The Titan V, released in December 2017, isn't pegged to be a gaming card, but it is clear EK appears to believe a market exists for those who would like additional cooling on their $3000 video card. With this, they created the EK-FC Titan V GPU block. The EK-FC Titan V GPU block will cool the GPU, HBM2 memory, and power delivery with water channels running directly over these critical areas. Keeping these areas cool, particularly the GPU core, can help the GPU maintain higher clock speeds/boost bins. EK says this allows the graphics card and its VRM to "remain stable under high overclocks and able to reach full boost clocks.".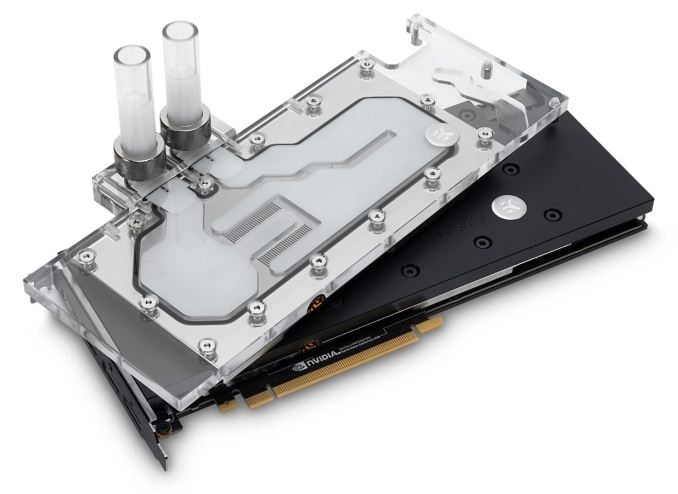 The new EK-FC Titan V block is made of nickel-plated electrolytic copper with the top available in two color choices – Acrylic (clear) for those who like to see the internals, or POM Acetal material (black). The Titan V block features central inlet split-flow cooling engine which is said to offer good hydraulic performance and also works with reversed water flow without affecting cooling performance. This feature will allow a bit more flexibility in loop design since either port on the block can be used in or out.
EK also includes a single-slot IO bracket to replace the original two-slot to transform the GPU in a single slot solution which can make the installation of multiple graphics card easier. In addition to the two Titan V block options, EK will also sell backplates for the card separately. They will come in two choices, either Black or Nickel. The backplates help with aesthetics, hiding the back of the video card's PCB, as well as provides additional passive cooling to the GPU core and power delivery sections. Fittings (sold separately) will be the standard fare G1/4" threading.

The EK-FC Titan V water blocks and backplates are available for purchase through the EK Webshop and their Partner Reseller Network. Both backplates are available through pre-order now with the black model shipping Tuesday, February 27th, while the Nickel version will start shipping Monday, March 5th.
EKWB EK-FC Titan V GPU Block
Name
MSRP (inc. VAT)
EK-FC Titan V
129.95€ / $149.99
EK-FC Titan V - Acetal + Nickel
129.95€ / $149.99
EK-FC Titan V Backplate - Black

33.95€ / $38.99

EK-FC Titan V Backplate - Nickel

39.95€ / $46.99
Related Reading:
Source: EKWB