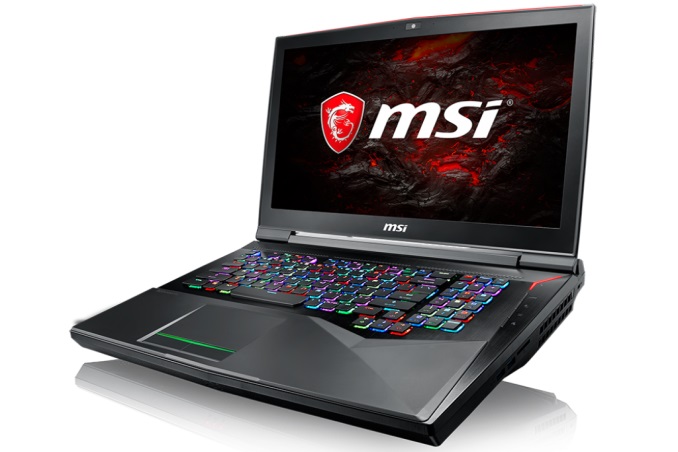 LAS VEGAS, NV — MSI's GT75VR Titan Pro, a more than capable premium gaming laptop, gets a notable update in the wireless department. Last year's model used the Killer 1535 and was 'limited' to 867 Mbps. The latest GT75VR Titan Pro will soon begin shipping with the recently announced Killer 1550 that is capable of transfer rates to 1.73 Gbps for twice the throughput. The Killer 1550 is a conglomeration of Rivet and Intel to combine all the features that Rivet wanted to bring the table, but with Intel designing and manufacturing the chip.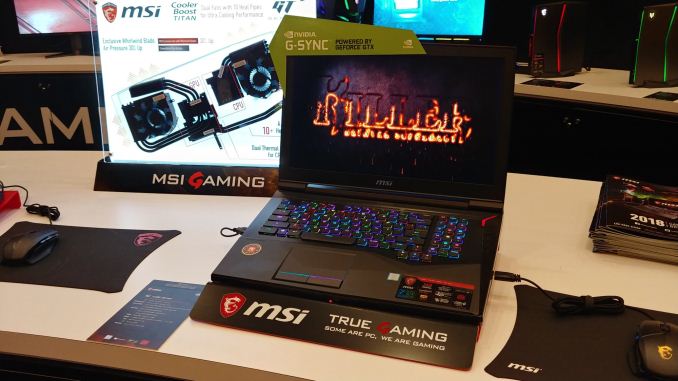 Our Dr. Ian Cutress says this in our recent Killer Wireless-AC 1550 article: "The end result is that the AC 1550 should have the stability of Intel (in fact, the AC9260 has been on sale for several months already), but the additional features of Killer. The driver for both is pretty much the same, being a combined effort between Intel and Killer, while the Killer version will have a specific version of the driver for Killer-features, as well as a Rivet designed service and OS application. At the high-level, the 1550 shares all the features of the AC9260. It is a 2x2 Wi-Fi module with full 802.11ac Wave 2 functionality for 160 Mhz channels, including MU-MIMO, and with the right router is good for up to 1.73 Gbps peak throughput…. Bluetooth 5.x is also supported."

Some of the additional features include the prioritization software. Now, the Killer chip is able to create six levels of priority with the first level considered as the express lane and prioritized for low latency. The hardware includes a pre-prepared traffic whitelist where Rivet has provided 1000 of the most commonly used network traffic configurations and applications. If an app is not on the whitelist, users are able to select their own options, or use Advanced Stream Detection which looks into the way the network traffic to figure out if it is a game, VOIP, a browser, streaming video, or a download and prioritizes that way.
The GT75VR Titan Pro's updates only reach as far as its wireless adapter and don't receive the Coffee Lake treatment at this time. The current version still has plenty of horsepower using a 7th Generation Intel Core i7-7820HK processor, up to 64GB of DDR4 2400 RAM, with single graphics card options up to a GTX 1080 8GB GDDR5X, and an SLI option with two GTX 1070's 8GB GDDR5. Plenty to drive is 120 Hz FHD panel or the optional 4K UHD panel. Just about everything about this laptop is over the edge including its wicked fast Aquantia 10 GbE wired LAN port.
We should see the updated GT75VR for sale soon.
MSI GT75VR Titan Pro (w/ Killer AC1550)
CPU
7th Gen. Intel Core i7 Processor
Display Options
17.3" FHD (1920x1080) 120 Hz, 3ms 94% NTSC
17.3" 4K UHD (3840x2160), IPS-Level 100% Adobe RGB
GPU Options
Geforce GTX 1080 8GB GDDR5X
2 x Geforce GTX 1070 8GB GDDR5 (SLI)
Geforce GTX 1070 8GB GDDR5
Memory
DDR4 2400, 4 slots, up to 64GB
Storage
2 x NVMe M.2 SSDs PCIe 3.0 x4 in RAID0 + 1 2.5" HDD
WLAN
Killer Wireless-AC 1550
LAN
Aquantia 10GbE
Dimensions
16.85" x 12.36" x 2.28" / 9.92 lbs.
USB
1 x USB 3.1 (10 Gbps) DP/ TB3
5 x USB 3.0
Speakers
2 x 3W
Battery
8-Cell 75Wh Li-ion
Related Reading:
Source: MSI