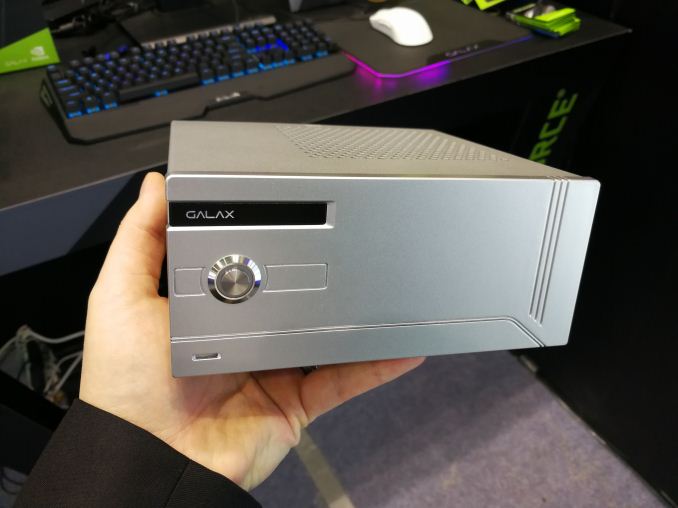 GALAX and KFA2 have announced their first external graphics solutions for laptops and SFF PCs with a Thunderbolt 3 interconnection. The SNPR External Graphics Enclosure, equipped with a GeForce GTX 1060 6 GB inside, is a factory-built product that is smaller than most of eGFX solutions available today due to its integrated cooling solution and it can be used right out-of-the-box. The device is designed to not be upgraded or use discrete cards, like other enclosures.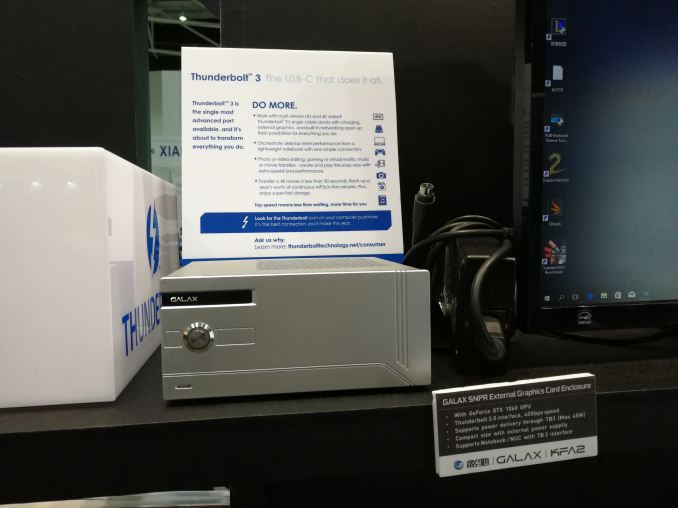 Since Intel enabled support for TB3-based external graphics enclosures in the first half of 2016, about a dozen companies released designs targeting gamers with notebooks. In a bid to maximize compatibility with high-end video cards, these manufacturers made them big and bulky to accept almost any GPU. As there are a lot of people who prefer smaller peripherals and would rather not install graphics boards into eGFX boxes themselves, GIGABYTE earlier this year launched its compact Gaming Boxes featuring the pre-installed GeForce GTX 1070 and GTX 1080 graphics cards. This week, Palit Microsystems (the company that owns Galax, KFA2 and other brands) introduced its eGFX solution, co-developed with SilverStone, that appears to be even smaller than the products offered by GIGABYTE. This was demoed as an early prototype at Compute in June, but is now getting a full launch.
The SNPR External Graphics Enclosure, with a GeForce GTX 1060 6 GB installed, comes in a custom stainless-steel chassis designed by SilverStone and integrates a graphics card featuring NVIDIA's fully-fledged GP106 GPU. The SNPR GeForce GTX 1060 6 GB TB3 enclosure is 73 mm thick and measures 165.0×156.5 mm, which makes it the smallest Thunderbolt 3 graphics solution to date.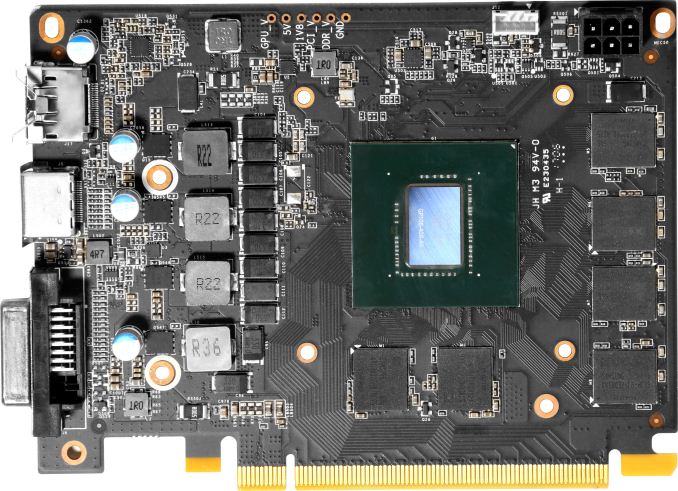 To make its TB3 eGFX solution so compact, Palit had to develop a special graphics adapter that is not available separately. The ultra-short video card is smaller than Mini-ITX GPU versions, and measures 145×110 mm. The card has a DisplayPort 1.4, a DL-DVI-D output and an HDMI 2.0 header to handle three monitors, so no compromises when it comes to connectivity. To ensure stable operation, the board uses a rather sophisticated cooling system featuring an aluminum radiator, three heat pipes, and two fans. Meanwhile, the chassis features honeycomb ventilation holes on its sides, on top as well as on the back.

The device is compatible with every computer that has a Thunderbolt 3 connector and appropriate software and firmware updates. The SNPR is equipped with an external 230 W PSU, so it consumes no power from the TB3 port, but cannot power laptops via the TB3 connection itself (unlike some TB3 docks).
SNPR External Graphics Enclosure with GeForce GTX 1060 6 GB
GPU
NVIDIA GeForce GTX 1060 (GP106)
1280 stream processors,
80 texture units,
48 ROPs, 192-bit bus
Box Size
165.0 × 156.5 × 73.0 mm
6.50" × 6.16" × 2.87"
Box Weight
1.38 kilograms
PSU
230 W, external
AC Input
100-240 V
Graphics Card
Custom GALAX/KFA2 GeForce GTX 1060
Base: 1531 MHz
Boost: 1746 MHz
6 GB of GDDR5 memory at 8 GT/s
Display Outputs
DisplayPort 1.4
HDMI 2.0b
DL DVI-D
Additional Information, Links
GALAX | KFA2
GALAX and KFA2 plan to start sales of the SNPR External Graphics Enclosure with GeForce GTX 1060 6 GB in the coming weeks. MSRP of the product for the U.S. is unknown, but in Europe the eGFX TB3 box will retail for €499. The price of the product seems to be a bit inflated because of its compact size and factory-installed video card. If size is not an issue, it would be cheaper to buy an AKiTiO Node ($249) and a GeForce GTX 1060 6 GB ($240) in the U.S. than to buy the solution from Palit's brands. Moreover, GIGABYTE's own AORUS GTX 1070 Gaming Box is currently available for $569.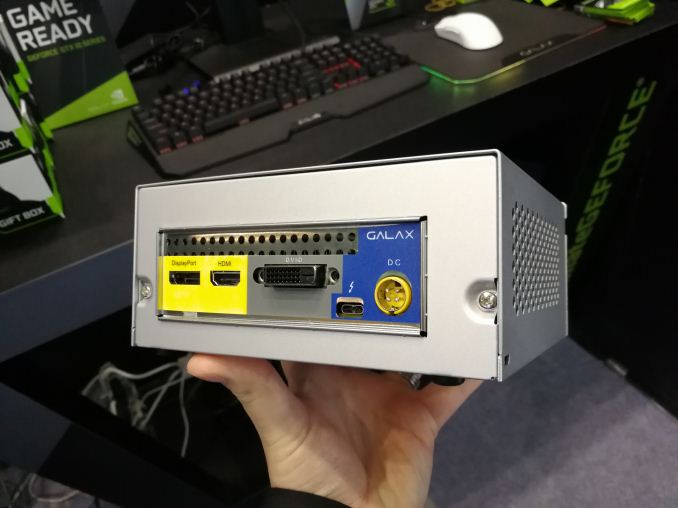 Related Reading
Sources: GALAX, KFA2 (via TechPowerUp)