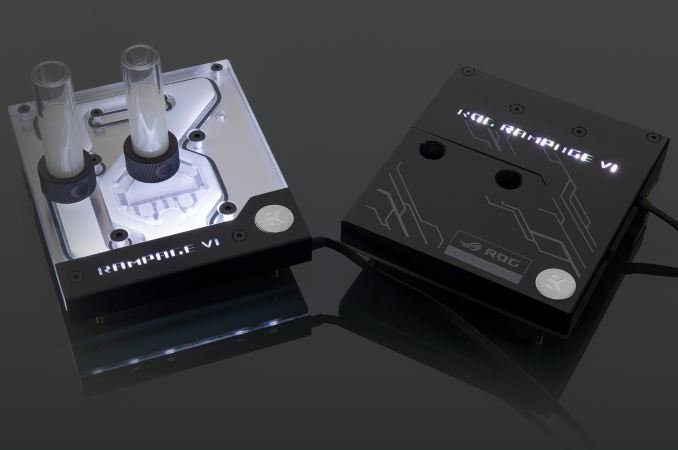 EK has announced a new monoblock made to fit two of ASUS's X299 based motherboards, the ROG Rampage VI Extreme and Apex. The new EK-FB ASUS ROG 6E RGB monoblock, as its name implies, intends to cool both the CPU and VRM sections with one block. The cooler has integrated 4-pin RGB LED strips built-in and are compatible with ASUS's Aura Sync lighting software allowing full customization of the LEDs. With questions about the efficacy of the thermal paste and VRM cooling solutions on some boards, water cooling them both can be a good idea, particularly when overclocking.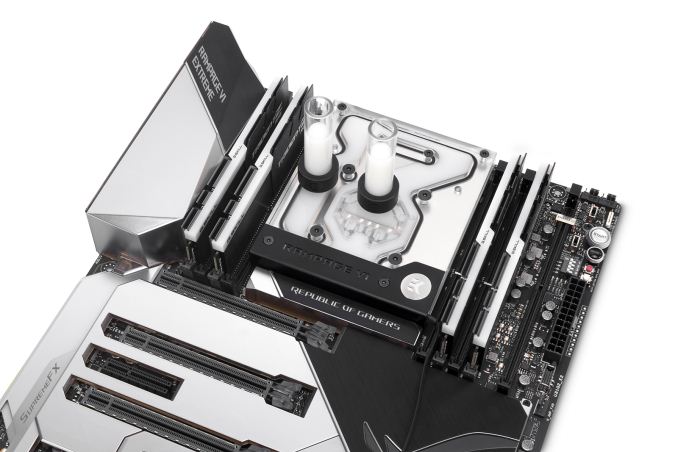 Based off the EK-Supremacy cooling engine, the liquid flows directly over the CPU and VRMs helping keep temperatures lower in stock and overclocked configurations on the high TDP Intel Core X-series CPUs. EK says the high flow design can be easily used with weaker pumps or silent water pump settings. They go on to mention this kind of cooling (CPU and VRM both water cooled) brings down CPU temperatures compared to a traditional CPU water block and stock VRM heatsink (less heat soak through the motherboard). The X299 based monoblocks also have a newly redesigned cold plate to better mate the block to the integrated heat spreader (IHS) of the processors enabling better thermal transfer.
The base of the monoblocks is made of nickel-plated electrolytic copper while the top will come in two options. The first is made from POM Acetal with an aesthetic aluminum cover, the other is made out of acrylic glass material. The nickel plated brass screw-in standoffs are pre-installed for easier mounting.
The monoblock comes with a 4-pin RGB LED strip which connects to the motherboard's 4-pin LED header for control using ASUS' Aura Sync lighting software. They can also be connected to any other 4-pin LED controller for additional flexibility when not using ASUS software to control it. The Nickel block's LEDs are located towards the bottom, while on the Acetal, it is above the ports.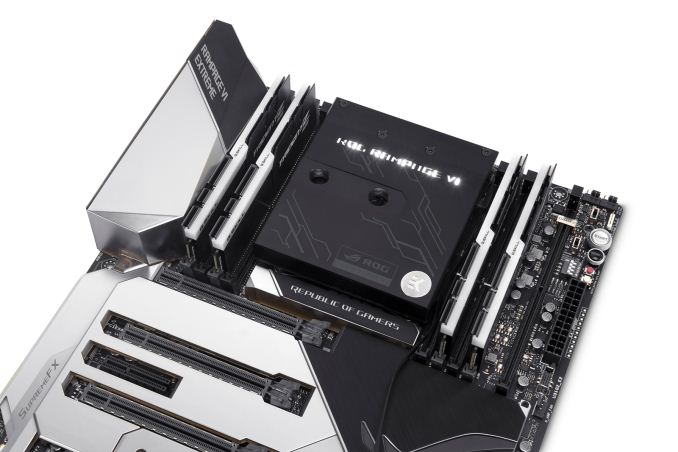 As for pricing, both the Nickel and Acetal + Nickel models are €119.95 ($136.99USD). These are currently available for pre-order through the EK-Webshop and their Partner Reseller Network. Pre-orders begin shipping Monday, September 25th.
EKWB EK-FB ASUS ROG R6E Monoblock
MSRP (incl. VAT)
EK-FB ASUS ROG R6E Monoblock - Nickel
119.95€

EK-FB ASUS ROG R6E Monoblock - Acetal+Nickel

119.95€
Related Articles: