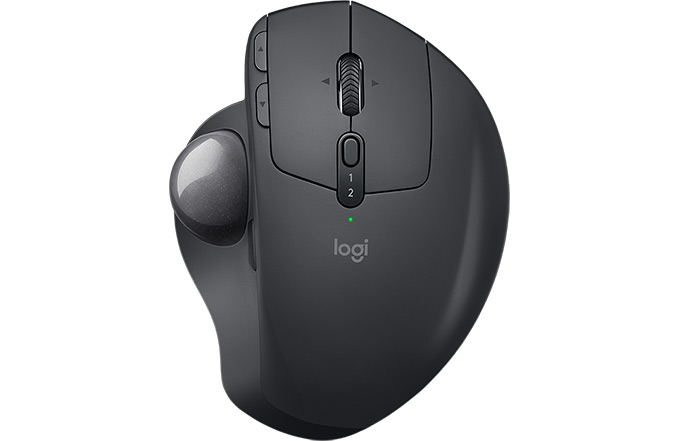 Logitech is introducing its first new trackball in years. The MX Ergo trackball claims improved precision compared to its predecessors, as well as eight buttons combining modern features with an older use model. The device is also one of the first products by Logitech that supports the company's Flow technology that enables seamless switching and file sharing between different systems.
Trackball History 101
The trackball was invented in 1947, decades before mice and personal computers, for the British Royal Navy's command, control, and coordination system known as Comprehensive Display System (CDS). In fact, a rolling ball along with four disks to pick up motion were used both for early trackballs and for early mice. However, mice were chosen by Apple, Microsoft, Xerox and others for their programs and computers featuring GUI in the late 1970s and the early 1980s possibly because of more intuitive design. Meanwhile, rolling balls inside mice were not always optimal for precision and other reasons, which is why trackballs became relatively popular in the eighties and the nineties primarily among graphics designers. After both mice and trackballs switched to optical tracking technology in the late 1990s to early 2000s, advantages of trackballs somewhat eroded and their adoption diminished. Nonetheless, there are loyal trackball users who continue to operate them instead of other tracking devices either for personal efficiency, comfort, or nostalgia. Only two main companies produce trackballs nowadays: Logitech and Kensington, with Logitech introducing its first new trackball in many years.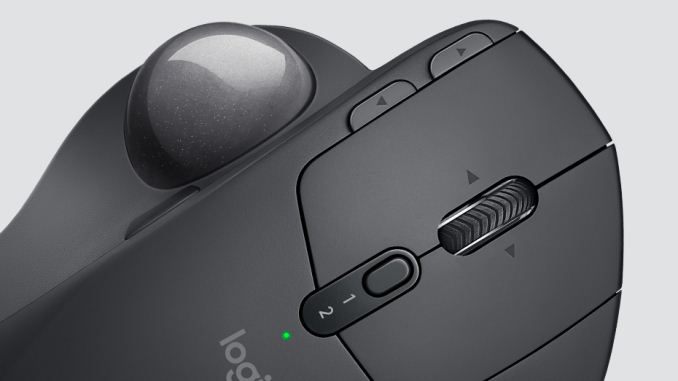 The Logitech MX Ergo (For Right-Handers)
The Logitech MX Ergo looks like a huge mouse, except it has a ball which has to be rotated by a big digit. As the 'Ergo' name implies, the ergonomics of the trackball can be adjusted. This is achieved by increasing the angle of the device from 0 to 20 degrees, just like the precision of the optical tracking, which varies from 320 dpi to 440 dpi. The device has eight buttons, some of which can be reprogrammed. The latest trackball also comes with an integrated 500 mAh Li-Po battery that can work for 'days or months depending on usage model'.
The new MX Ergo trackball from Logitech can use the company's Unify wireless receiver (as well as Bluetooth) to connect to PCs. Moreover, just like Logitech's latest mice, the MX Ergo supports the company's Flow technology that allows to simultaneously control two computers (Macs and/or Windows) and automatically switch between them by moving the cursor to the edge of the screen. In addition, the Flow allows transferring files between two systems wirelessly using Wi-Fi or Ethernet networks.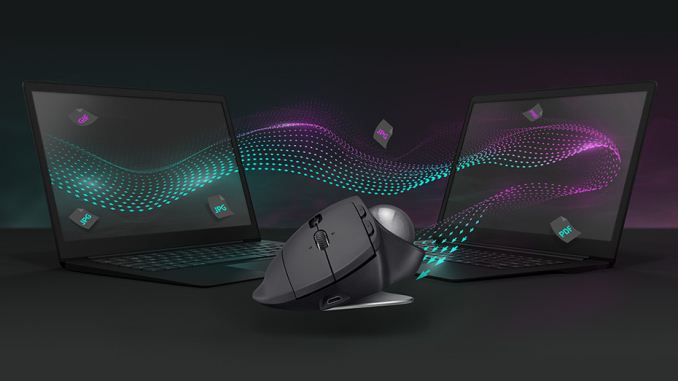 The tilt of the trackball in action
The Logitech MX Ergo trackball mouse will be available in the U.S. directly from the company, and from its retail partners starting later this month, for $99.99. Pricing and availability in other countries will vary. No word if a left-handed version will enter the market.


Related Reading
Source: Logitech