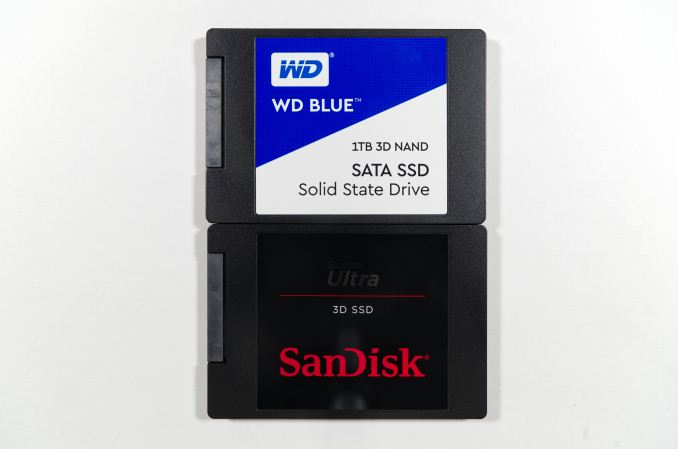 Western Digital, and its subsidiary SanDisk, have had some of the best performing planar TLC SATA SSD components in recent memory, so the bar is high for a new generation of SSDs. This review covers two drives which have the same design but differ in name only: the SanDisk Ultra 3D 1TB, and the Western Digital WD Blue 3D 1TB. Each drive will be targeted to the customer bases that appeal to each brand name.
The new drives don't change the basic formula that has worked in the past: the controller is the same Marvell 88SS1074 used in the original WD Blue SSD, and SanDisk is still developing the firmware in-house. SanDisk was a relatively early adopter of TLC NAND flash for consumer SSDs, starting with the Ultra II introduced in 2014. Prior to adopting 3D NAND, they had already moved to using TLC for their mainstream client drives, not just for entry level products. The original WD Blue SSD from last year used 15nm TLC, as did their flagship business/OEM SanDisk X400 client SSD.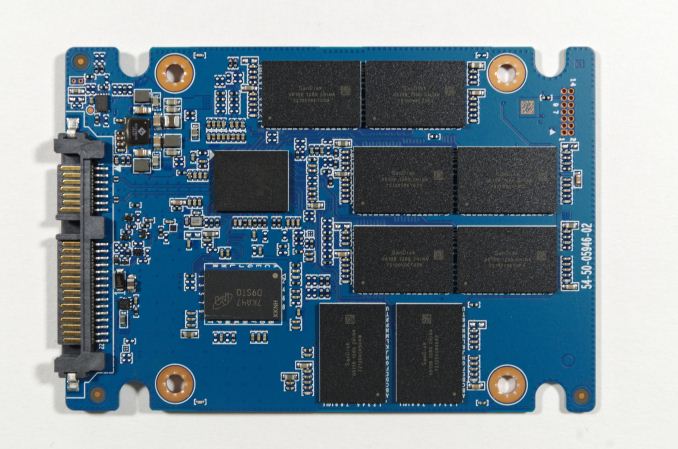 SanDisk's 3D NAND, now in its third generation, is finally ready for mainstream SSDs. The NAND is a BiCS3 3D design, which uses a 64-layer charge trap flash design and is shared with Toshiba's 3D NAND. Western Digital has launched this 3D NAND in the retail market with a SATA drive that is being sold under both their SanDisk and WD brands. Like almost all current consumer SSDs with 3D NAND, the new SanDisk Ultra 3D and WD Blue 3D NAND SSD uses 3D TLC NAND flash.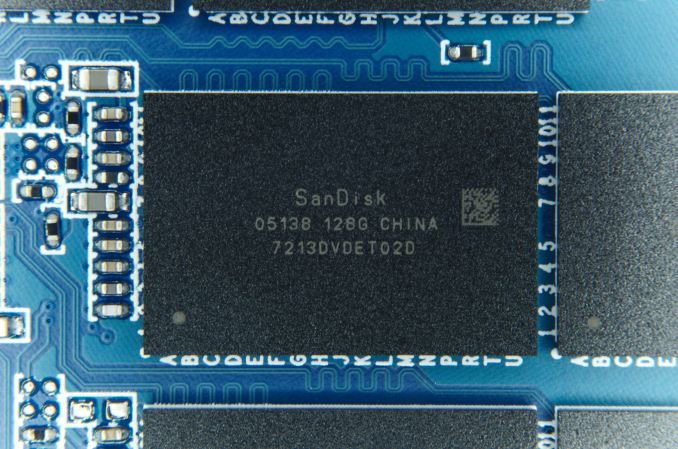 Toshiba's version of this 3D NAND debuted in the Toshiba XG5 M.2 NVMe SSD for the OEM market, a drive we were quite impressed by. The SATA interface will limit how much the drives in this review can improve performance over their planar TLC predecessors, but there's still some room for improvement, especially around power consumption.
SanDisk Ultra 3D and WD Blue 3D NAND Specifications
Capacity
250 GB
500 GB
1TB
2TB
Controller
Marvell 88SS1074
NAND
SanDisk 64-layer 3D TLC
Form Factor
2.5" 7mm
M.2 2280 (WD Blue only)
Sequential Read
550 MB/s
560 MB/s
560 MB/s
560 MB/s
Sequential Write
525 MB/s
530 MB/s
530 MB/s
530 MB/s
4KB Random Read IOPS
95k
95k
95k
95k
4KB Random Write IOPS
81k
84k
84k
84k
Idle Power (Slumber)
56 mW
Idle Power (DevSlp)
5-7 mW
5-12 mW
Write Endurance
100 TB
200 TB
400 TB
500 TB
Warranty
Three years
MSRP
$94.99
$164.99
$309.99
$619.99
The new WD Blue 3D NAND serves as the successor to the original WD Blue SSD, while the SanDisk Ultra 3D is a long-overdue replacement for the Ultra II. Both of the new products use the same technology under the hood; they differ primarily in the stickers on the outside of the drive and the retail packaging it arrives in. The product family includes capacities from 250GB to 2TB, and there is a M.2 SATA version available under the WD Blue branding. (The 2TB M.2 WD Blue 3D NAND has been announced but is not yet available.)
The performance and power specifications of the new WD/SanDisk drives are typical for a mainstream or high-end SATA SSD. Endurance ratings are good at slightly more than 0.3 drive writes per day, except for the 2TB model that is rated for just over 0.2 DWPD over the course of the three-year warranty.
For this review, Western Digital provided a 1TB WD Blue 3D NAND and a 1TB SanDisk Ultra 3D. Since these drives only differ cosmetically, their benchmark results should theoretically be the same. Any variations are due either to variability in our own tests, or to manufacturing variability that would be similar for two samples of the same model. We requested different capacities, which may come at a later date, although companies like to show off their best hand first - a 1TB drive is in peak of performance while not being as power hungry as a 2TB drive. It would still be interesting to get the other drives in to test, however.
This review will compare the WD Blue 3D NAND and the SanDisk Ultra 3D against the following drives:
AnandTech 2017 SSD Testbed
CPU
Intel Xeon E3 1240 v5
Motherboard
ASRock Fatal1ty E3V5 Performance Gaming/OC
Chipset
Intel C232
Memory
4x 8GB G.SKILL Ripjaws DDR4-2400 CL15
Graphics
AMD Radeon HD 5450, 1920x1200@60Hz
Software
Windows 10 x64, version 1703
Linux kernel version 4.12, fio version 2.21