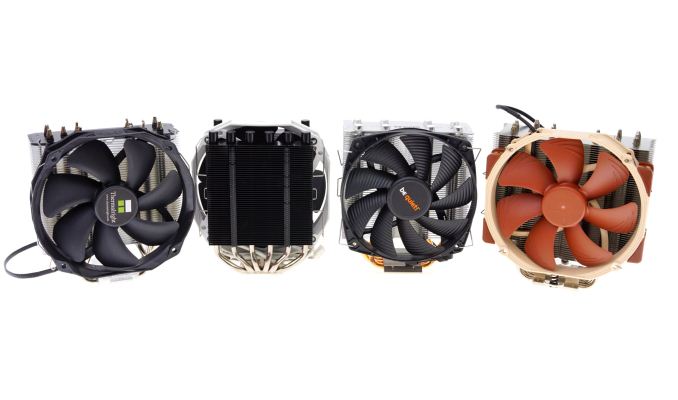 A standard cooler is supplied with nearly all retail boxed CPUs, which guarantees adequate cooling performance under normal operating conditions. Enthusiasts however are rarely satisfied with the performance of stock CPU coolers, seeking either better overall performance or lower noise levels. This is especially true for those who are planning to overclock their systems, as the supplied coolers usually don't have the extra performance required for handling overdriven processors.
However, the selection of a CPU cooler is a complicated matter. It depends on the available space, the user's needs and wants, as well as on the available budget. For example, some users might require high performance but low profile coolers due to limited space, while others may have spacious cases and high enough budgets to afford a huge dual-tower cooler.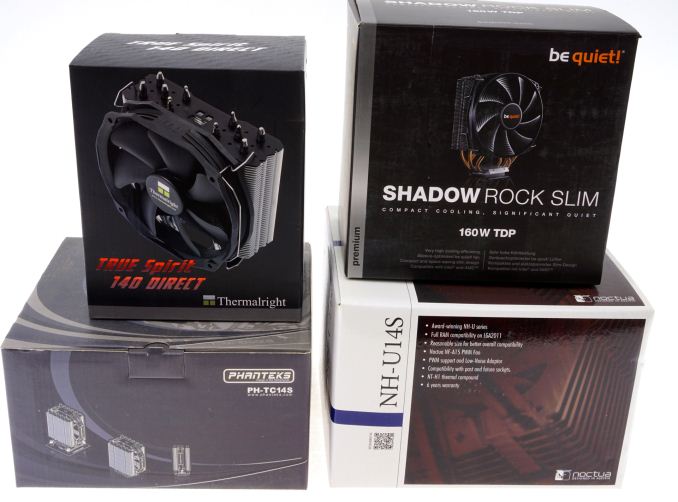 In today's review we will be having a look at some of the most popular single tower 140 mm CPU coolers currently available. Considering that height usually is the primary concern with CPU coolers, single tower 140 mm coolers virtually have the same space requirements as the dual tower 140 mm coolers do. Their distinct advantages however are much lower weight and significantly more competitive pricing. This makes them ideal for users that do have the available space, but do not require the performance of a dual-tower behemoth or move their system often, in which case the cooler's weight becomes a major safety concern.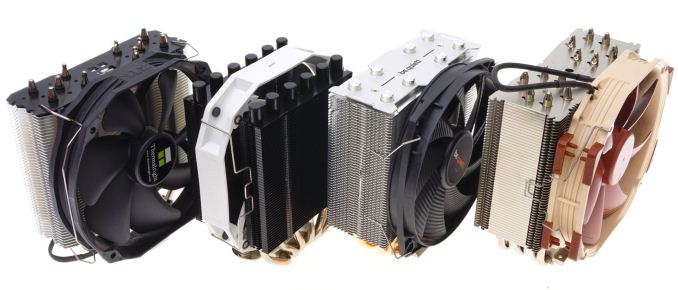 Thermalright True 140 Direct, Phanteks PH-TC14S, Be Quiet! Shadow Rock Slim, & Noctua NH-U14S
The four coolers that we are taking a look at in this roundup review are the: Noctua NH-U14S, Phanteks PH-TC14S, Thermalright True Spirit 140 Direct, and the Be Quiet! Shadow Rock Slim. All four of these coolers have similar space requirements and pricing, but they are certainly not created equal. We will have a closer look at their individual strengths and weaknesses in the following pages of this review.
140mm Tower CPU Coolers
Product
Fan(s)
Fan Speed (RPM)
Height (mm/in)
Current Retail Pricing
Noctua NH-U14S
1 × 140 mm
1500 RPM
165 mm / 6.5"
$65
Phanteks PH-TC14S
1 × 140 mm
1300 RPM
160 mm / 6.3"
$50
ThermalRight True Spirit 140 Direct
1 × 140 mm
1600 RPM
161 mm / 6.34"
$47
Be Quiet! Shadow Rock Slim
1 × 140 mm
1400 RPM
161 mm / 6.34"
$50