Supermicro's Xeon D Solution: X10SDV-12C-TLN4F
The top tier server vendors seem to offer very few Xeon D based servers. For example, there is still no Xeon D server among the HP Moonshot cartridges as far as we know. Supermicro, on the other hand, has an extensive line of Xeon D motherboards and servers, and is basically the vendor that has made the Xeon D accessible to those of us that do not work at Facebook or Google.
The first board we were able to test was the mini-ITX X10SDV-12C-TLN4F. It is a reasonably priced ($1200) model, in the range what the Gigabyte board and Cavium CN8880 -2.0 will cost (+/- $1100).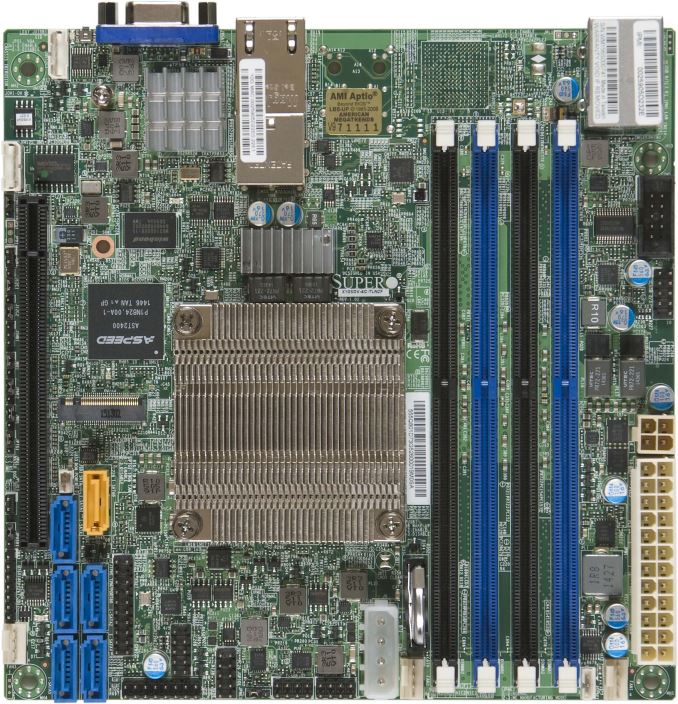 The Xeon D makes six SATA3 ports and two 10GBase available on this board. An additional i350-AM2 chip offers 2 gigabit Ethernet ports. The board has one PCI-e 3.0 x16 slot for further expansion. We have been testing this board 24/7 for almost 3 months now. We have tried out the different Ethernet ports and different DDR-4 DIMMS: it is a trouble-free.
The one disadvantage of all Supermicro boards remains their Java-based remote management system. It is a hassle to get it working securely (Java security is a user unfriendly mess), and it lacks some features like booting into the BIOS configuration system, which saves time. Furthermore video is sometimes not available, for example we got a black screen when a faulty network configuration caused the Linux bootup procedure to wait for a long time. Remote management solutions from HP and Intel offer better remote consoles.