The Market
At this point in time, Intel is primarily competing with itself. Because the enterprise market requires consistency, the HEDT platform is constrained to that three year, two product cycle, which maintains enough consistency in socket compatibility to keep the enterprise partners happy. When Intel has 95%+ of the HEDT and x86 enterprise market, rather than increasing market share to generate revenue, Intel has to convince users on older systems that their new products are worth the investment. That's an easy sell in the enterprise market, as time is money and total cost of ownership for a system is typically well documented for cyclical updates.
For HEDT, making that case to prosumers can be difficult. It depends on budgets and how applications are developing, especially when a number of popular professional software packages are (where possible) trying to leverage PCIe accelerators. There will always be a strong market for CPU performance, and there will always be a market for HEDT, depending on the price. But at some point the HEDT and Xeon markets do collide, and the two main factors on this are price and availability.
As mentioned earlier, the newly introduced Broadwell-E Core i7 parts collide in price with a number of Broadwell-EP Xeon parts, which could suggest that Intel wants to push potential prosumers (especially the professional ones) more into systems made by enterprise and workstation partners. These systems are typically sold with appropriate support, and the two platforms differ by a few features. The question becomes about who is buying HEDT: a number of users reading this will be gamers, and will not be interested in workstation sellers.
It's a strange balance that Intel is trying to strike. Everyone wants more – whether they need it or not is a different conversation – but most enthusiasts say they want more. Intel states that as a company, it supports the gamers and the enthusiasts who want to push their consumer platforms to the fullest, and something like Broadwell-E does that. However a prohibitive price might reduce the potential number of next generation enthusiasts who want to play at the high-end.
X99 Refresh Motherboards
Throughout this month many of the regular motherboard manufacturers have either released, announced, or teased newer "refresh" motherboards using the LGA2011-3 socket and the X99 chipset. We've got a base roundup of all the new motherboards coming out of Computex planned, especially as new models are being announced and shown at the show. A couple of these landed on our desk for Broadwell-E testing, such as the MSI X99A Gaming Pro Carbon: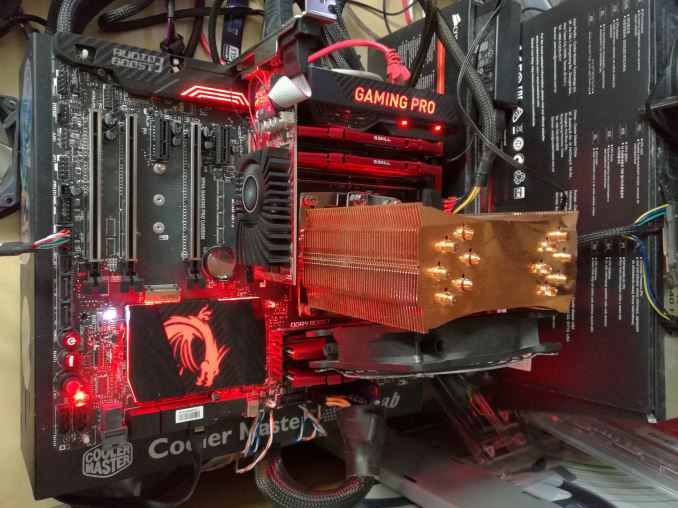 The Carbon is a relatively new brand for MSI's motherboard range, typically on the high-end models, and this one aims for a deep black aesthetic that is enhanced through the additional LED lighting.
We also have in the ASUS X99-E-10G WS motherboard, ASUS' high-end workstation and prosumer based motherboard that also integrates an Intel X550-T2 10 gigabit Ethernet chip offering two 10GBase-T ports. We've seen this before on the ASRock X99 WS-E/10G, which used the X540-T2, and required eight PCIe 3.0 lanes from the CPU to provide enough bandwidth. We were only able to test the ASUS 10G board for a couple of days before leaving for Computex, and will have a preview up shortly.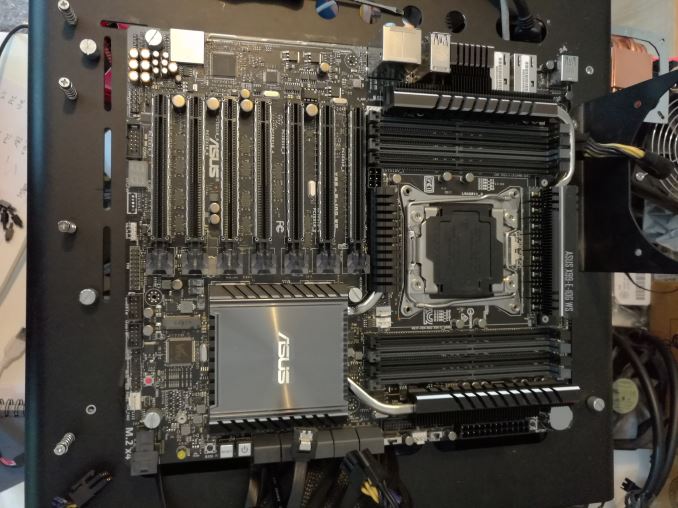 ASRock also sent us their X99X Killer, although the courier tried to deliver on a day where I spent 30 minutes gathering stuff for the Computex trip. Go figure. It'll be ready to test when I get back!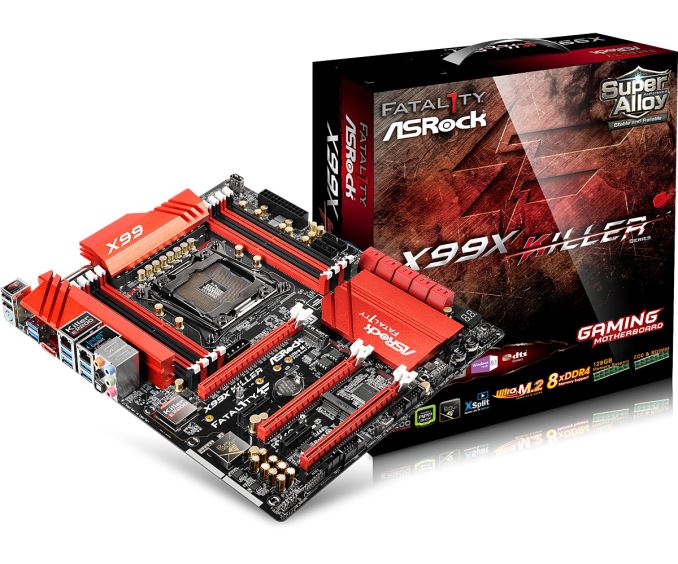 This Review
As with every CPU launch, there are a number of different directions to take our review. In our review of the launch of the consumer Broadwell parts, the i7-5775C and the i5-5675C we examined the generational update over previous architectures, and thus won't repeat those tests here. We have had almost every high-end desktop CPU since Sandy Bridge-E in-house at some point, although only the latest have been through our most recent benchmark suite. Due to timing, we were able to test all four of the new Broadwell-E processors, and retest the three Haswell-E processors, however we have a more limited dataset for comparison to Ivy Bridge-E, Sandy Bridge-E and Nehalem/Westmere. It will be interesting to see how the CPU performance for the HEDT has adjusted over the last five generations.
The other angle is the recent release of Intel's Skylake mainstream focused processors, such as the i7-6700K and the i5-6600K, which feature a higher single core frequency but fewer cores and fewer memory channels, or the mainstream enthusiast focused Devil's Canyon processors released back in July 2014. These have been tested on our latest range of benchmarks, and should make it clear where the latest mainstream-to-HEDT crossover should be.
Test Setup
Many thanks to...
We must thank the following companies for kindly providing hardware for our test bed:
Thank you to AMD for providing us with the R9 290X 4GB GPUs.
Thank you to ASUS for providing us with GTX 980 Strix GPUs and the R7 240 DDR3 GPU.
Thank you to ASRock and ASUS for providing us with some IO testing kit.
Thank you to Cooler Master for providing us with Nepton 140XL CLCs.
Thank you to Corsair for providing us with an AX1200i PSU.
Thank you to Crucial for providing us with MX200 SSDs.
Thank you to G.Skill and Corsair for providing us with memory.
Thank you to MSI for providing us with the GTX 770 Lightning GPUs.
Thank you to OCZ for providing us with PSUs.
Thank you to Rosewill for providing us with PSUs and RK-9100 keyboards.