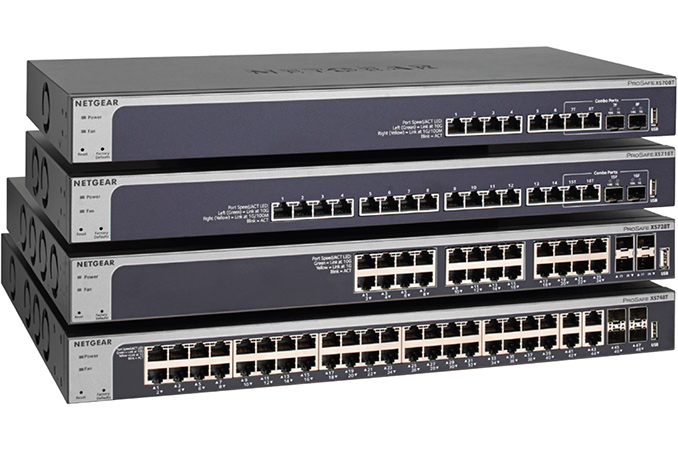 NetGear has introduced four new ProSAFE 10 GbE switches for small and medium businesses, upgrading their first generation of XS708E and XS712T parts. The new switches support both copper (10GBase-T) and fiber links, IPv6 management as well as Layer 2+/Layer 3 Lite features. NetGear claims that the new switches are significantly more cost-efficient than previous-generation 10 GbE products.
Internet speeds and file sizes increased orders of magnitude in the last ten years and for many offices (and prosumers), Gigabit Ethernet or basic teaming might no longer be enough. As a result, many businesses and individuals these days are evaluating migration to 10 Gigabit Ethernet, which of course has immediate high performance, but is more expensive on per-port basis than traditional GbE (as well as power consumption when looking for RJ45 compatibility). Fortunately, in the recent quarters, a number of companies have started to offer moderately priced 10 GbE switches supporting both copper and fiber links that can enable a more cost-efficient transition to 10 Gigabit networks.
The four new ProSAFE 10 GbE Smart Managed Switches from NetGear are the 8-port XS708T, the 16-port XS716T, the 24-port XS728T and the 44-port XS748T. The 8- and 16-port switches are based on single-core ARM Cortex-A9 600 MHz processor, whereas the more powerful 24- and 44-port models feature dual-core ARM Cortex-A9 800 MHz processor.
NetGear ProSAFE 10 GbE Smart Managed Switches
XS708T
XS716T
XS728T
XS748T
10GBase-T RJ-45
8
16
24
44
SFP Ports
2 shared
4 dedicated
CPU
Single-core ARM Cortex-A9 600 MHz
Dual-core ARM Cortex-A9 800 MHz
RAM
512 MB
Non-Volatile Memory
8MB SPI + 256 NAND
Packet Buffer
2 MB
3 MB
ACLs
100 shared
164 shared
MAC Address Table
RP/NDP Table
VLANs
16K MAC
738 ARP/NDP
256 VLANs
16K MAC
1K ARP/NDP
512 VLANs
Fabric Bandwidth
160 Gbps
320 Gbps
560 Gbps
960 Gbps
Rated Latency
10GBASE-T: <3.012 μs

SFP+:
<2.466 μs
10GBASE-T: <2.624 μs

SFP+:
<2.128 μs
10GBASE-T: <11.649 μs

SFP+:
<2.619 μs
10GBASE-T: <3.674 μs

SFP+:
<3.693 μs
Static Routes
(IPv4 & IPv6)
IPv4: 32
IPv6: 32
IPv4: 64
IPv6: 64
Multicast IGMP
Group
512
USB Port
One port for firmware and config access
Rated Power Consumption
49.5 W
96.0 W
134.9 W
262.8 W
Price
$1558
$2623
unknown
$8198
The switches support modern VLAN features, such as protocol-based VLAN, MAC-based VLAN and 802.1x Guest VLAN; advanced QoS with L2/L3/L4 awareness and eight priority queues including Q-in-Q; dynamic VLAN assignment; IPv4 and IPv6 routing; IPv6 for management, QoS and ACL and so on. The devices come in rackmount form-factors and consume from 49.5 W to 262.8 W of power.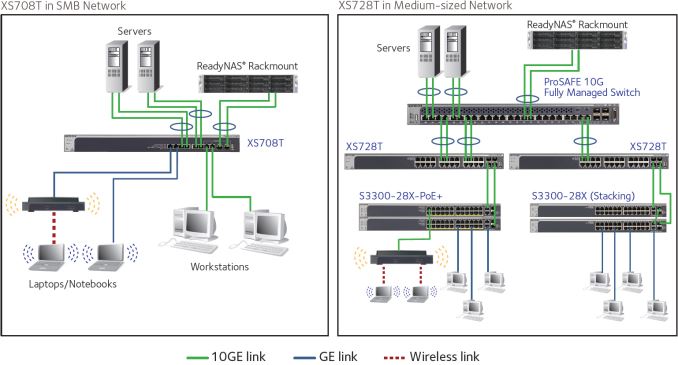 According to a survey of over 550 IT decision-makers in the U.S, U.K., and Germany ordered by NetGear and conducted by Palmer Research, approximately 33% of sub-500-employee businesses today already have 10 GbE switching to connect to modern 10 GbE servers and NAS. Meanwhile, a lot of those who currently do not use 10 GbE are considering to deploy it and plan to do so in the coming quarters. The survey says that by the end of 2017, 75% of the aforementioned organizations will have deployed a 10 GbE backbone by the end of 2017. Analysts from IHS (according to data provided by NetGear) seem to agree with the results of the survey and believe that adoption of 10 GbE is increasing rapidly these days.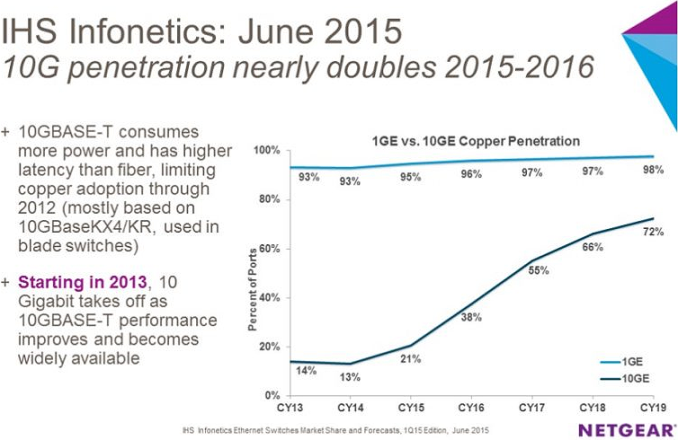 Pricing of these switches are a lot higher than standard gigabit ethernet switches as 10GbE networks typically require the advanced management protocols for businesses and enterprise, whereas home users might be happy with a simple pass-through device. Because of the market, and the management requirements, we are still looking at above $150 per port for 10GbE. The NetGear ProSAFE XS708T and XS716T are available now for $1558 ($194.75 per port) and $2623 ($164 per port), respectively. The top-of-the-range XS748T will ship in July for $8198 ($186 per port). Pricing and availability of the XS728T were not touched upon by NetGear. By comparison, the popular first generation 8-port XS708E switch is retailing for $850 ($106.25 per port) at this point in its life cycle.
Sources: NetGear, ServeTheHome.