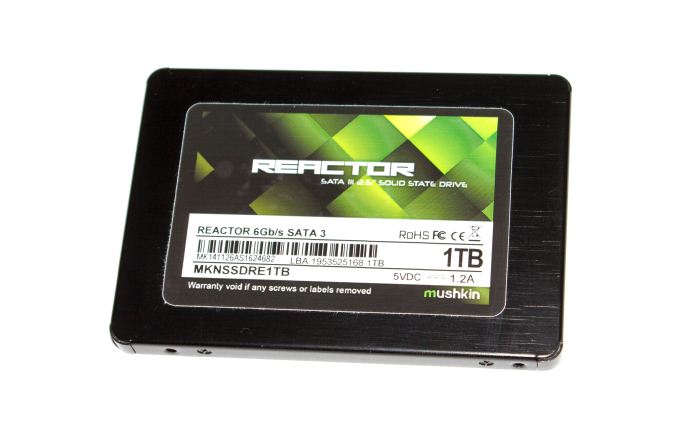 Silicon Motion has practically become the new SandForce. Almost every tier three manufacturer (i.e. one with no controller/firmware IP or NAND fab) has released an SM2246EN based drive in the past ten months and recently Silicon Motion scored two major tier one partners (namely Micron/Crucial and SanDisk) as well. To be honest, this hasn't come as a surprise because the SM2246EN is a really solid controller with good performance and more importantly it's been mostly issue free (which is something that cannot be said about SandForce).
Mushkin's Reactor combines the SM2246EN with Micron's latest 128Gbit 16nm MLC NAND, and this is actually the first time I've encountered a non-Micron/Crucial SSD with Micron's 16nm NAND. That really emphasizes the benefit NAND manufacturers have because Micron has been using 16nm NAND in its own SSDs for over six months now, but the company hasn't begun shipping it to others in volume until now. I suspect the volumes are still fairly low because the Reactor only comes in 1TB capacity, which is still fairly expensive and thus limits the demand to a level that is easier to manage compared to the more popular 256GB and 512GB models. I was told that 256GB and 512GB models may follow later, but as of now Mushkin will only be offering the Reactor in 1TB.
Mushkin Reactor Specifications
Capacity
1TB
Controller
Silicon Motion SM2246EN
NAND
Micron 128Gbit 16nm MLC
Sequential Read
560MB/s
Sequential Write
460MB/s
4KB Random Read
74K IOPS
4KB Random Write
76K IOPS
Encryption
N/A
Endurance
144TB
Warranty
Three years
In terms of features the Reactor is a fairly typical value drive without any special features. Neither hardware accelerated encryption nor DevSleep is supported, although the Reactor does support slumber power states for low idle power consumption. Endurance is a respectable 144TB, which translates to 131GB of writes per day for three years.
Moreover, the retail package doesn't include anything in addition to the drive itself and Mushkin offers no software/toolbox for its SSDs.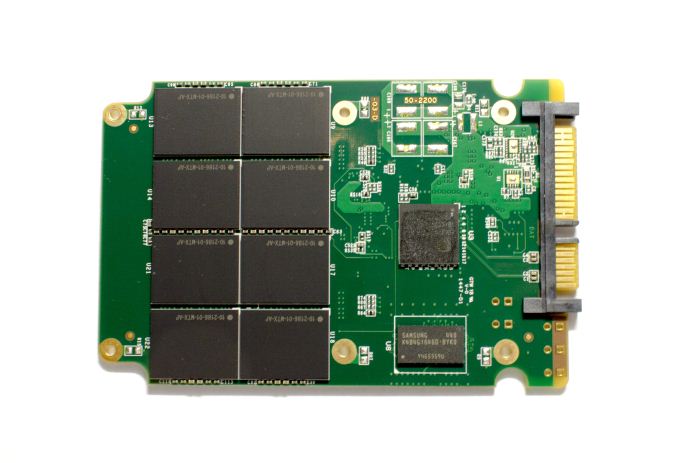 There are sixteen NAND packages on the PCB with eight on each side. Since we are dealing with a 128Gbit (16GB) die, that translates to four dies per package. Mushkin actually does the packaging in-house (i.e. buys NAND in wafers and then does the binning and packaging), which is why the packages lack the typical Micron logo and labels.
Test Systems
For AnandTech Storage Benches, performance consistency, random and sequential performance, performance vs. transfer size, and load power consumption we use the following system:
| | |
| --- | --- |
| CPU | Intel Core i5-2500K running at 3.3GHz (Turbo & EIST enabled) |
| Motherboard | ASRock Z68 Pro3 |
| Chipset | Intel Z68 |
| Chipset Drivers | Intel 9.1.1.1015 + Intel RST 10.2 |
| Memory | G.Skill RipjawsX DDR3-1600 4 x 8GB (9-9-9-24) |
| Video Card | Palit GeForce GTX 770 JetStream 2GB GDDR5 (1150MHz core clock; 3505MHz GDDR5 effective) |
| Video Drivers | NVIDIA GeForce 332.21 WHQL |
| Desktop Resolution | 1920 x 1080 |
| OS | Windows 7 x64 |
Thanks to G.Skill for the RipjawsX 32GB DDR3 DRAM kit
For slumber power testing we used a different system:
| | |
| --- | --- |
| CPU | Intel Core i7-4770K running at 3.3GHz (Turbo & EIST enabled, C-states disabled) |
| Motherboard | ASUS Z87 Deluxe (BIOS 1707) |
| Chipset | Intel Z87 |
| Chipset Drivers | Intel 9.4.0.1026 + Intel RST 12.9 |
| Memory | Corsair Vengeance DDR3-1866 2x8GB (9-10-9-27 2T) |
| Graphics | Intel HD Graphics 4600 |
| Graphics Drivers | 15.33.8.64.3345 |
| Desktop Resolution | 1920 x 1080 |
| OS | Windows 7 x64 |