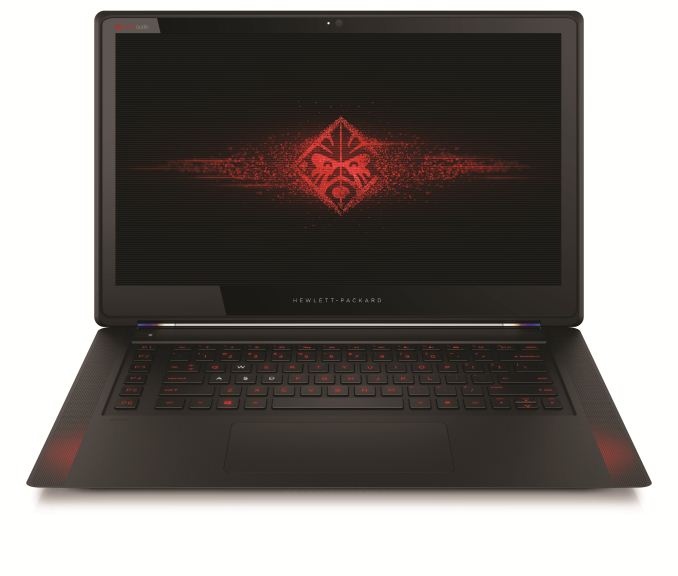 HP today announced the availability of their new Omen laptop, a name that hearkens to their acquisition of Voodoo PC clear back in 2006. It's been a while since we've seen much in the way of references to the former gaming brand, and while there's no explicit mention of Voodoo anywhere, Voodoo used to have a line of gaming desktops sold under the Omen brand.
What's interesting about the new Omen laptop is that it goes after the thin gaming laptop market. The Omen is sure to draw comparisons with Razer's Blade line of gaming notebooks, or if we cast a wider net the MSI GS60 and of course Apple's MacBook Pro could also be part of the comparison. Of course this isn't just a straight clone, as the Omen is a laptop with a 15.6-inch screen and the chassis design is clearly different from the other options we just listed. Let's start with the specifications:
HP Omen Specifications
Processor
Intel Core i7-4710HQ
(Quad-core 2.5-3.5GHz, 6MB L3, 22nm, 47W)
Memory
8GB or 16GB DDR3L-1600
Graphics
GeForce GTX 860M 2GB/4GB GDDR5
(640 cores, 1029MHz + Boost 2.0, 5GHz GDDR5)
Display
15.6" IPS 1080p Touchscreen (1920x1080)
Storage
128GB, 256GB, or 512GB SSD
Optical Drive
N/A
Networking
802.11ac WiFi
(2x2:2 866Mbps capable)
Bluetooth
USB Ethernet Adapter
Audio
Stereo Speakers
BeatsAudio
Headphone/microphone combo jack
Battery/Power
4-cell, 58Wh
120W Max AC Adapter
Front Side
N/A
Left Side
N/A
Right Side
N/A
Back Side
2 x Exhaust vent
Headphone/mic jack
4 x USB 3.0
1 x HDMI
1 x Mini-DisplayPort
AC Power Connection
Operating System
Windows 8.1 64-bit
Dimensions
15.07" x 9.67" x 0.61-0.78" (WxDxH)
(383mm x 245.5mm x 15.5-19.8mm)
Weight
4.68 lbs. (2.13kg)
Extras
1080p Full HD Webcam
80-Key Configurable Colors Backlit Keyboard +
6 Programmable Keys
Pricing
$1600 Online (with 256GB SSD)
At its core, the new HP Omen 15-5010nr (if you want the complete name) is a thin gaming notebook with a decent midrange mobile GPU. The base model features a 15.6" IPS touchscreen display, Core i7 processor, GeForce GTX 860M GPU, and an SSD. Battery life is rated at 4.75 hours, which is less than we measured with the latest Razer Blade 14, but HP is using a slightly lower capacity 58Wh battery.
That said, there's no mention of Optimus or graphics switching, so HP may simply be leaving the GPU enabled at all times; in that case, 4.75 hours would be quite respectable, but we'll need additional information to know what's going on. HP also has a lower resolution 1080p display, but after using a few High DPI displays I've reached the conclusion that for the time being, 1080p with 100% scaling is generally preferable right now. (This is a personal opinion, of course, but things like games breaking UI interaction when you're not at 100% scaling are not helping.)
The dimensions are certainly worthy of note, as the Omen measures just 0.78" (19.8mm) thick, putting the Omen into the Ultrabook class of laptops (though it's not technically an Ultrabook as it doesn't have a low voltage CPU). It's basically slightly thicker than the Blade 14 but with a larger screen to go with it. Of course, Razer managed to get a GTX 870M into the Blade 14, and while the laptop can certainly get warm it's interesting that HP didn't go after a higher spec GPU like the GTX 970M. The GTX 860M can certainly game at 1080p, but there are titles where you'll need to drop to High or even Medium settings to stay above 30FPS. (HP also offers an upgrade to a 4GB 860M, though I'm not sure the additional VRAM is really needed on this class of GPU.)
Other features include BeatsAudio, a backlit keyboard, four USB 3.0 ports, and 2x2 802.11ac WiFi. The Omen is available starting today for order, though I can't seem to bring up the HP Omen store page right now – possibly because they're getting slammed with hits, though more likely it's just that the page isn't properly exposed right now. (I'd expect the site to be up later today/tomorrow; it took about eight hours for this HP Omen page to get updated after the countdown ended.) There are also HP Omen accessories including a Gaming Mouse X9000 and a Gaming Backpack, priced at $60 and $80 respectively.
HP currently lists three pricing options, which is where they take a nice departure from Razer. The base model includes a 128GB SSD and 8GB RAM with a Core i7-4710HQ and a 2GB GTX 860M for $1500. Bumping up to a 256GB SSD will increase the price to $1600, while $1700 will get you the 256GB SSD and a 4GB GTX 860M. There are other options available like 16GB RAM and a 512GB SSD, which you should be able to find at the HP Store (again, when the link is live).
I do have a few concerns with the Omen, though without hands-on time it's difficult to know if these are real problems or not. One is that all of the ports appear to be located on the back of the laptop, which is rather inconvenient when you're trying to plug in a mouse, headphones, external display, etc. I've also seen more than a couple bent ports if users aren't careful, though that's a risk with any portable PC I suppose. Another potential problem is endemic to any thin gaming notebook: effectively cooling both a reasonably high-end CPU and GPU in a slim chassis is difficult, and in most thin gaming notebooks we've seen higher temperatures and noise levels compared to their bulkier siblings.
Overall, I do like the styling of the Omen, and it's good to see HP making more of an effort in the gaming market again. I also like that the keyboard appears to have per-key configurable backlighting, which puts it a step ahead all of the competition in that area. There are a few other thin gaming notebooks out there (e.g. the MSI GS60 and GS70 also compete with the Razer Blade offerings), but most of the time going thin means dropping from a GTX class GPU (e.g. to a GeForce 840M) to something that provides half the performance (or less).
What I want to see now is one that can do seven hours of battery life for everyday tasks while still packing at least a GTX 860M. Dell's XPS 15 was able to hit that mark for battery life with a lower performance GPU, but the GPU shouldn't be using any power for non-gaming tasks so a GTX 860M shouldn't be any worse than a GT 750M for Internet surfing. So far we always seem to fall short of that mark on "gaming" laptops, unfortunately.
Source: HP