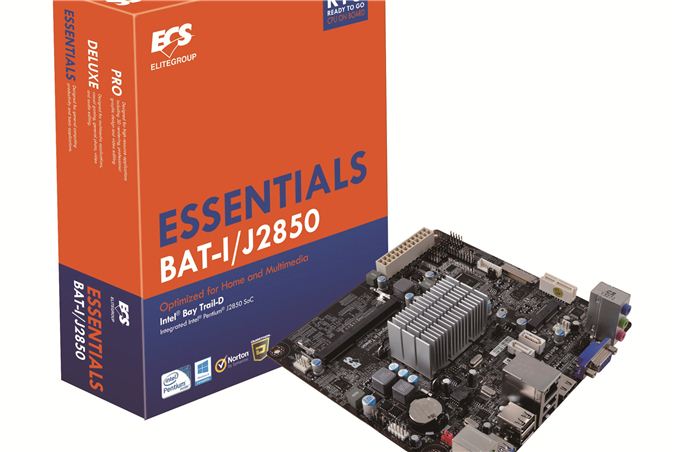 With Intel's Bay Trail platform and Silvermont Atom cores in the news for tablets, we have spotted their use in mini-ITX platforms as far pack as Computex 2013 where model numbers of Celeron Silvermont systems were on display. While these platforms are aimed at embedded systems on the desktop side, there is a small inkling that SFF PCs and AIOs will benefit too. To this extent, ECS (Elitegroup Computer Systems) has revealed their initial mini-ITX Bay Trail-D lineup, codename 'BAT-I'.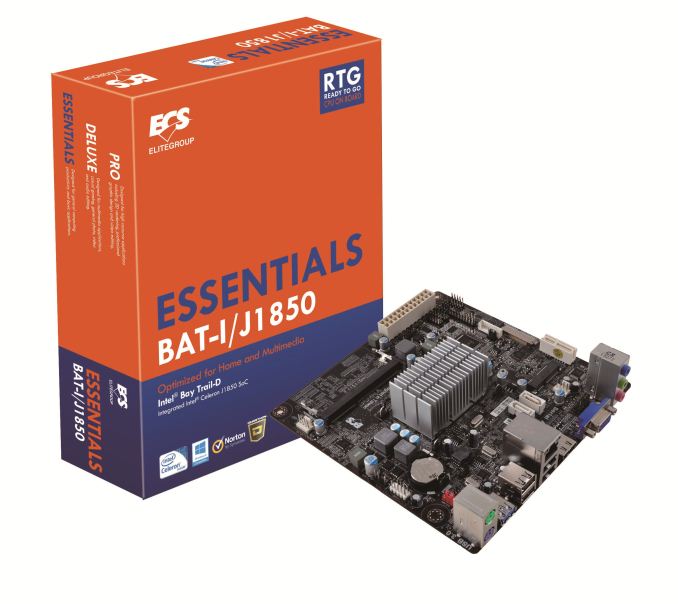 The difference in designation will be the CPU name in the product: the three products will offer a Pentium J2850 (quad core, 2.4 GHz), a Celeron J1850 (quad core, 2 GHz) and a Celeron J1750 (dual core, 2.4 GHz). All systems are paired with Intel HD Graphics (Ivy Bridge based), one mPCIe 2.0 x1 slot, one USB 3.0 port and two SATA 3 Gbps, as well as two COM ports.
Aside from the passive heatsinks (the SoCs have a Max TDP of 10W) these systems will need DDR3L-1333 SODIMM memory, and the HDMI/VGA will support 1080p and BluRay playback. Due to the price point and feature set, they fall under ECS' 'Essentials' range like the KBN-I, whereas the Deluxe/Pro ranges are reserved for more prominent builds.
I have requested release dates and pricing, update to follow.