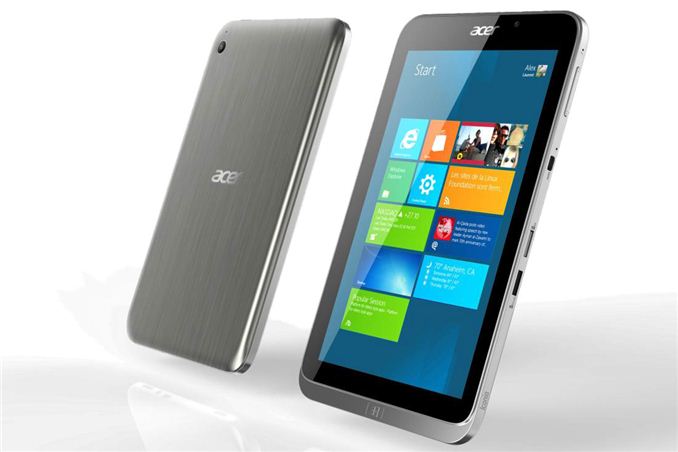 With Windows 8.1 now officially available to the public, we're going to see a new onslaught of devices for the OS. Acer's Iconia W4 is one of the first to cross our desks, and it has some welcome new features. The Iconia line consists of two families – A-series parts for Android tablets and W-series for Windows. The W4 uses Intel's Bay Trail platform, which means an Intel Atom Silvermont CPU, running at up to 1.8GHz. That should provide a decent amount of compute performance, though early indications are that Bay Trail will still lag behind other options in terms of GPU performance.
The display is an 8" 1280x800 IPS panel, with Zero Air Gap technology, which should be a better fit for the GPU than an ultra-high resolution display. Other features include a 5MP rear-facing camera that supports 720p60 and 1080p30 videos, and a 2MP front-facing camera. It has a microSD slot (with support for up to 32GB), a micro-HDMI port, and charging as well as other connectivity is provided via a micro-USB slot. WiFi is supported, but Acer makes no mention of what standards are available, so it's probably an 802.11n 2.4GHz solution. Bluetooth 3.0 connectivity is present as well.
Acer also has several peripherals for the new tablet, including a Keyboard Cover, protective film, a "responsive" passive stylus, power bank, and an adapter kit with bag. Perhaps more interesting are the Crunch Keyboard and Crunch Cover. The Crunch Keyboard is a soft synthetic leather cover that folds out as well as functions as a tablet stand. It measures 0.21" thick (5.3mm) and works via Bluetooth 3.0, with recharging via micro USB, so while it doesn't directly provide more battery life to the tablet it doesn't require a physical connection and won't reduce battery life. The Crunch Cover is made of durable microfibers and folds into a stand for the tablet, with several angles available it keeps all of the ports open and comes in several different colors. Acer doesn't mention pricing on any of the accessories, so we'll have to wait and see how much they cost.
As for the main Iconia W4 tablet, it weighs 0.91 pounds (415 grams) and is 0.42" (10.75mm) thick – Acer doesn't list the other dimensions in their press release. Acer is going after a lower price target than we've seen with many Windows tablets, and the display and several other elements help in achieving that goal. Microsoft Office Home and Student 2013 is also included with the W4, adding even more value to the product. The W4 comes in two models, one with 32GB and one with 64GB. Given the rather large footprint for Windows 8.1, I'd just as soon see Acer ditch the 32GB model and work on getting pricing down on the 64GB model, but that hasn't happened in the budget sector just yet.
The 32GB model (which should have around 12GB free after the core OS and apps take their portion) is priced at $330 while the 64GB model will cost $380. $50 extra for $5 of NAND is still pretty steep, but it's better than the $100 price jump we've seen on many earlier devices. The Iconia W4 is scheduled to begin shipping later this month.
Source: Acer Press Release