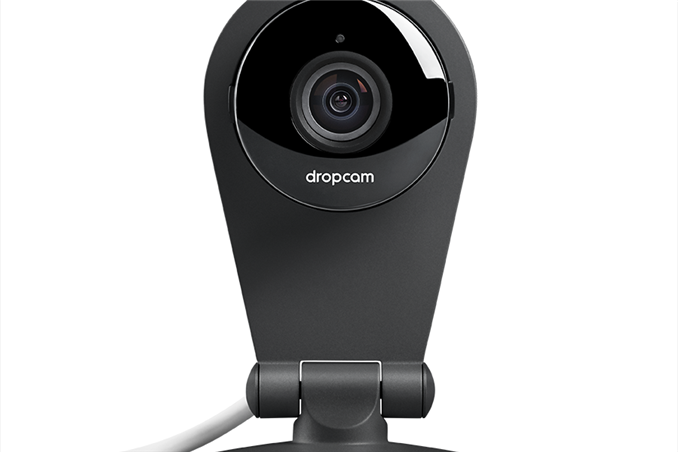 The consumer surveillance / home video monitoring industry is just starting to take off. Dropcam (started in 2009) seems to be in the right place at the right time. We have been following their efforts right from their very first model, the Dropcam Echo. Last year, they began shipping their own hardware with the Dropcam HD. The Dropcam HD brought cloud-based home monitoring in high definition at a very attractive price point. Being their first foray into hardware, they did have some teething troubles leading to a delayed consumer launch. However, they were resolved well enough in a timely manner to catapult it to the top-selling position in the Security & Surveillance Equipment section on Amazon.
Today, Dropcam is announcing a new model in their lineup, the Dropcam Pro. This model makes up for all the hardware drawbacks of the Dropcam HD and adds some very interesting features too. The major improvements include:
A six-element glass lens
Larger image sensor from Aptina (1/3") with better resolution (the product box indicates support up to 1080p30, but the streams we have saved off our review sample have maxed out at 720p till now)
Wider FoV (130* in the Dropcam Pro vs. 107* in the Dropcam HD)
Higher resolution with similar bitrates, better zoom (8x in Dropcam Pro vs. 4x in Dropcam HD)
Better audio (microphone with double the sampling rate of the Dropcam HD and new speakers)
Dual band Wi-Fi and Bluetooth 4.0 LE

Dropcam HD vs. Dropcam Pro - Field of View

Dropcam HD vs. Dropcam Pro - Night Vision

Dropcam HD vs. Dropcam Pro - Zoom Capability
On the software side, we also have activity recognition done on the cloud side. This allows for recognition of motion patterns in the video stream and grouping together of similar activities with customizable alerts. The Dropcam Pro also seems to have a much improved mobile setup process (particularly on iOS), thanks to its Bluetooth radio.
The IP camera is also gaining some attention as a hub for the connected home. Products like the Canary have managed to capture the imagination of the public and break crowdfunding records. While devices such as the Canary opt to integrate a large number of sensors, Dropcam wants other vendors to come up with different sensors that can communicate with a Dropcam Pro using the Bluetooth radio. Dropcam is essentially betting on Z-Wave and ZigBee making way for Bluetooth LE to be the future protocol of choice for the connected home.
Our main complaint about the Dropcam model has been its DVR mantra of 'Cloud Recording or No Recording'. The complete absence of any way to record the streams locally is a big drawback for tech folks as well as users who are on broadband plans that are either capped or have limited upload speeds. (Each Dropcam Pro, on an average, generates a steady 200 - 300 Kbps upload stream). Unfortunately, Dropcam doesn't want to dedicate any of its resources to enabling a local recording feature. They also claim that having everything stored in the cloud is more secure than having IP cameras which record locally and are open to a number of exploits. We don't agree with them in principle about the non-provision of local recording facilities to the consumers. However, from the ratings on Amazon, it looks like the mass market is very happy to outsource all the recording and storage issues back to Dropcam for a monthly fee.
The Dropcam Pro will retail for $199 while the Dropcam HD will continue at $149. Availability is on Amazon as well as Dropcam.com. As a final note on the cloud aspect, it must be noted that live video monitoring is free. The optional Cloud Video Recording (CVR) plans start at $9.95/month for seven days of continuous recording. Thirty days of strage costs $29.95/month. Discounts are provided for annual subscriptions and multiple cameras.
Dropcam has provided us with review units of the Dropcam Pro. We hope to get a full review out in the coming days.