Over the past couple of days, two new Z77 mini-ITX motherboards have been seen on the radar. The first is Gigabyte's Z77N-WiFi model, to be released alongside the H77N-WiFi equivalent.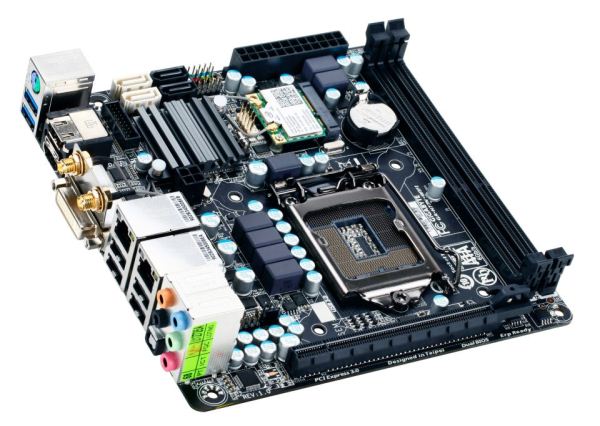 Gigabyte have migrated the Z77 chipset to the top of the board, as seen by the chipset heatsink and the SATA/mPCIe slot. The power delivery is devoid of cooling - judging by the mounting on the board this is how it will ship. Oddly enough for a mITX we get dual gigabit Ethernet, both Realtek, combined with a Realtek ALC892 audio chip. The placement of the USB 3.0 header is a little odd being towards the rear, as well as the SATA ports. The main criticism may come due to the socket area, where should users wish to pair this board with a beefy GPU, the CPU will be limited in air cooler size. Looks like All-In-One coolers may be preferential here. Estimates state that this board will cost around $140 at release.
The other mini-ITX to enter the market comes from MSI in the form of the MSI Z77IA-E53. We snapped this motherboard back at Computex, but now it comes to full release.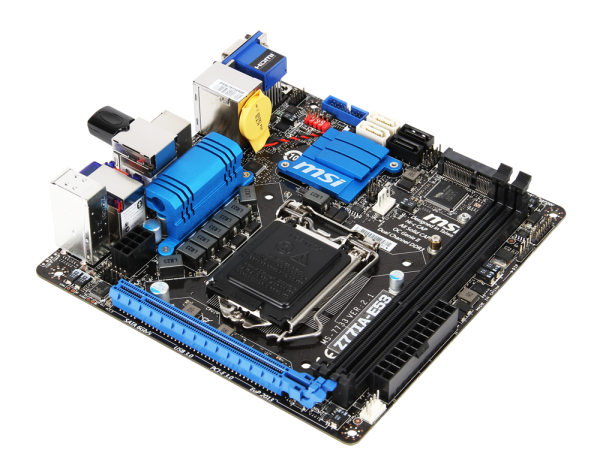 In a similar layout to the Gigabyte, we get the Chipset up top, along with the SATA ports and USB 3.0 header. With the MSI we get a free mSATA port and WiFi/Bluetooth at the rear. Chipset heatsinks also make an appearance, as well as a full 8-pin CPU power connector. Though similarly to the Gigabyte, the CPU socket is near the PCIe slot. No word on release or pricing as of yet.
These two motherboards will join the three Z77 mini-ITX already on the market from Zotac, ASRock and ASUS. Not to mention that EVGA will also join the mini-ITX party soon with their own board hopefully arriving next month. Out of these six, I have two in for review and hope to get as many of the others as possible. Would you prefer them reviewed one-by-one or all at the same time? What are you looking for in a mini-ITX motherboard? Let us know in the comments.