OSD and Initial Readings
The OSD for the AOC does a good job and has all the controls available that you need. In making my initial settings and measurements, I noticed that the selection of the sRGB color setting really reduces the level of light output from the display. Since the sRGB standard calls for a specific level of light (120 nits), this is actually a reasonable thing to do as pushing the backlight level to be really high can cause color shifts on displays. From the OSD I was able to configure everything I needed for the display, including a single custom white balance control that I used later to set the 100% white value as close to D65 as possible.
For the AOC review, I made a couple of changes to the equipment used for reviews. I have added a new i1Pro spectrometer to my testing equipment, and so it will now be used for all monitors reviews I do going forward. This meter has also recently been tested in the NIST approved lab by SpectraCal to ensure that it has an average dE of only 0.4 and a maximum dE of 1.0 across the color spectrum. Spectrometers are also much less susceptible to drifting over time than a tristimulus meter (e.g. the i1Display2) would be.
The downside of the i1Pro is that it does not do a wonderful job with low light levels (below 20% stimulus), and so for the dark uniformity and brightness uniformity measurements I will continue to use my i1Display Pro meter instead. The color accuracy might not be as good as the i1Pro, but the light level readings are better for these tests. Hopefully in the future I will be able to profile the i1Display Pro using the i1Pro, which would provide the accuracy of the i1Pro with the speed and low light handing of the i1Display Pro. Because of these changes some of these dE readings might look better, or worse, than you would expect, but these new numbers will be more accurate going forward.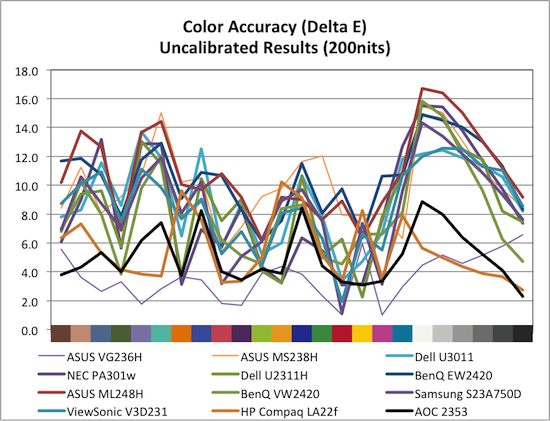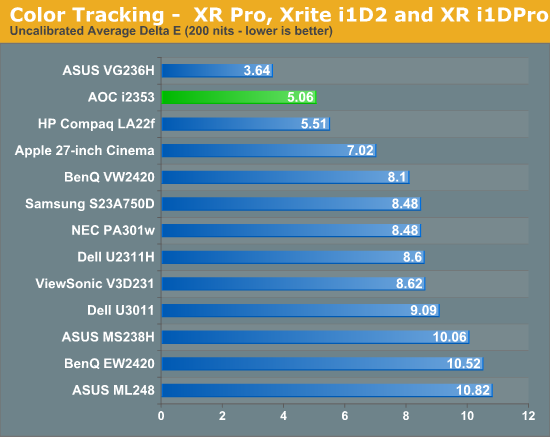 Uncalibrated, the AOC has a dE of right around 5 in the sRGB mode. This number looks very good compared to other monitors, but remember we are using newer, more accurate test equipment and the only other display on the chart measured with this is the HP LA22f. The worst part of the uncalibrated result is that the largest error occurs with pure white, which you are likely to have on your screen a fair amount of the time. Overall, however, this is a good number to see. Hopefully the calibration can further improve on this, but starting out at a dE of 5 is very nice.