The rear of the Thunderbolt is divided in two. The top battery cover area is coated with HTC's favorite black soft touch material, and down below is a beefy kickstand that seems at least twice as wide as the EVO's. Underneath the kickstand is the Thunderbolt's speakerphone grille.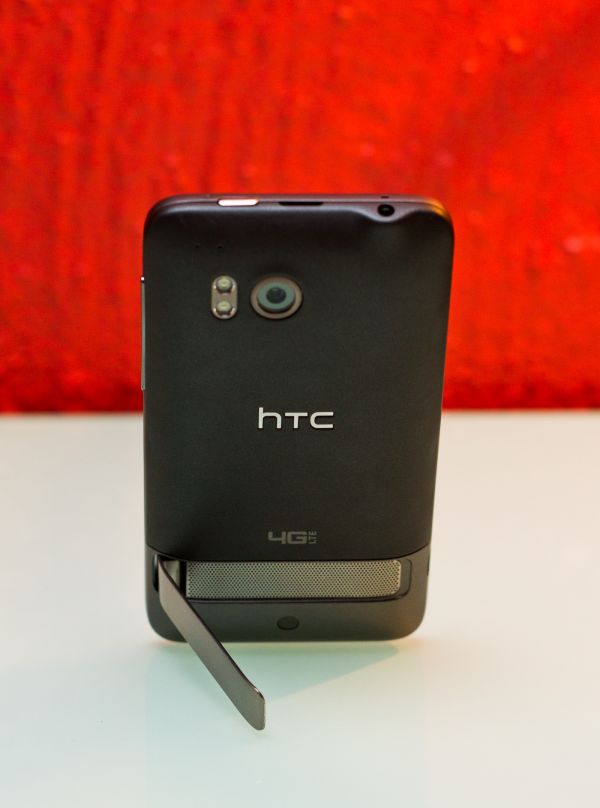 Further down is a small rubber plug dead center in the back of the phone. If you can manage to wry it loose, underneath is what looks like a test port for the CDMA RF path rather than an external antenna connector. It's difficult to get out, and even more difficult to get back in straight.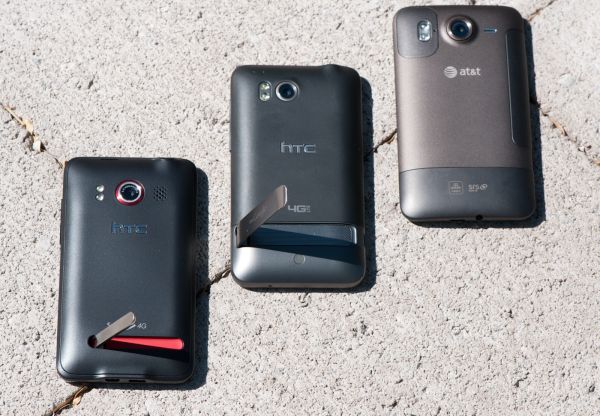 Kickstands (Left to Right): HTC EVO, HTC Thunderbolt, HTC Inspire
The kickstand seems to be something HTC always does on its absolute latest and greatest, and clearly alludes to HTC's other 4G first with WiMAX. The EVO and Thunderbolt both have kickstands, though I have to admit that I like the Thunderbolt's better. It works in landscape and portrait, though landscape is clearly the intended orientation. It's bigger and beefier, and feels more secure in both orientations than the EVO's does as a result.
My only complaint is that there's some sort of coating material on the kickstand metal which has begun chipping off, making a weird discolored pattern right where the kickstand contacts the surface it rests on. Likewise, on the rear where it is coplanar with surfaces, it has begun chipping off. I'm not abusive with my own devices (nor review units), it's just seriously peeling off.
The design language of the Thunderbolt is clearly inspired by the HTC Desire HD (and its AT&T variant, the Inspire 4G, which I picked up for personal use). Side by side, it's obvious that these two share a ton of industrial design notes.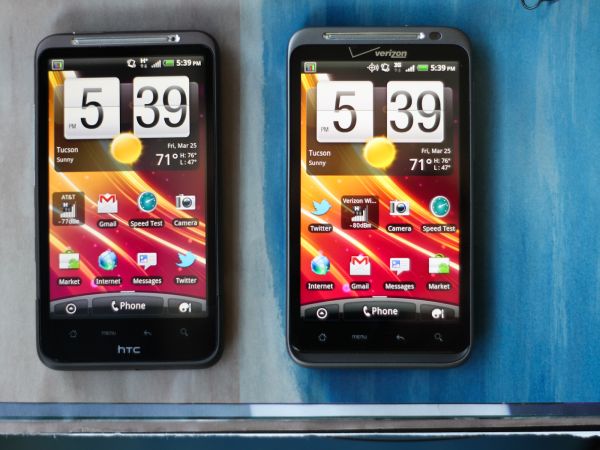 The recessed chrome earpiece grille with notification LED below, button schema, and edge curvature radius is all the same. I can see how the recessed notification LED could be a huge pain. Green is a bit hard to see, orange for charging seems much easier. To me this looks about the same between the Desire HD and Thunderbolt.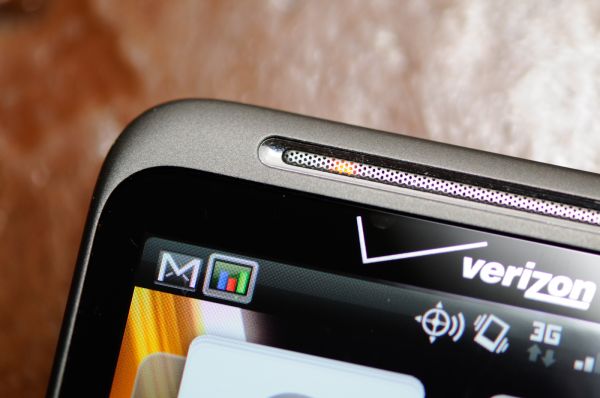 Where the two differ most notably is construction. The Desire HD is primarily metal of the same sort the Nexus One came clad in, HTC's favorite purple/grey material. Unlike its cousin, the Thunderbolt is almost entirely plastic, though the rough matte polish of the device cleverly disguises this concession. HTC is clearly marching in the direction of unibody metal phones, as evidenced by the Sensation/Pyramid.
So why plastic for the Thunderbolt? The reason might be RF, as the Deisre HD leverages the battery compartment door's RF window to hide a WiFi antenna, and the SIM card slot at the bottom for cellular (as does the Sensation). The Thunderbolt can't make any such concession, being literally stuffed full of antennas. Likewise, perhaps sheer size also necessitated plastic to keep mass reasonable. Either way, the Thunderbolt scuffs and deforms like plastic if you drop it, I've had it in my pocket long enough that I've dropped it twice already, creating such scuffs.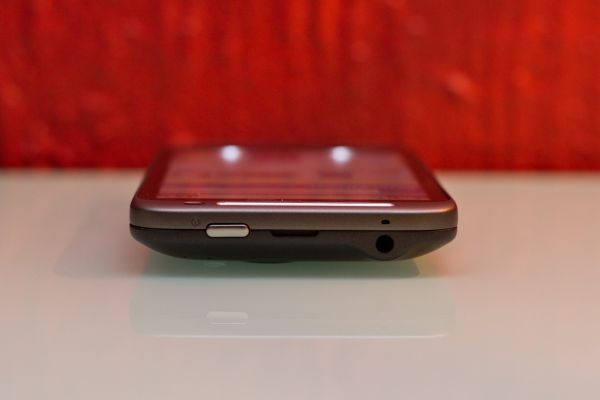 Button placement and responsiveness are totally fine. The power button is up at top and protrudes enough for easy location with the index finger when held in either hand. On the other side is the headset jack, and next to it is a noise cancellation microphone.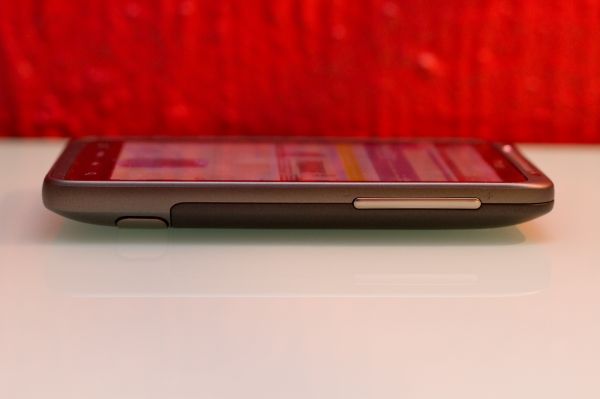 On the far right is the volume rocker which is adequately clicky. Subjectively, the Thunderbolt's volume buttons seem far easier to manipulate than the Desire HD's, whose buttons blend into the battery cover door and are far too smushy. (As an aside, HTC supposely knows about this problem and is redesigning the battery door and offering replacement doors if you're an Inspire/Desire HD owner.)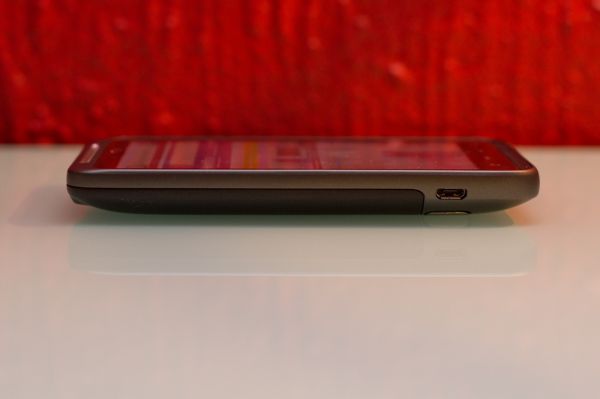 The Thunderbolt's microUSB port is on the bottom left of the device. The only thing on the far bottom of the phone is the microphone port.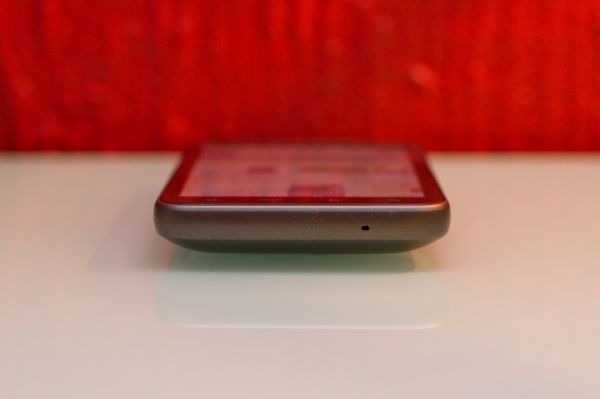 Overall construction of the Thunderbolt is good, though I still think the Desire HD's real metal unibody design is far more rugged. HTC industrial design seems to be headed squarely in the metal-unibody route if designs like the Sensation and others like the Desire S or Incredible 2 say anything. I'm definitely excited about those, going forward.
Physical Comparison
Apple iPhone 4
LG Optimus 2X
HTC EVO 4G
HTC Thunderbolt
Height
115.2 mm (4.5")
123.9 mm (4.87")
121.9 mm (4.8")
122 mm (4.8")
Width
58.6 mm (2.31")
63.2 mm (2.48")
66.0 mm (2.6")
67 mm (2.63")
Depth
9.3 mm ( 0.37")
10.9 mm (0.43")
12.7 mm (0.5")
13.2 mm (0.52")
Weight
137 g (4.8 oz)
139.0 grams (4.90 oz)
170 g (6.0 oz)
183.3 g (6.46 oz)
CPU
Apple A4 @ ~800MHz
NVIDIA Tegra 2 Dual-Core Cortex-A9 (AP20H) @ 1 GHz
1 GHz QSD8650 65 nm Snapdragon
1 GHz MSM8655 45 nm Snapdragon
GPU
PowerVR SGX 535
ULP GeForce
Adreno 200
Adreno 205
RAM
512MB LPDDR1 (?)
512 MB LPDDR2
512 MB LPDDR1
768 MB LPDDR2
NAND
16GB or 32GB integrated
8 GB integrated, up to 32 microSD
1 GB integrated, 8 GB microSD preinstalled
4 GB NAND with 32 GB microSD Class 4 preinstalled
Camera
5MP with LED Flash + Front Facing Camera
8 MP with autofocus, LED flash, 1080p24 video recording, 1.3 MP front facing
8MP with dual LED Flash and 1 MP Front Facing camera
8 MP with autofocus and dual LED flash, 720p30 video recording, 1.3 MP front facing
Screen
3.5" 640 x 960 LED backlit LCD
4" 800 x 480 IPS
4.3" 800 x 480 LCD-TFT
4.3" 800 x 480 LCD-TFT
Battery
Integrated 5.254Whr
Removable 5.6 Whr
Removable 5.5 Whr
Removable 5.18 Whr
The Thunderbolt's packaging is a bit of a departure from the rest of the Verizon 4G LTE box artwork. It's a striking black affair with embossed Verizon and HTC lettering. The inside is blood red Verizon color. Inside is the phone with microSD card preinstalled, USB cable, charger, and manuals.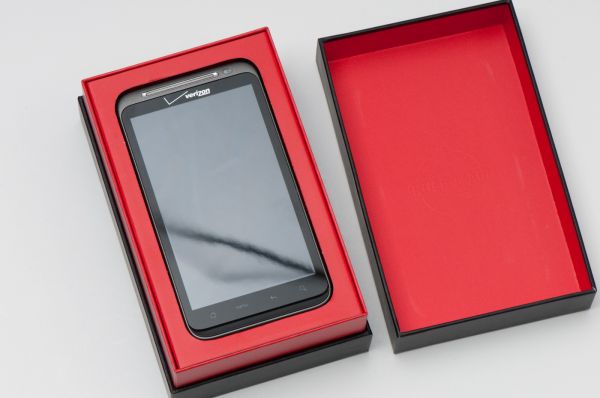 I've also put together a rather long video review of the HTC Thunderbolt with a demonstration of practically everything, though I'll link to pertinent parts throughout this review.