Toshiba A660D-ST2G01 Gaming
As with our Studio 17 review, we'll start with a look at low-detail 1366x768 gaming performance first. This is an apples-to-apples comparison of the various systems, but the A660D is definitely able to handle higher detail settings at native resolution. We'll look at medium and high quality gaming next. We've also included results from the Acer 5740G where we have them, but we didn't have some of the newer titles around at the time of that review, and we used a different driver (Catalyst 10.3 at the time).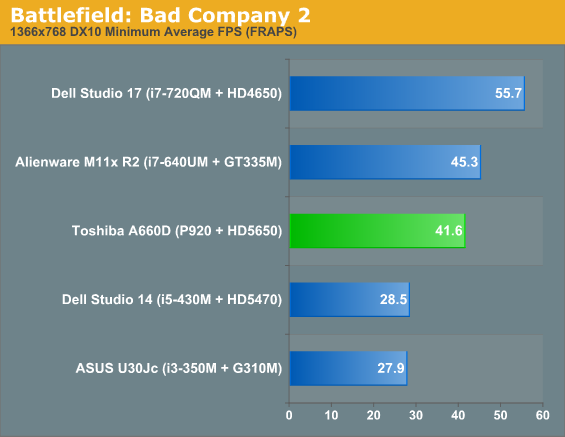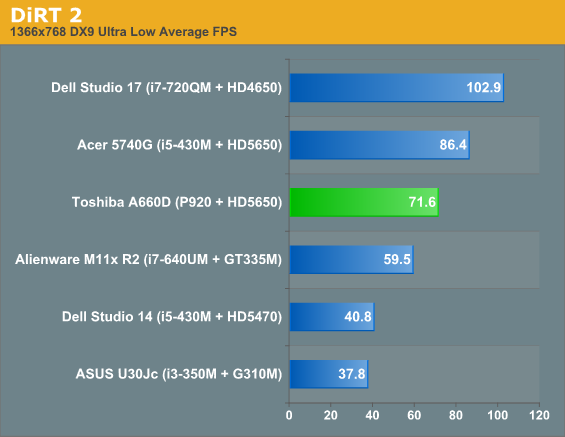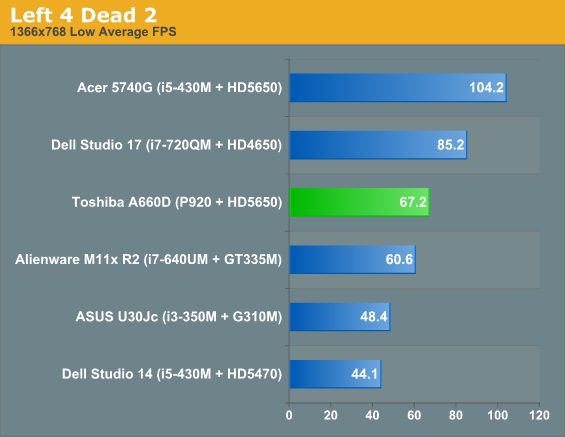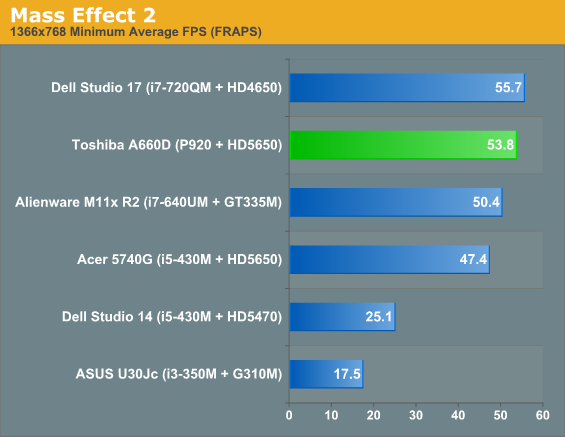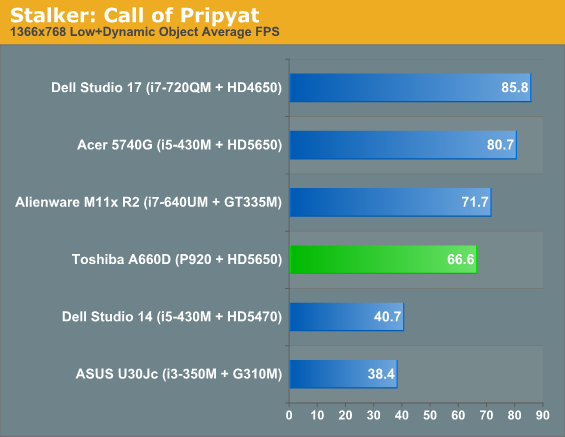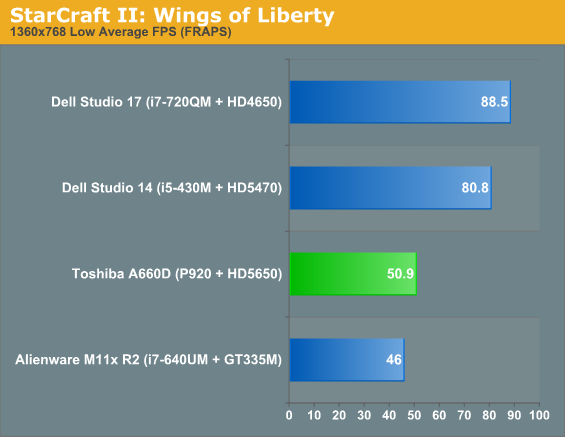 For our new set of games, our low quality settings are all easily playable. That said, it's interesting to note where the A660D falls relative to the HD4650 in the Studio 17 and the faster clocked 5650 in the 5740G. Obviously the i7-720QM is a faster CPU, and that helps, but it's still disconcerting to see the last generation midrange GPU beating the A660D by an average of 35%! The only close score is in Mass Effect 2, where the lead is only 4%, but that's balanced by a lead of 74% in StarCraft II—a game that tends to be quite demanding on the CPU when there are lots of units running around. The Acer 5740G also leads by around 21%, right in line with the GPU core clock advantage; oddly, Mass Effect 2 ran 13% slower on the 5740G, so for some reason that particular title likes the A660D.
Also something to note is that we did test gaming performance with both the shipping ~10.4 era drivers as well as the latest 10.8 AMD drivers. The latter were only faster in DiRT 2, and then only by around 5%. We elected to use the best-case result for the A660D in all of the charts, but outside of DiRT 2 the drivers scored within 1% of each other.
We did look at some of our older gaming results as well just to get a larger view of the gaming landscape (sorry, no graphs here). The Acer 5740G continued to score around 20-30% higher in most titles, going along with the GPU clock speed difference and the faster i5-430M CPU. However, we're still looking at "Low" quality gaming, so let's move to a more realistic "Medium" setting.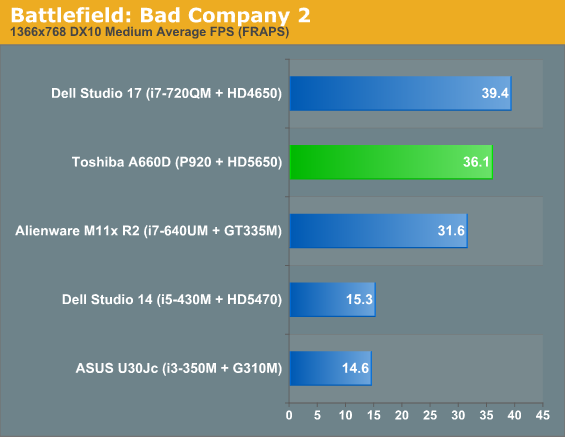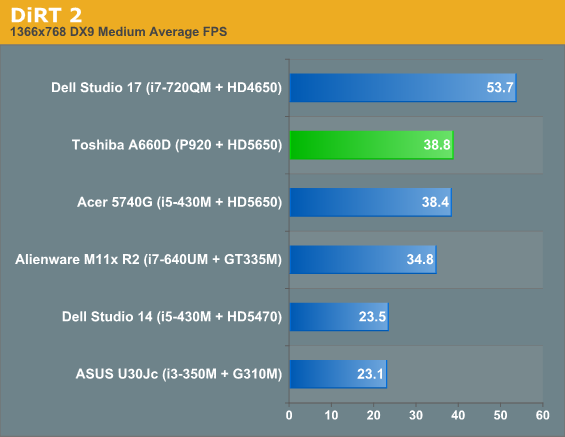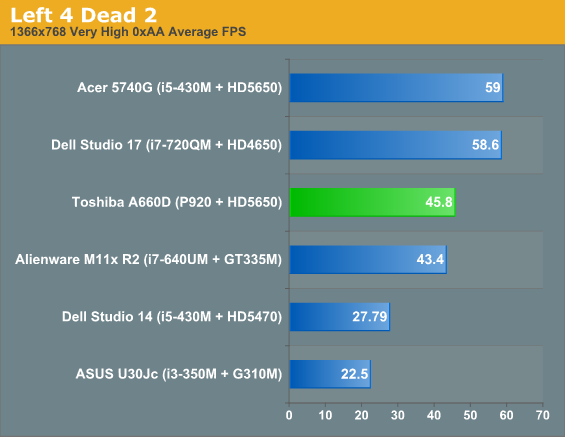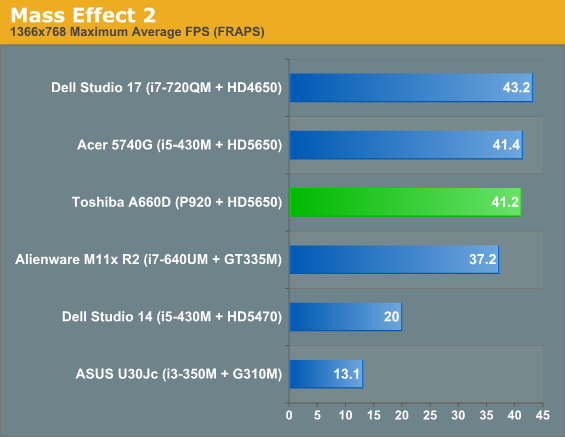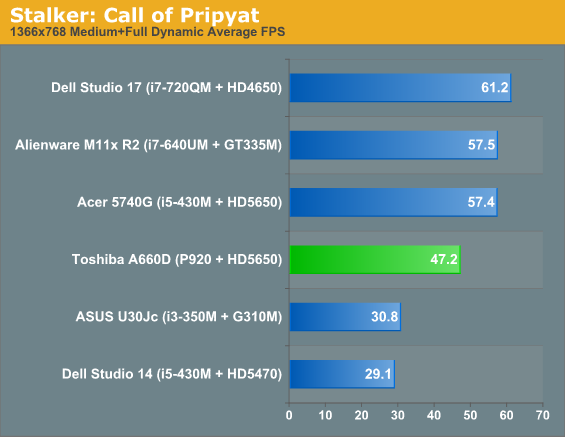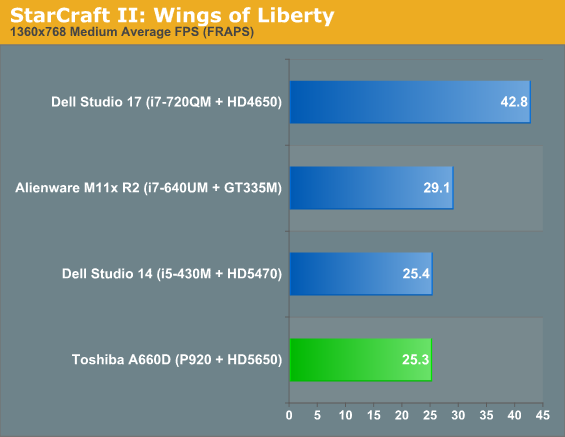 The earlier results generally hold, though now we start to see a few games dip into frame rates that are a bit lower than we'd like. StarCraft II is the big drop, with a score of just 25.3 FPS at Medium quality defaults. There's a combination of CPU and GPU requirements in SC2, particularly in intense battles like our FRAPS demo, and the low 1.6GHz CPU clock looks to be a bottleneck. The Studio 17 is now averaging 30% faster than the A660D, down slightly from our low results, and the 5740G is 12% faster—or tied in two games, and 20-30% faster in the other two samples. Medium quality is where the A660D does best, striking a nice blend of performance and graphics quality, but we can't help but wonder what the numbers would have been with a higher clocked P520 processor.