Overview and Specifications
First off, let's get the name down for this 23 inch, 120Hz display, because ASUS is selling the VG236 in two different packages and model numbers. One is the VG236H, which comes with a NVIDIA 3D Vision Kit and retails for $499. The other is the VG246HE, which is the exact same display, but comes without a bundled NVIDIA 3D Vision Kit and retails for $349. Both of those packages contain the exact same display, but just differ in whether they include the shutter glasses you'll need to do stereoscopic 3D.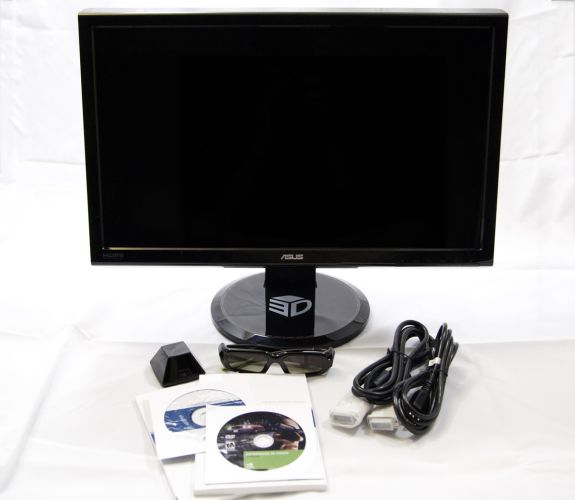 ASUS is basically selling you the 3D Vision Kit for $150, which is a pretty sweet deal. As of this writing, the same NVIDIA 3D Vision Kit is retailing on Newegg for $174.

The VG236H packs HDMI, DVI-D, and component video inputs, though the only one that will work with 120Hz refresh rates, and thus 3D, is DVI-D.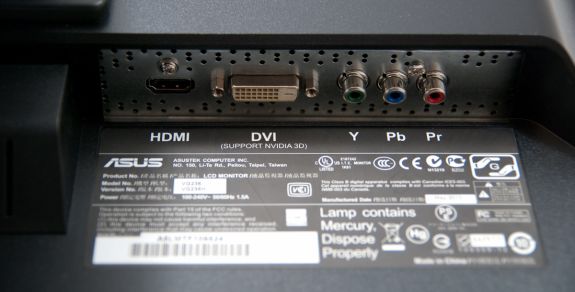 HDMI, DVI-D (120Hz and NVIDIA 3D), and Component Video
The VG236H display is glossy, as is nearly all of the bezel. ASUS claims to have added an antireflection coating to the display, as they well should. It no doubt mitigates the reflection a bit, but there's still going to be unavoidable glare, especially if you have lights behind you. That might be killer for some, but it isn't a huge issue - I still wish it was matte though. The VG236H is also a TN panel, partly out of necessity to drive that super fast refresh rate, however color quality is actually pretty good as we'll show in a minute. ASUS is using a technology called Dual Side driving to get to 120Hz.

Hate it or love it, the VG236H is also 16:9, and thus native 1920x1080. Finding 16:10 1920x1200 monitors which used to be the norm, not the exception, is increasingly difficult. Honestly, I'd rather have my extra 120 pixels of image height when hunting down people in games than deal with two black bars when playing back anamorphic video content. Oh well, 1080P is more marketable I guess.

Let's go into the rest of the specifications:
ASUS VG236H - Specifications
Property
Quoted Specification
Video Inputs
DVI-D (120 Hz 3D), HDMI, Component YPbPr
Panel Type
TN (with Dual Side driving), CCFL backlight
Pixel Pitch
0.265 mm
Colors
16.7 Million (24 bit)
Brightness
400 nits maximum
Contrast Ratio
1,000:1 (standard), or 100,000:1 (dynamic)
Response Time
2ms (g2g) with Overdive/"Trace Free" control
Viewable Size
23" (54.8 cm) diagonal
Resolution
1920x1080 at 120Hz (1080P)
Viewing Angle
170 degrees horizontal, 160 degrees vertical
Power Consumption (operation)
<60 watts typical
Power Consumption (standby)
<2 watts typical
Screen Treatment
Glossy (with antireflection coating)
Height-Adjustable
Yes: ~4" (100 mm) of travel
Tilt
Yes: -5 degrees to 15 degrees
Pivot
No
Swivel
Yes: +/- 150 degrees
VESA Wall Mounting
Yes - 100x100mm
Dimensions w/ Base (WxHxD)
21.7" (550 mm) x 16.5" (420 mm) x 9.8" (250 mm)
Weight w/o Stand
15.4 lbs (7.0 kg)
Additional Features
NVIDIA 3D Vision Kit, 120 Hz operation
Limited Warranty
3 years - repair or replacement
Accessories
DVI-D cable, power cable, quick start guide, manual, warranty card, support CD, NVIDIA 3D Demo DVD, NVIDIA 3D vision kit
Price
VG236H (includes 3D vision kit): $499
VG236HE (w/o 3D kit): $349
ASUS definitely understands its gamer segment, as including component and HDMI video inputs is definitely an added plus for people who want to hook up a game console or two. Of course, the caveat with HDMI on a display like this is that there's no audio out for connecting headsets, something which would definitely put this over the top for most gamers. We could get upset about DisplayPort being absent, but honestly it isn't that big of a deal, yet.