Update 2: Intel has given us an updated timeframe on a fixed version of its TRIM firmware. Intel will release the new firmware by the end of November 2009. More info here.
Update: Some users have had issues with Intel's TRIM firmware bricking their drives, Intel has since pulled the firmware while they figure out what's going on. If you've downloaded it but haven't updated, do so at your own risk. While we haven't had any issues on the three drives we've updated here others have had problems. We'll keep you posted. Intel's official statement is below:
"Yes, we have been contacted by users with issues with the firmware upgrade and are investigating. We take all sightings and issues seriously and are working toward resolution. We have temporarily taken down the firmware link while we investigate."
Welcome to the anti-climax. After a year of talking about it, Windows 7 and TRIM are here. How does it feel to be a TRIMionaire?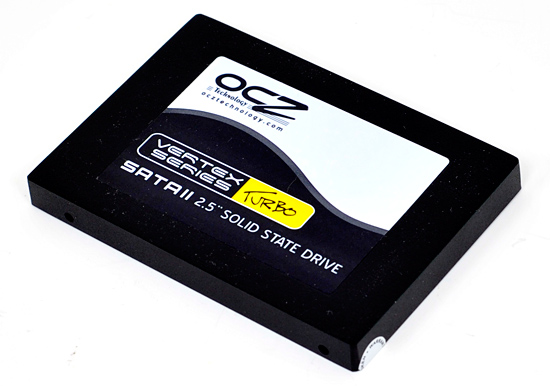 Indilinx, as usual, was first. After a couple of false starts, the two tier 1 Indilinx partners (SuperTalent and OCZ) enabled TRIM on their Barefoot SSDs (OCZ Vertex, SuperTalent UltraDrive). OCZ calls its TRIM firmware 1.40 while SuperTalent calls it 1819. Update:As many of you have correctly pointed out, Crucial also has an 1819 update available for its SSDs. You can get the firmware for your drive from the links here:
Intel held off to align with the release of Windows 7. Last week Windows 7 officially went on sale, and today Intel is delivering on its promise: this bootable iso will enable TRIM on X25-M G2 drives.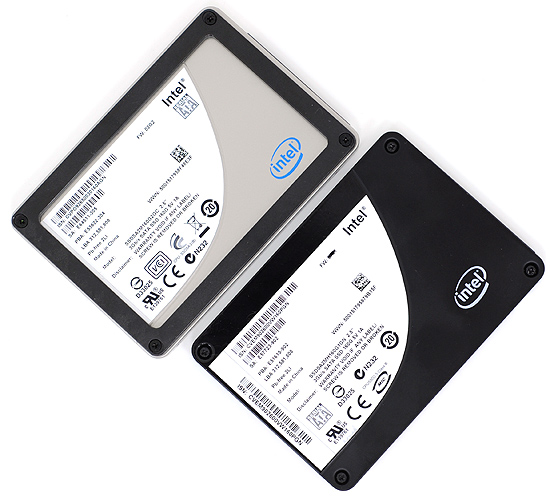 Only the X25-M G2 gets TRIM, the G1 (right) is left in the dust. The G1 is more resilient than the G2 when it comes to performance degradation over time since it doesn't have TRIM.
Alongside TRIM there's one more surprise. If you own a 160GB X25-M G2, Intel boosted sequential write speeds from 80MB/s to 100MB/s:
The 80GB drives remain unchanged unfortunately. Intel still won't tell us why write speeds are so low to begin with.
What TRIM Does
Before we get much further, and without diving into a complete rehash of how SSDs work (which I've done here, here and here again), I want to do a quick refresher on TRIM.
SSDs are made up of millions of NAND flash cells. They can be written to in groups called pages (generally 4KB in size) but can only be erased in larger groups called blocks (generally 128 pages or 512KB). These stipulations are partially the source of many SSD performance issues.
The whole ordeal gets more complicated when you realize that an SSD has no way of knowing when a file is deleted. Until an address gets used again, the SSD has to keep track of every last bit of data that's written to it. The ATA-TRIM instruction tilts the balance in favor of the SSD.
In a supported OS (e.g. Windows 7), whenever you permanently delete a file or format your drive, the addresses that are erased are sent along with the TRIM command to the SSD's controller. The TRIM instruction tells the SSD that those locations don't contain valid data and that it no longer has to track them.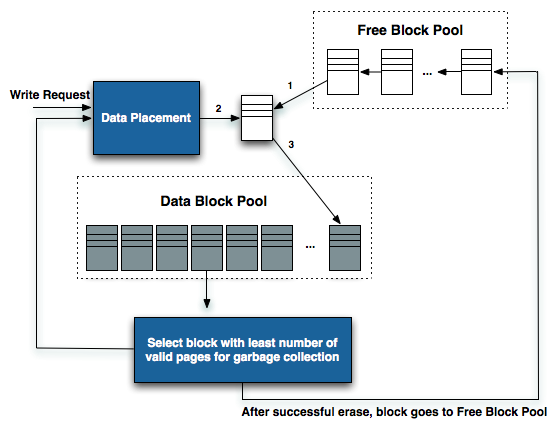 Simplified version of how a SSD controller works. TRIM helps the SSD clean blocks and add them to the free block pool
Again, I won't go into great detail here but TRIM addresses a major part of the performance degradation over time issue that plague all SSDs. A TRIM enabled drive running an OS with TRIM support will stay closer to its peak performance over time.