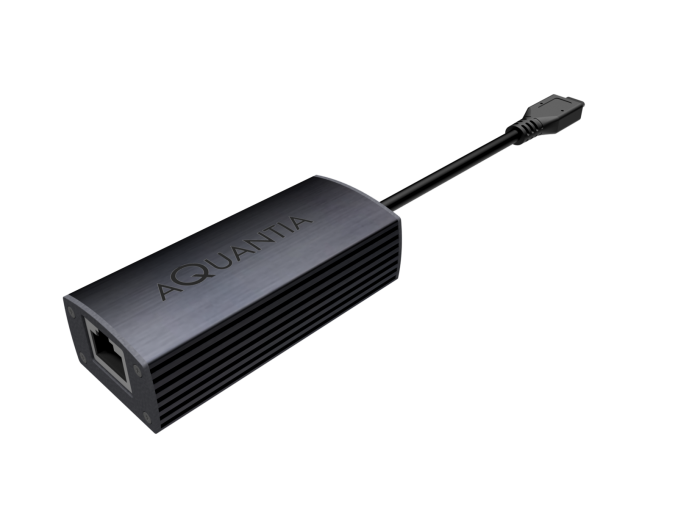 When discussing networking controllers, often we deal with single chips that convert PCIe to Ethernet. With Thunderbolt, an additional TB controller is needed at either end, increasing cost and power. However now with mobile devices losing dedicated Ethernet ports, and the rise in professional docking stations, converting from USB to a Wired Ethernet solution is usually a common choice for users that work out of hotels or those that want to add simple Ethernet capability to a device without any. Rather than use a USB-to-PCIe controller, Aquantia is pushing forward with its new generation of USB-to-Ethernet chips designed to run at 5G and 2.5G speeds.
The new chips, the AQtion AQC111U and the AQtion AQC112U, are designed to simply the USB-to-Ethernet scenario while supporting multi-gigabit Ethernet speeds. Dubbed as 'the easiest way to implement multi-gig', the new chips are set to be used in dongles and docking stations from the main ODMs and OEMs in this space: Bizlink, Edimax, Goodway, and Sunrich. Hardware will be available in Q4 2018.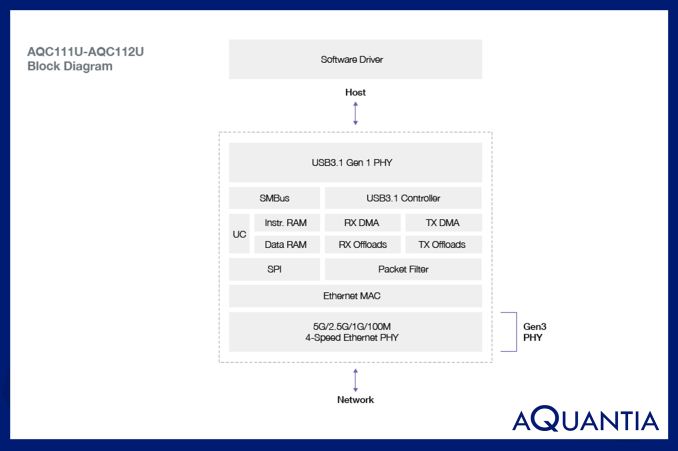 For users looking to install point-to-point wired Ethernet speeds beyond 1 Gbps / 133 MBps, this looks like it is going to be the best option without a switch and without buying the bulky and power hungry TB3-to-10G adaptors that currently exist on the market.
Pricing will be announced by the vendors later this year, although to be commercially successful we hope that they will be in the $25-40 range. Equivalent 1G USB connectors currently cost sub-$10, for reference.
Related Reading
Want to keep up to date with all of our Computex 2018 Coverage?

Laptops

Hardware

Chips
Follow AnandTech's breaking news here!