Display
The 12.5 inch model we received comes with the higher specification display for this series. At 1920x1080, it results in 176 pixels per inch. While this is not as high as some of the devices we have reviewed, it is a good resolution for a business laptop due to the higher chance of apps with High DPI scaling issues. You can run this laptop at 100% scaling and it is still usable, although the default setting is 125% scaling which makes it a bit easier to use. If you do have an app that does not scale, it should be usable anyway assuming your eyesight is not too bad.
The display is a LG model LGD0436, outfitted with a touch screen and Corning Gorilla Glass NBT. The eIPS display has no issues with off angle viewing, although this model is only 6 bits per color and does not cover the entire sRGB gamut.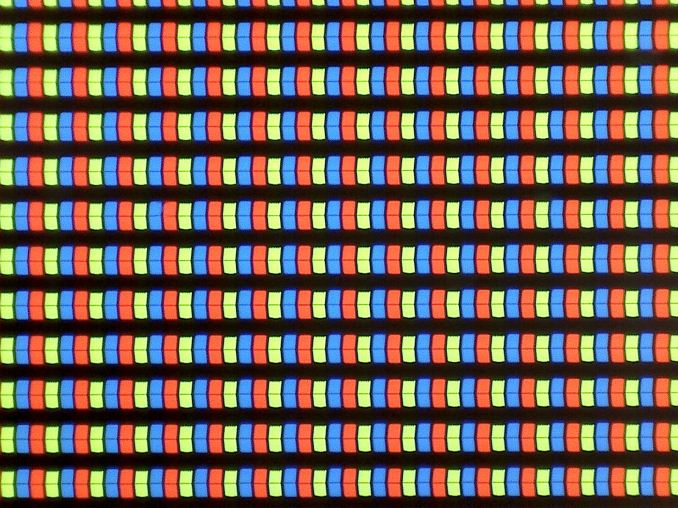 The display is a standard RGB stripe, which is not surprising since it is not a really high DPI model. I had no issues with the touch screen's responsiveness, and although some people do not like to touch their laptop screens, it is a nice feature. When scrolling through multiple open windows, it is really easy just to reach up and scroll with your finger. This device does not have any sort of 2-in-1 capability though, so the touch is certainly less important. For those that prefer no touch, the base model lacks touch but the anti-glare display is only 1366x768.
To test display accuracy, we use SpectralCal's CalMAN 5 software suite, along with the X-Rite i1Display Pro for brightness and contrast measurements, and the i1Pro spectrophotometer for the remainder of our tests. We test all of our displays at 200 nits brightness. As with our performance tests, if you would like to compare this device to any other we have tested, you can use our online database Bench.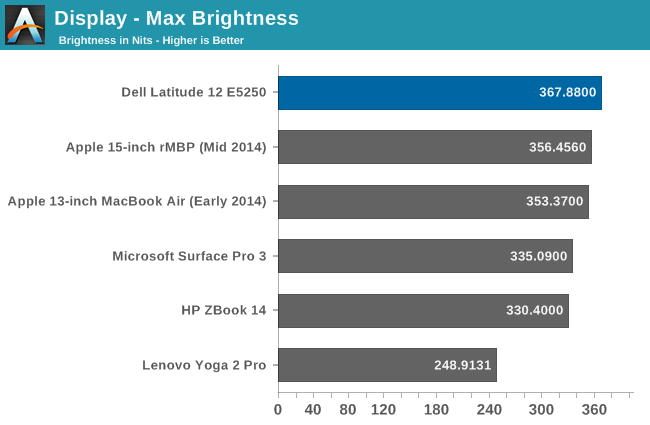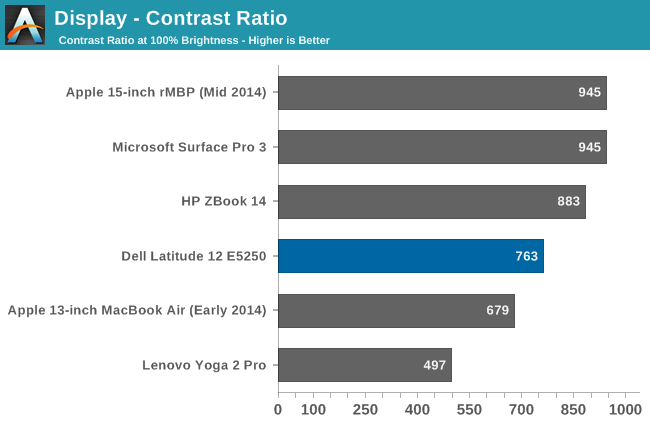 While the brightness levels are not off the charts, at almost 370 nits the display is fine for any sort of office work. At maximum brightness, the contrast ratio is 763:1 due to the higher black levels of this display.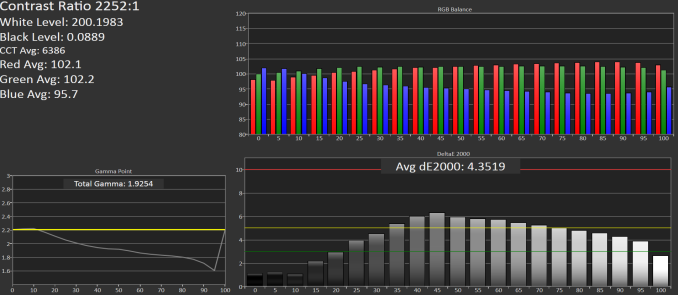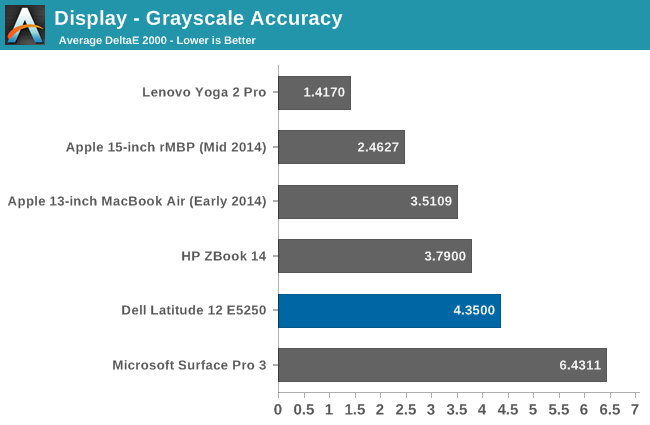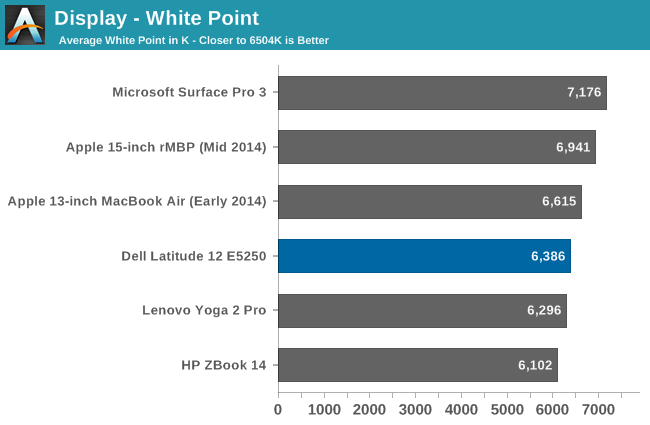 The white point is pretty good, but the grayscale average is a bit high at 4.35. We are looking for values below 3 if possible.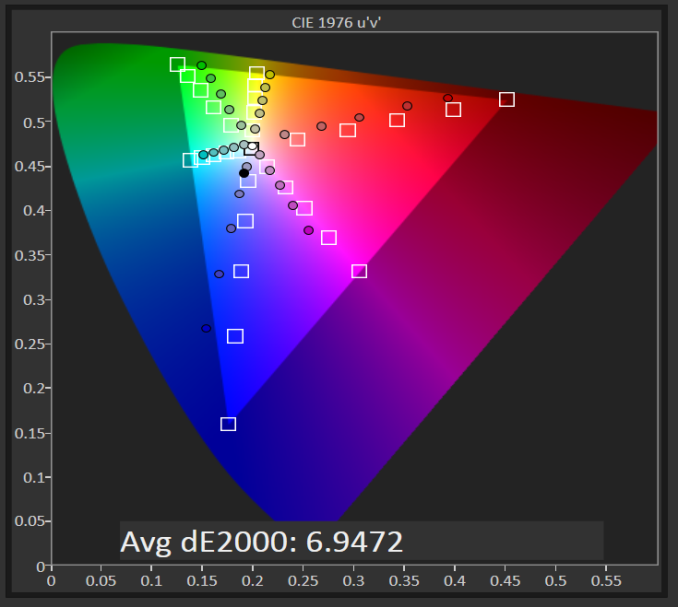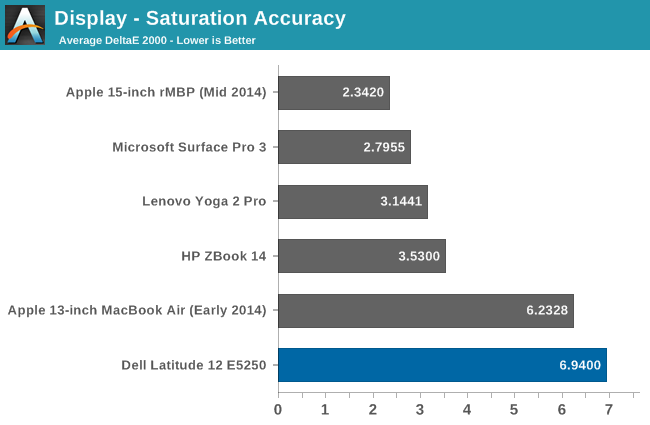 The saturation sweep is not a great score, with the E5250 coming in close to 7. Everything is compressed into a smaller gamut than sRGB, with the display only able to cover up to about 80% of the range.
The GMB score clocks in at just a hair over 5. It is far from the worst display we have tested, but as it is a 6-bit panel this is not the kind of device that a color professional would use.
The display could use some work, and it would be great if Dell would/could provide an ICC file from the factory that would help the scores, but with the display unable to cover the entire sRGB, there is no way to make it perfect. Display quality has improved dramatically on laptops over the last couple of years, and while this is an IPS display, at this price point that is pretty much standard so having a more accurate display would be a point of differentiation.