Internals, Noise, Temperatures, and Subjective Analysis
Getting at the internals is pretty simple with this chassis. Two screws secure the hatch to the HDD, and four more are on the large cover at the back half of the notebook. Those two covers give you quick access to most of the internals. Through the bottom of the chassis, you can remove/upgrade the CPU, HDD, and two of the SO-DIMMs; you could also replace the GPU module in theory, though we've yet to see anyone actually make a serious attempt at upgrading mobile GPUs as newer models come out. That's a shame, as it would be a huge feather in the cap of Clevo or Eurocom if they were to start validating and selling new MXMs (Mobile Express Modules) for their older notebooks—but why sell an MXM upgrade when you can sell a new notebook instead?
The only items you can't access and upgrade through the bottom are the mini-PCIe card and the two other SO-DIMMs; you need to go through the keyboard for that. To remove the keyboard, first pop off the speaker grille above the keyboard (it comes off pretty easily); five screws hold the keyboard in place, so remove those and you're done. It's an extra step compared to some notebooks, but you get four SO-DIMM slots and relatively easy access to both the top and bottom of the motherboard. It's actually similar to how you open up Dell's Precision M6500, but unfortunately with a few more screws and no metal chassis or frame.
Noise and Heat
With all the superficial similarities to the ASUS G-series, one thing it doesn't have in common with the G73 is noise levels. Granted, we're dealing with a smaller chassis and a more powerful GPU, but the G73 is still a far quieter chassis any way you slice it. Maybe it's the need to cool either the HD 6970M or the GTX 485M, both of which the P150HM supports? Anyway, at idle the system runs at a tolerable level of 36.2dB, but even a moderate load will routinely bump the fan speed up and noise will increase to around 39-41dB. The real kicker is when you're pushing the GPU, at which point we recorded a noise level of 44.5dB at a distance of 12". If you're a glutton for punishment, run Furmark with a CPU load and you can reach the maximum fan speed, with what has to be a record for our notebook testing: 48.5dB.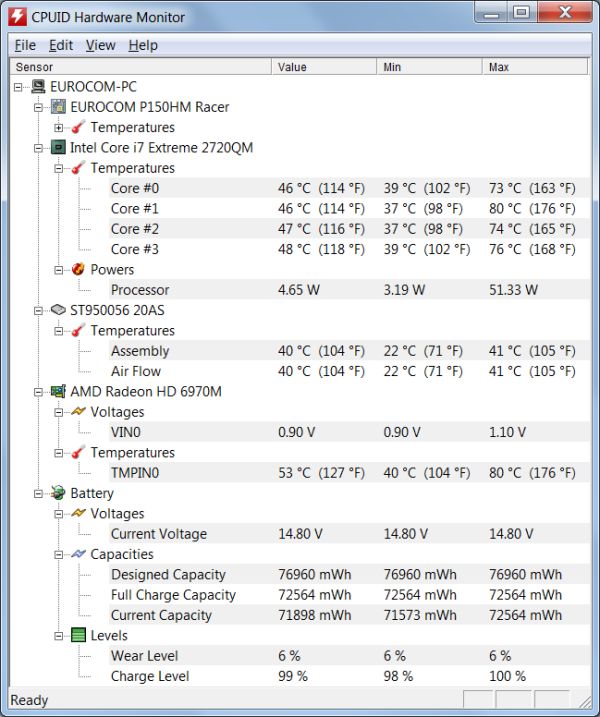 With all the noise, temperatures aren't horrible, but they're not good either. My digital thermometer is currently out of commission, but the Racer can certainly get uncomfortably hot on your lap. Internal temperatures range from 37-40C for the CPU and GPU at idle to a maximum of 80C under heavy loads (i.e. gaming and heavily threaded, CPU-intensive tasks). Fire up Furmark and you can get the GPU up to 95C, though thankfully it did maintain that temperature for several hours so the fans are at least keeping the GPU within its specified limits.
All testing was done in a 69F (20.5C) environment; how will such a notebook cope with higher ambient temperatures? We're sure the fans will run at higher RPMs and temperatures will rise, but at least in our testing we never encountered instabilities. I played some games in an 85F environment just to be sure, and everything chugged along quite happily for several hours. Just plan on keeping the notebook off your lap—preferably on a hard, flat surface—and bring a set of earphones. If you happen to live in a state like Arizona, though, I would be more than a little concerned.
Subjective Summary
Outside of my rant on the keyboard layout, the P150HM/Eurocom Racer has some good ideas. As a gaming notebook, it comes dangerously close to NVIDIA's more expensive GTX 485M. Battery life is never a strong point for gaming notebooks, and without switchable graphics that's once again the case here, but I don't think anyone was expecting otherwise. My biggest concern is that Eurocom doesn't target gaming enthusiasts as their primary market, which means if you happen to be looking for a gaming notebook, you'll pay more for something from Eurocom than you would for a gaming-specific notebook purchased elsewhere.
On the other side of the coin, you have people looking for a desktop replacement/mobile workstation; for them, the problem isn't performance and configuration options so much as the core design. Pick up a Dell Precision, HP EliteBook, or Lenovo ThinkPad and you'll find amazingly sturdy chassis and the use of higher quality materials; with a Clevo, you're unfortunately getting hard plastic and a far less rugged notebook. Couple that with the fact that I know of few businesses that would prefer dealing with a relatively small outlet like Eurocom compared to the likes of Dell, HP, and Lenovo and I have a hard time figuring out who would buy this as a workstation, so we're back to gaming enthusiasts.
The one thing you can get here is quad-core Sandy Bridge and Quadro FX 5000M (or FX 3800M) with 16GB RAM for $5000, and you can get that right now (or at least as soon as the product shows up on the Eurocom site). If you happen to be in the market for such a system, it might be several more months before the big OEMs have their revised workstations for sale, and even then you're not going to find any of them putting that much power into a 15.6" notebook. For smaller businesses that like a bit more flexibility than some of the bigger players provide, that might be enough to sway them over to Eurocom.
We're more of an enthusiast site and the configuration we have targets gaming as opposed to workstation users, so that will be our primary focus for benchmarks. It's not that you can't run workstation apps on an HD 6970M, but if that's your bread and butter you're far more likely to upgrade to something with Quadro or FireGL. Even with a slightly higher price than other vendors, though, until some of them start stocking 6970M as an option this is looking like a pretty sweet gaming notebook. Let's fire off the benchmarks and see why.