Random Read/Write Speed
The four corners of SSD performance are as follows: random read, random write, sequential read and sequential write speed. Random accesses are generally small in size, while sequential accesses tend to be larger and thus we have the four Iometer tests we use in all of our reviews.
Our first test writes 4KB in a completely random pattern over an 8GB space of the drive to simulate the sort of random access that you'd see on an OS drive (even this is more stressful than a normal desktop user would see). I perform three concurrent IOs and run the test for 3 minutes. The results reported are in average MB/s over the entire time. We use both standard pseudo randomly generated data (data is random within a write, but duplicated between writes) for each write as well as fully random data (data is random within a write and random across most writes) to show you both the maximum and minimum performance offered by SandForce based drives in these tests. The average performance of SF drives will likely be somewhere in between the two values for each drive you see in the graphs. For an understanding of why the type of data you're writing matters, read our original SandForce article.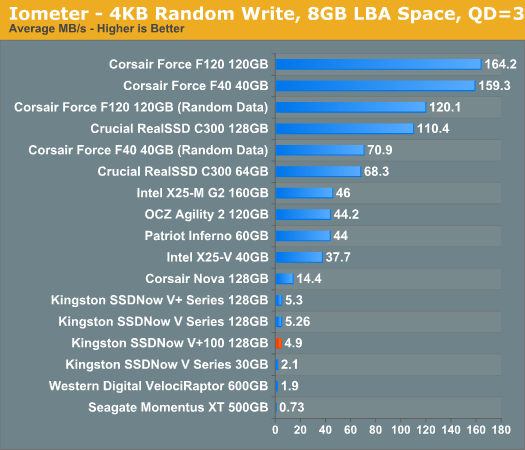 Random write performance has always been the weak spot of Toshiba's controllers, this latest combination of controller and firmware is no different. Compared to all other SSDs, the Toshiba based SSDNow V+ 100 doesn't look very good. It's even slower than the old Indilinx based Corsair Nova. It's still over 2x the speed of the fastest desktop 3.5" hard drive however, and enough to give you the feel of an SSD for the most part.
Crucial loses a decent amount of performance when going from 128GB to 64GB. The RealSSD C300 drops below even the worst case scenario performance of the Corsair Force F40.
Note that not all SandForce drives are created equal here. If a manufacturer doesn't meet SandForce's sales requirements, their drives are capped at a maximum of 50MB/s here. This is the case with the Patriot Inferno, although OCZ's Agility 2 voluntarily enforces the limit.
Many of you have asked for random write performance at higher queue depths. What I have below is our 4KB random write test performed at a queue depth of 32 instead of 3. While the vast majority of desktop usage models experience queue depths of 0 - 5, higher depths are possible in heavy I/O (and multi-user) workloads: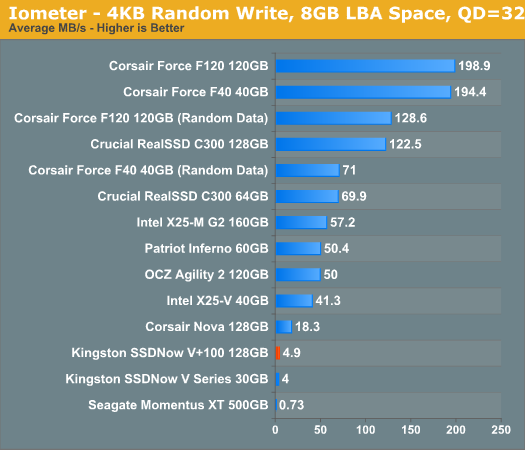 Kingston's performance doesn't change regardless of queue depth. The SandForce drives either stay the same or get a little faster as they have more requests to parallelize and write sequentially.
Our random read test is similar to the random write test however we lift the 8GB LBA space restriction: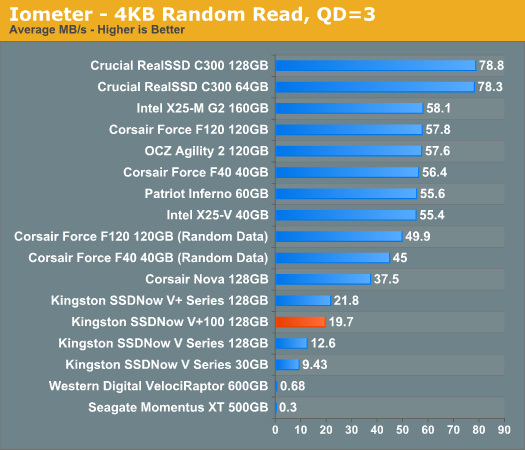 Random read speed is much better, but still not as good as the competition. At 19.7MB/s the SSDNow V+ 100 is a couple of orders of magnitude faster than the 600GB VelociRaptor. The Indilinx based Corsair Nova is even faster however, and nothing can top the RealSSD C300.