The Impact of Spare Area on Performance
More spare area can provide for a longer lasting drive, but the best way to measure its impact is to look at performance (lower write amplification leads to lower wear which ultimately leads to a longer lifespan).
SandForce's controllers are dynamic: they'll use all free (untouched or TRIMed) space on the drive as spare area. To measure the difference in performance between a drive with 28% spare area and one with 13% we must first fill the drives to their capacity. The point being to leave the controller with nothing but its spare area to use the moment we start writing to it. Unfortunately this is easier said than done with a SandForce drive.
If you just write sequential data to the drive first there's no guarantee that you'll actually fill up the NAND. The controller may just do away with a lot of the bits and write a fraction of it. To get around this problem we resorted to our custom build of iometer that let's us write completely random data to the drive. In theory this should get around SandForce's algorithms and give us virtually 1:1 mapping between what we write and what ends up on the NAND.
That's not enough though. The minute we run one of our desktop workloads on the SandForce drive it'll most likely toss out most of the bits and only lightly tap into the spare area. To be sure let's look at the results of our AT Storage Bench suite if we first fill these drives with completely random, invalid data. Every time our benchmark scripts write to the drive it should force a read-modify-write and tap into some of that spare area.
This graph shows the percentage of new performance once the drive is completely full. Dynamic controllers like Intel's and SandForce's will show a drop here as they use any unused (or TRIMed) space as spare area. The Indilinx Barefoot controller doesn't appear to and thus shows no performance hit from a full drive.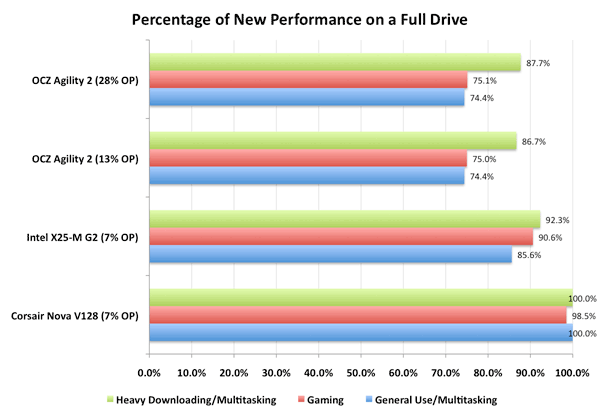 You'll note that there's virtually no difference between a SF-1200 drive with 13% spare area and one with 28% spare area. Chances are, most users would agree. However I'm not totally satisfied. What we want to see is the biggest performance difference a desktop/notebook user would see between a 13% and 28% overprovisioned drive. To do that we have to not only fill up the user area on the drive but also dirty the spare area as well. Another pass of our Iometer script with some random writes thrown in should do the trick. Now all LBAs on the drive should be touched as well as the spare area.
Once again, let's look at the percentage of new performance from our very full, very dirty drive: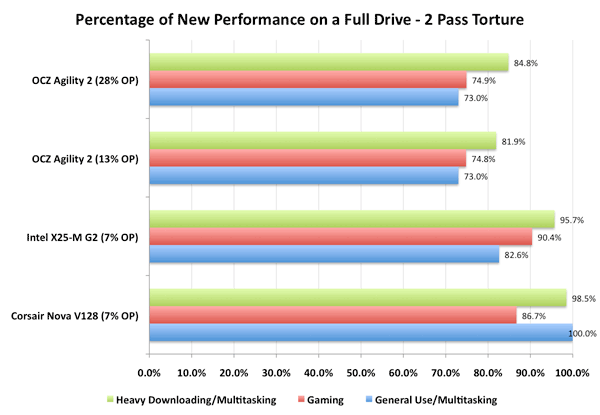 Now we're getting somewhere. Intel's controller actually improved in performance between the runs (at least in the heavy downloading/multitasking test), which is a testament to Intel's architecture. The X25-M is an overachiever, it's in a constant state of trying to improve itself.
The SandForce controller is being unfairly penalized here - most desktop workloads shouldn't hit it with so much data that's purely random in nature. But we're trying to understand the worst case scenario. And there is a difference, just a very slight one. Only in the heavy downloading/multitasking workload did we see a difference between the two spare area capacities and it's only about 3 percentage points.