Miscellaneous Aspects and Concluding Remarks
Desktop PCs are often used for media playback and double up as HTPCs in certain cases. While the fan noise / bulk prevent the NUC Extreme line from being used as dedicated HTPCs, the video decoding capabilities are very important - particularly if the end user finds it acceptable to add a discrete GPU for post-processing.
The Intel UHD Graphics 770 exposes hardware decoding capabilities for almost all commonly used codecs - MPEG2, VC1, WMV9, H264, HEVC, VP9, and AV1. For HEVC, the GPU also supports decode of 4:2:2 and 4:4:4 10-bit and 12-bit streams.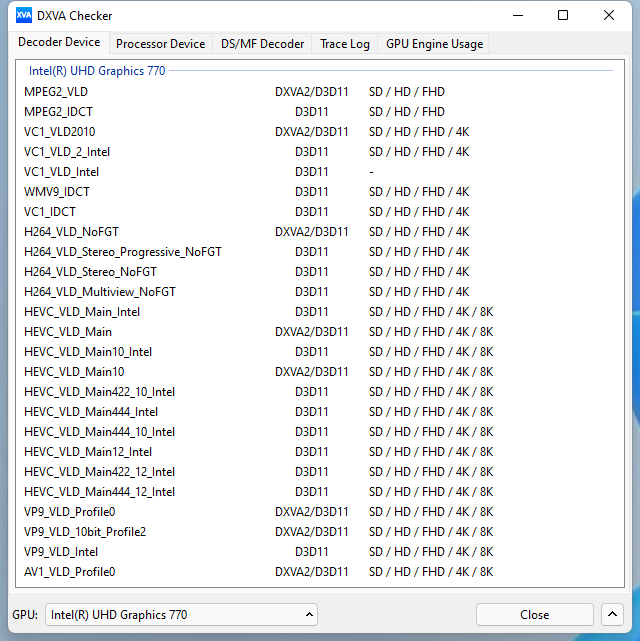 Moving on to the power consumption aspect, we ran the AIDA64 System Stability Test with various stress components, as well as the artificial power virus test involving Prime95 and Furmark for determining load power. The maximum sustained power consumption at the wall was recorded.
At-Wall Power Consumption
(Lower is Better)
Intel NUC12DCMi9
(Dragon Canyon)
Intel NUC11BTMi9
(Beast Canyon)
Load (Max. / Sustained)
336W / 127W
167W / 120W
Idle
36W
28W
The sustained power consumption is largely in the same ballpark for both NUCs. However, the instantaneous spikes are quite high for the Dragon Canyon, particularly when fresh workload segments start.
Looking Forward...
The Dragon Canyon NUC brings socketed desktop processors to the NUC lineup for the first time. It also brings native 10Gb Ethernet to the lineup. Alder Lake brings hybrid processors with performance and efficiency cores, and that delivers significant benefits. While these improvements are impressive from the viewpoint of a SFF machine, the power consumption puts a slight dampener.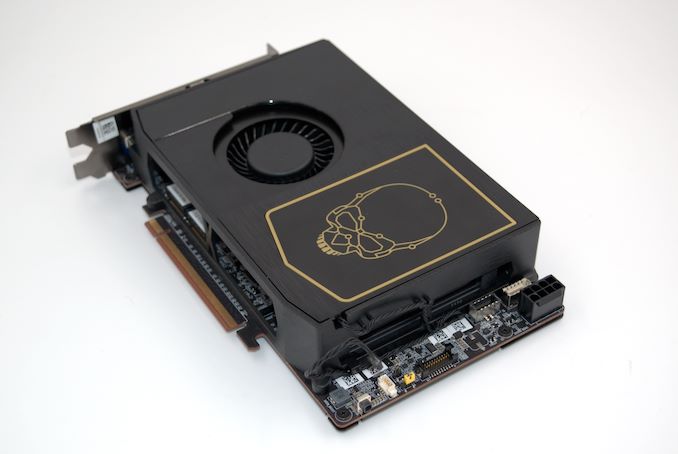 In terms of internals, the Dragon Canyon's updates are also tempered by over-reliance on the PCH for almost all of the I/Os of the PC. In comparison, the Beast Canyon NUC had a better spread with the Thunderbolt 4 ports directly off the CPU. Given that the Alder Lake platform supports USB 3.2 Gen 2x2, a couple of the 20Gbps ports would have also been welcome on the Compute Element.
On the baseboard side, we would like to see support for PCIe lane bifurcation making a comeback. The chassis itself has not essentially changed - just the alteration of a Type-A port in the front to Type-C. This means that many of the drawbacks that existed in Beast Canyon (such as the user-unfriendly nature of the recessed ports) continue to exist in the Dragon Canyon.
Intel has put in significant effort to pack the capabilities of the Dragon Canyon NUC in a 8L platform. However, a bit of relaxation on the volume front would have been welcome - particularly from the viewpoint of making the installation of the Compute Element into the chassis easier. Hopefully, these issues will get fixed in a future iteration of the NUC Extreme.
This article provided a preview of the capabilities of the Dragon Canyon NUC. In an upcoming piece, we will look into the gaming chops of the machine with a discrete GPU installed.