Introducing the NZXT Phantom 630
It wasn't that long ago that we reviewed NZXT's shiny new Phantom 820, a case that apart from its high price tag and slightly ostentatious design was pretty tough to beat. The Phantom 820 was providing some best-in-class thermal and acoustic performance, and it was a shot fired squarely across the bows of companies like Thermaltake and CoolerMaster, whose respective Level 10 GT and Cosmos II suddenly had a new, less expensive case to worry about competing with. Yet when I visited NZXT at CES 2013, they already had a descendant of the 820 on hand.
The Phantom 630 is just a little smaller, a little more conservative, and a lot cheaper. At $179 MSRP it's still on the expensive side and is clearly an enthusiast case, but unlike the 820, the 630 is using an entirely new chassis built from the ground up. The 820 scored a Bronze Editor's Choice award, but as it turns out, it may not have been a flash in the pan. Once you take a look at the 630, you'll start to understand why I'm beginning to think NZXT is entering a new era and the competition needs to be on their toes.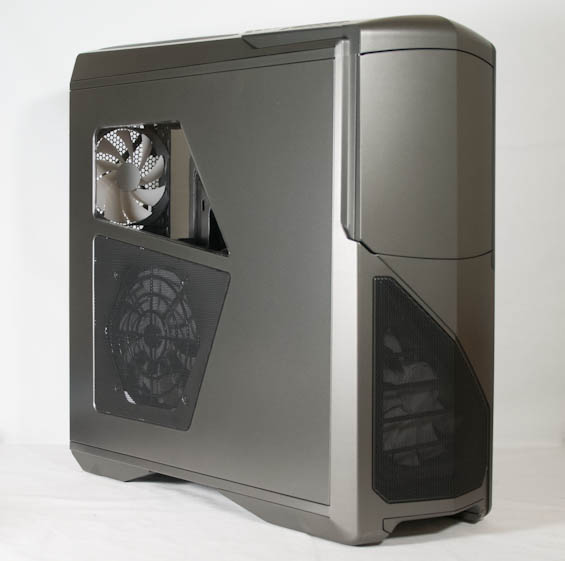 My meetings with NZXT at CES are often interesting just because of the unique approach they take to designing their cases. I would never, ever suggest that there's no art to engineering (quite the opposite actually), but the engineers at NZXT seem to have a more artisanal attitude towards their case designs than many of the other vendors. That attitude seems to have both intensified and been tempered by a stronger, clearer understanding of case engineering over the years, and an artist with a strong grasp of the technical can be formidable.
The results thus far have been some still fairly outlandish case designs, but the aesthetics have been reined in somewhat while more emphasis has been placed on useful functionality. Remember that it's not just about having features in general, it's about having useful features. In that respect, I think you'll see why I feel like in some ways, NZXT is pretty far ahead of the curve. This isn't the same company that produced my oft-maligned H2 two years ago.
NZXT Phantom 630 Specifications
Motherboard Form Factor
Mini-ITX, Micro ATX, ATX, XL-ATX
Drive Bays
External
4x 5.25"
Internal
6x 2.5"/3.5", 2x 2.5"
Cooling
Front
1x 200mm intake fan (supports 2x 140mm or 2x 120mm)
Rear
1x 140mm exhaust fan (supports 1x 120mm)
Top
1x 200mm exhaust fan (supports 2x 200mm or 2x 140mm or 3x 120mm)
Side
1x 200mm intake fan
Bottom
2x 120mm/140mm fan mounts
Expansion Slots
9
I/O Port
2x USB 3.0, 2x USB 2.0, 1x Headphone, 1x Mic
Power Supply Size
Standard ATX
Clearances
HSF
170mm / 200mm without side intake
PSU
220mm
GPU
325mm / 507mm without HDD cage
Dimensions
9.65" x 24.69" x 23.62"
245mm x 627mm x 600mm
Weight
27.12 lbs. / 12.3 kg
Special Features
USB 3.0 connectivity via internal headers
Toolless 5.25" drive bays and 3.5" drive sleds
Support for 360mm/280mm radiator in top of enclosure, 240mm/280mm in bottom of enclosure, thickness up to 60mm
Integrated three-speed, 30W fan controller (supports up to 10 3-pin fans)
Toggleable rear I/O and expansion LED illumination
Integrated SD card reader
Three removable drive cages (3-drive, 2-drive, and 1-drive)
Price
$179
The immediate comparison should be made to the Phantom 820, which remains more expensive than the 630 at $249. In terms of dimensions, the 630 is ever so slightly smaller, only about 25mm shorter in height and 12mm shorter in depth, while actually being 10mm wider. The increase in width isn't really a bad thing as it allows for potentially better cable management by improving space behind the motherboard tray. It's also three kilograms (five pounds) lighter.
We do lose the HUE lighting system (my apologies to the commenter who corrected me on the original post about the 630), and the four-channel fan control is replaced by one single channel which supports ten fans at three steps. What we gain, though, is probably the smartest modular drive cage design I've ever seen, two additional 2.5" sleds behind the motherboard tray, and a slightly more svelte enclosure overall. We also save $70, which can't be understated even at this high level of the market.