The Level 10 M Software
Honestly, the software developed by peripheral vendors to support their hardware is generally a horror show. I very seldom use it (although my MechWarrior Online habit has forced my hand with my own Logitech G500), and the software has become even less relevant as more and more mice simply store their configurations in onboard memory. You can install the software once, configure the hardware, then uninstall the software and go about your life.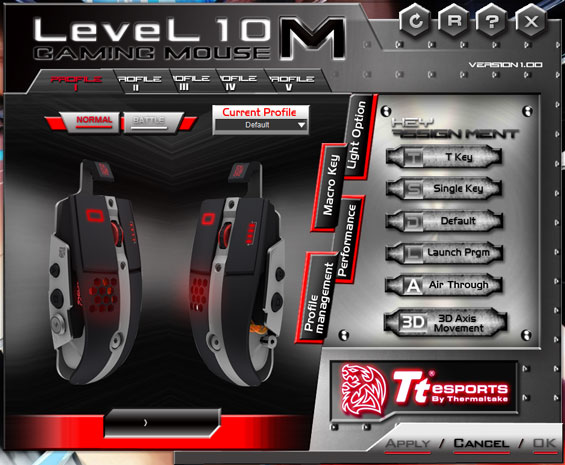 It pains me to say it because I do like Thermaltake, but this software is really unpleasant to use. It works fine, but you can tell from the screen cap above that Thermaltake's engineers went for style first and usability a very distant second. Clicking "Air Through" or "3D Axis Movement" just opens video files with generic electric guitar music that describe the mouse itself. Yet the other "Key Assignment" buttons are blanked out until you click on the button you want to program on the mouse images. "T Key," by the way, means "macro."
If you mess around with the software long enough, you can begin to figure out how to use it, but the learning curve need not be so steep. The "Normal" and "Battle" LED mode toggles are just silly and needlessly clutter both the mouse's functionality and the software's interface. What's bizarre is that none of the mouse buttons can be configured to handle media playback or switch between profiles. The former is mostly forgivable, but the latter is mystifying for a mouse that supports both configurable lighting and five different profiles. Most of the functionality you're looking for is here, though. You can individually set the DPI settings for the four levels, configure sensitivity on the X and Y axes individually, control scroll speed, click speed, and so on.