The Processors: Pentium, Core i3, Core i5, and Core i7
The least expensive Sandy Bridge processors continue to be the venerable Pentium line. These are the newest Sandy Bridge CPUs and are currently available at clock speeds of 2.6GHz (the Pentium G620), 2.8GHz (Pentium G840), and 2.9GHz (Pentium G850), as well as a low-power (35W TDP) 2.2GHz variant (Pentium G620T). The Sandy Bridge Pentiums are very similar to the Core i3 CPUs: they're all dual-core chips fabricated on Intel's 32nm process. They come with 3MB of L3 cache, lack Turbo Boost, and have Intel HD integrated graphics. While the i3s have "Intel HD 2000" graphics and the Pentiums have "Intel HD" graphics, both IGPs feature 6 EUs (Execution Units) that can turbo up to 1100MHz and thus perform very similarly, including support for dual displays.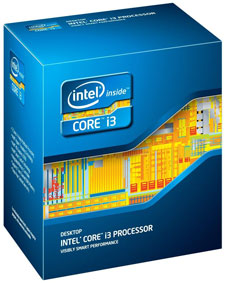 Unlike the Core i3 models, however, the Sandy Bridge Pentiums do not support Intel's Quick Sync Video technology or DDR3-1333 RAM; perhaps most importantly, the Pentiums do not feature Hyper-Threading. Outside of the low-power G620T, they come with a 65W TDP (35W on the G620T). Subjective performance of the G620 for general office productivity tasks and web browsing is, in my estimation, broadly similar to the older Core 2 Duo E8400 CPU and current AMD Athlon II X2 260.
There are now four Sandy Bridge Core i3 CPUs ready for purchase in North American retail channels. These are all dual-core CPUs that feature Hyper-Threading, support for Intel Quick Sync technology, and Intel HD 2000 graphics (save the Core i3-2105). The chips are the Core i3-2100 (3.1GHz), i3-2100T (2.5GHz and featuring a 35W TDP), i3-2105 (3.1GHz but featuring Intel HD 3000 graphics), and i3-2120 (3.3GHz). The i3s do not support Turbo Boost, nor are there any '-K' models for easy overclocking (though an unlocked i3 is rumored to be available eventually).
The 2nd Generation Core i5 processors (with one exception) are all quad-core CPUs that feature Turbo Boost but without Hyper-Threading, and they come with 6MB of L3 cache. All support Intel Quick Sync, and most have a TDP of 95W and feature Intel HD 2000 graphics. The 2500K model is fully unlocked, facilitating extremely easy overclocking, and it comes with HD 3000 graphics. The '-S' models are lower-powered chips featuring a 65W TDP, and the Core i5-2405S includes Intel HD 3000 graphics. The exception to the above is the i5-2390T, which is a dual-core 2.7GHz part with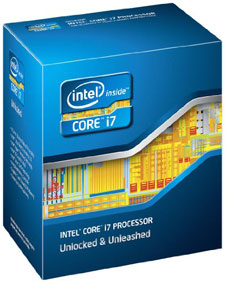 Turbo Boost up to 3.5GHz, a 35W TDP, and 3MB L3 cache—basically a souped up, low-power i3. The entire line of Core i5s fit within about a $50 range—from about $175 to $225.
The Core i7 Sandy Bridges currently comes in only three variants: the i7-2600, its unlocked counterpart the i7-2600K, and the low-power i7-2600S. The 2600K enables all the bells and whistles: 3.4GHz base with up to 3.8GHz Turbo Boost, Hyper-Threading, HD 3000 graphics, 8MB of L3 cache, 95W TDP, and an unlocked multiplier. The Core i7-2600 is the same, except without the fully unlocked multiplier and with HD 2000 graphics. The 2600S is clocked at 2.8GHz with up to 3.8GHz Turbo Boost, HD 2000 graphics, and it has a 65W TDP. The 2600K is the fastest mainstream desktop CPU currently available at retail. We provided a very thorough, comprehensive review of the Core i3, i5, and i7 CPUs back in January; if you are considering building a second-gen Core system, it's an invaluable resource.
The Chipsets: H61, H67, P67, and Z68
Simply put, in order from least to most expensive (in general), as well as least to most feature-rich, the Cougar Point hierarchy is: H61, H67, P67, and Z68. (We'll go ahead and skip over the business-centric B65, Q65, and Q67.) While there are far more differences than those discussed here, a few variations are worth noting for the purposes of this guide. You can read more about the chipsets on AnandTech in our ASRock P67 review, H67 motherboard roundup, and ASUS Z68 review.
The H61 chipset does not support CPU multiplier overclocking, has no SATA 6.0Gbps ports, and features the fewest USB 2.0 ports ('only' 10). Intel's Sandy Bridge CPUs feature on-die graphics processors, and the H61 does not support overclocking the GPU. The H67 chipset is similar in that it doesn't support CPU multiplier overclocking, but it does support GPU overclocking. It also has two SATA 6.0Gbps ports. These chipsets also let you use Intel's Quick Sync technology, since they provide access to the IGP block. The P67 chipset is the reverse of the H67 and targets the enthusiast segment, with support for CPU multiplier overclocking and two SATA 6.0Gbps ports. However, P67 does not utilize the on-die graphics and thus requires a discrete GPU. That means you also lose out on support for Quick Sync.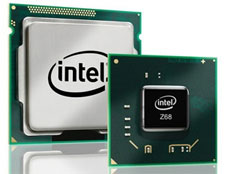 Since H67 and P67 both have desirable elements—Quick Sync on the one hand and overclocking on the other—there was clearly a gap in the chipset lineup. The Z68 chipset fills that gap, supporting both CPU multiplier overclocking and IGP overclocking, Quick Sync, and SATA 6.0Gbps. It also supports Intel Virtu Technology, which uses the on-die GPU for less demanding tasks and the discrete GPU for more intensive applications, which potentially saves energy but more importantly allows the use of a dGPU while still providing Quick Sync support. Finally, Intel introduced their Smart Response Technology (SSD caching) with Z68; it's just software that could work with other chipsets, but right now it remains a Z68 exclusive. At the risk of sounding flippant, Z68 is what P67 should have been, and aside from the fact that Z68 boards are typically a bit more expensive than P67 boards, there aren't many (any?) compelling reasons to buy a P67 motherboard now that Z68 is out.
With the overview of the CPUs and chipsets out of the way, this guide outlines a budget (<$500) Core i3-based computer, a $1000 Core i5 midrange system, and a $2000 Core i7 gaming monster. Keep in mind that prices on components frequently fluctuate and that these guides might be a bit over or under budget when you read them. It's always a good idea to shop around and watch for particularly low prices (AnandTech's Hot Deals forum is full of useful information). Now let's get to the system builds.