If you read our Sandy Bridge Review you'll know that we were very excited about Intel's Quick Sync hardware transcode engine. It easily offers at least twice the performance of existing GPU based transcoding solutions without sacrificing image quality. There's just one little problem: you can't use Quick Sync you're using a discrete GPU, you need to use Intel's processor graphics.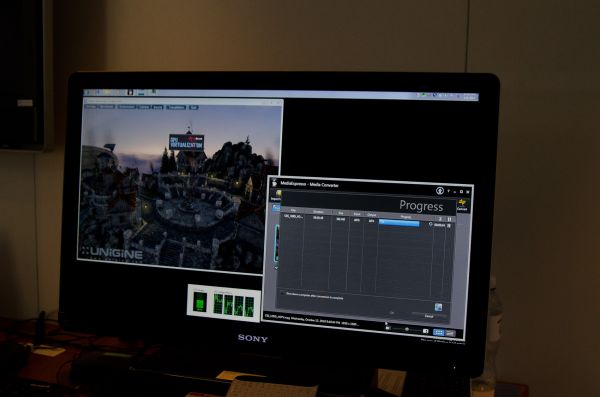 Lucid presented a potential solution to the problem at this year's CES. Through software alone, Lucid is able to copy the frame buffer from a discrete PCIe GPU to the frame buffer of SNB's HD Graphics in main memory. The result is that you can hook a single monitor up to your motherboard's video output and use a discrete GPU when you want it. Lucid's technology would enable switchable graphics on the desktop, without any hardware requirements (it still obviously won't work on P67, shame on Intel).
To demonstrate the technology Intel ran an H67 motherboard with a GeForce GTX 480. Lucid's software was installed which allowed for the GTX 480 to run and its frame buffer output to be copied to main memory and sent out via Intel's Flexible Display Interface through the DVI port on the back of the motherboard.
At the same time, Intel demonstrated that it could run a Quick Sync enabled transcode in Cyberlink's Media Espresso 6 - all thanks to Lucid's software.
Lucid expects that there will only be a 1 - 3% impact in performance (although that's something we'd have to see for ourselves), but there's no firm date on when the driver will be available. I'm expecting a beta version of Lucid's software in the coming weeks however.
Motherboard manufacturers could bundle Lucid's solution with their boards to avoid upsetting end users thanks to Intel's Quick Sync oversight. There's still no getting around the fact that you can't overclock your CPU on H67 motherboards. You'll still have to wait for Z68 to fix that problem.