Starting with the Differences: Power Consumption
I'll spoil the surprise up front: the Vertex 2 performs identically to Corsair's Force drives, as expected. This is a good thing since those drives perform as well as the Vertex LE, which in turn are generally faster than Intel's X25-M and second only to Crucial's C300 in some cases.
Unless we stumble upon any other issues with the RC firmware, the difference between these drives amounts to power consumption.
At idle the Vertex 2 actually uses more power than Corsair's Force F100 - 0.65W vs. 0.57W. The Vertex LE also exhibits the same lower power consumption, so I wonder if it's related to the earlier firmware revision (I haven't updated my LE to 3.0.5/1.05 yet).

Under load we see a larger difference between the Vertex 2 and the F100. The Corsair drive pulls 1.25W in our sequential write test compared to 0.97W from the Vertex 2. For desktop users the power consumption differences won't matter, this is really more of an academic or notebook discussion.

Power consumption during heavy random writes is closer between the two drives, but the Force still draws a tad bit more.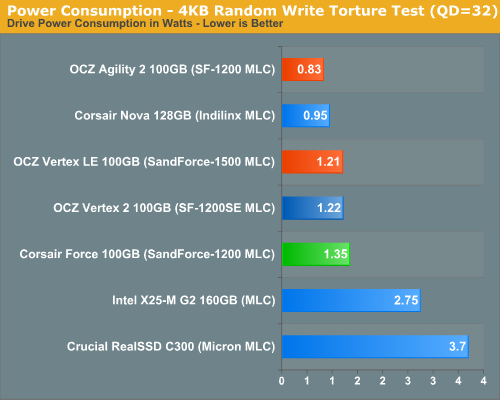 For notebook users it appears to be a tradeoff - lower power consumption at idle or lower power consumption under load. I'd argue that the former is just as important, but it really varies based on usage model.