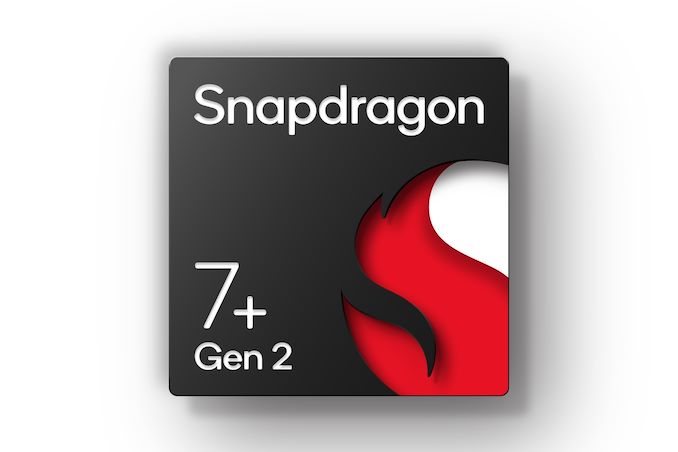 After a 2021/2022 product cycle that was a bit more interesting than Qualcomm perhaps would have liked, 2023 has been a far more straightforward year for the prolific SoC and cellular modem vendor. After releasing the first of their Gen 2 family of parts earlier this year with the flagship-class Snapdragon 8 Gen 2, the company is preparing to iterate through the next step of its product stack with the Snapdragon 7+ Gen 2. Aimed at what's become Qualcomm's traditional $400 to $600 "premium" market segment, which focuses on flagship-level features with more modest performance and costs, for the Snapdragon 7+ Gen 2, Qualcomm is aiming to deliver a sizable performance boost to the platform.
Positioned as the successor to last year's Snapdragon 7 Gen 1, this year's iteration of the Snapdragon 7 is, broadly speaking, more focused on improving performance than adding features. Whereas last year's Gen 1 part added mmWave support and new CPU and GPU architectures – particularly Armv9 architecture CPU cores – this year there's only a handful of new features. In place of that, however is what Qualcomm is touting as one of their biggest performance boosts ever for the Snapdragon 7 family. This is being enabled in large part by a much-welcomed pivot from Samsung's beleaguered 4nm process to TSMC's 4nm process, mirroring the switch Qualcomm made last year for the well-received mid-cycle Snapdragon 8+ Gen 1 part.
Also new this year, Qualcomm is dropping hints that this will not be the only Snapdragon 7 Gen 2 part we see this year, vis-a-vie the decision to launch their first Gen 2 part as the 7+ rather than the 7. In a nutshell, launching as a Snapdragon 7+ part leaves Qualcomm room to launch a vanilla Snapdragon 7 part later on. To be sure, Qualcomm isn't explicitly announcing any such part now, but there's little reason to launch a 7+ first unless they had plans for something below it; otherwise they could have launched it as 7 part ala the Snapdragon 7 Gen 1, which was always a one-chip stack.
Qualcomm Snapdragon 7-Class SoCs
SoC
Snapdragon 7+ Gen 2
(SM7475-AB)
Snapdragon 7 Gen 1
(SM7450-AB)
CPU
1x Cortex-X2
@ 2.91GHz

3x Cortex-A710
@ 2.49GHz

4x Cortex-A510
@ 1.8GHz
1x Cortex-A710
@ 2.4GHz

3x Cortex-A710
@ 2.36GHz

4x Cortex-A510
@ 1.8GHz
GPU
Adreno
Adreno
DSP / NPU
Hexagon
Hexagon
Memory
Controller
2x 16-bit CH

@ 3200MHz LPDDR5 / 25.6GB/s
2x 16-bit CH

@ 3200MHz LPDDR5 / 25.6GB/s
ISP/Camera
Triple 18-bit Spectra ISP

1x 200MP or 108MP with ZSL
or
64+36MP with ZSL
or
3x 32MP with ZSL

4K HDR video & 64MP burst capture
Triple 14-bit Spectra ISP

1x 200MP or 84MP with ZSL
or
64+20MP with ZSL
or
3x 25MP with ZSL

4K HDR video & 64MP burst capture
Encode/
Decode
4K60 10-bit H.265

Dolby Vision, HDR10+, HDR10, HLG

1080p240 Slow Motion Recording
4K30 10-bit H.265

Dolby Vision, HDR10+, HDR10, HLG

720p480 Slow Motion Recording
Integrated Modem
X62 Integrated



(5G NR Sub-6 + mmWave)


DL = 4400 Mbps
5G/4G Dual Active SIM (DSDA)
X62 Integrated



(5G NR Sub-6 + mmWave)




DL = 4400 Mbps

Mfc. Process
TSMC 4nm
Samsung 4nm
In terms of CPU organization, the Snapdragon 7+ Gen 2 retains the same 1+3+4 CPU core configuration that we've seen for the past few generations of the Snapdragon 7 family. The big news here is that the top-performing Prime core is getting a significant performance improvement, as Qualcomm makes the switch from using a slightly higher clocked mid-core to using a more performant CPU architecture altogether.
So, for the first time ever for a Snapdragon 7 part, Qualcomm is tapping one of Arm's Cortex-X cores for the Prime core. The Cortex-X2 used here is technically Arm's previous-generation design, so it won't be stepping on the toes of the Snapdragon 8 Gen 2 and its Cortex-X3 core. But compared to the A710 core used for the 7 Gen 1's Prime core (and 7+ Gen 2's mid-cores), the Cortex-X2 represents a significant improvement in both IPC and clockspeeds. As a result, the peak clockspeed for the Prime core has gone from 2.4GHz to 2.91GHz, which compounds further with the IPC gains of the more complex core.
All told, Qualcomm is touting an "up to" 50% CPU performance improvement for 7+ Gen 2 over the 7 Gen 1; virtually all of this is coming from the new Prime core.
The trade-off is that such a large performance boost is really only accessible for single-threaded workloads, since there's only the one Cortex-X2 core. The three mid (performance) cores are once again Cortex-A710 based, and are clocked all of 2% higher than before. As such, the 7+ Gen 1 isn't going to see huge gains on heavily multithreaded workloads. The improved power efficiency of TSMC's 4nm process should pay some dividends there, but some of those gains have been invested into making that power-hungry Cortex-X2 viable from a battery life perspective.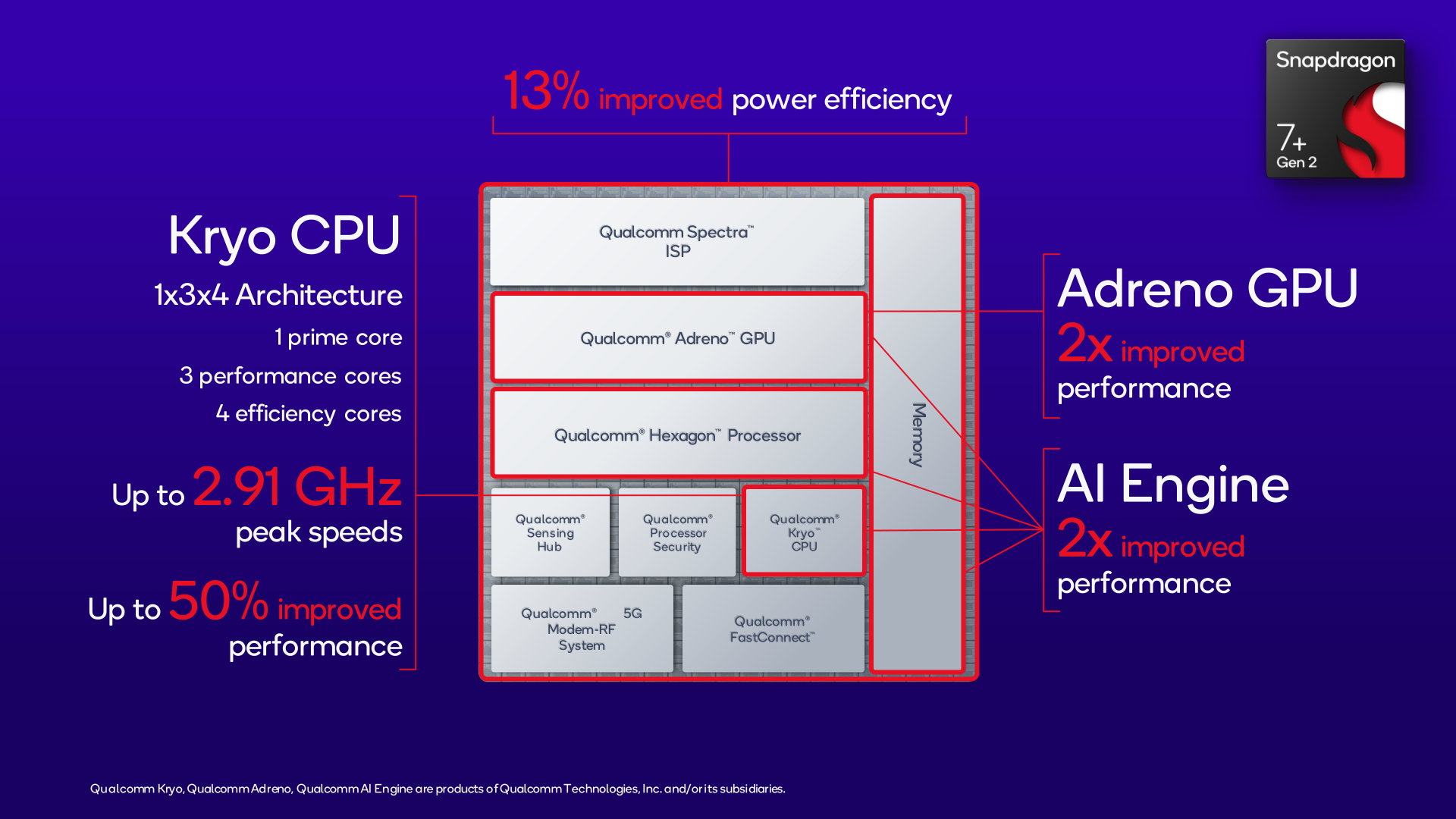 Meanwhile, the 7+ Gen 2 also incorporates a faster Adreno GPU. As has been the case with Qualcomm's integrated GPUs for a couple of generations now, the company isn't assigning a product number to it – let alone disclosing significant architectural details – so there's a limited amount of detail we can share. Based on the feature summary, it doesn't look like this is using the newer GPU architecture from the 8 Gen 2; so it would seem Qualcomm has incorporated a bigger version of their existing GPU and almost certainly given it a healthy clockspeed boost.
Whatever is the case, the GPU performance expectations for the new SoC are significant: Qualcomm is boasting a massive 2x performance improvement over the 7 Gen 1 – a platform that only delivered 20% more than its own predecessor. Even though these aren't flagship-class SoCs, Qualcomm still likes to position the Snapdragon 7 series as being a good match for gaming smartphones, especially in China, so it's not too surprising to see Qualcomm investing so much into GPU performance.
All told, Qualcomm is touting a 13% improvement in power efficiency over the 7 Gen 1, at least on an "extended daily use" basis. The switch to TSMC's 4nm process should pay significant dividends, as evidenced by last year's 8+ Gen 1 part, but at the same time it's clear that Qualcomm has been investing a good portion of those gains into improving overall performance.
Feeding the dragon is a 32-bit (dual 16-bit) LPDDR5 memory controller. Unlike the Snapdragon 8 Gen 2, the 7+ Gen 2 is not getting support for faster LPDDR5X memory, which means status quo reigns for the Snapdragon 7 family. In this case, this means support for memory speeds up to LPDDR5-6400, which works out to 25.6GB/second of memory bandwidth. Contrasted with the significant CPU and GPU performance increases, there's going to be a lot more pressure placed on Qualcomm's cache and memory subsystem to keep the various processing blocks fed.
Speaking of which, it's not just the CPU and GPU blocks that have seen major performance increases. Qualcomm's Hexagon DSP/AI engine block has also received a significant performance tune-up, rivaling the 2x increase to the GPU. Qualcomm was light on the technical details here, however in our briefing there was no mention made of features such as INT4 or micro-tiling – two major features of the next-gen Hexagon block on the 8 Gen 2 – so it seems likely that this is a heavily beefed up version of the Hexagon block used on the previous 7 Gen 1.
One piece of Snapdragon 8 technology that is making its way down to the Snapdragon 7, however, is its triple 18-bit Spectra ISP. Replacing the 14-bit unit featured in earlier generations of the platform, the 18-bit unit on the 7+ Gen 2 will bring support for triple exposure computational HDR video capture, as well as improved low light photography, which Qualcomm calls their Mega Low Light feature. The end result is that the 7+ Gen 2 can capture at higher resolutions when using zero shutter lag functionality, and combined with the updated GPU, can now record 4K video at up to 60fps, doubling the 7 Gen 1's 4K30 limit.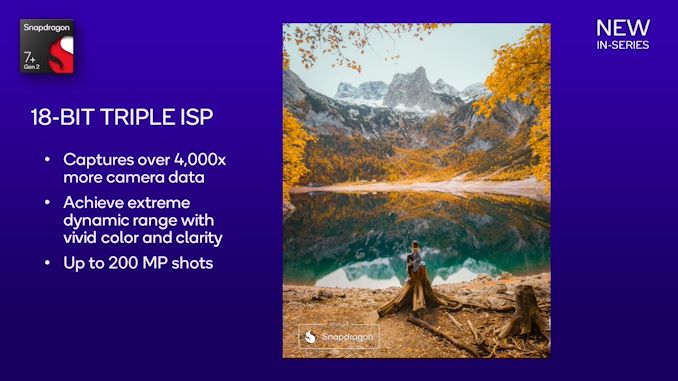 Finally, rounding out the package is a reprise of Qualcomm's Snapdragon X62 integrated modem. Like last year's SoC, this is a mmWave + Sub-6 Release 16 design that can achieve a theoretical maximum download rate of 4.4Gbps. This year's design does come with a twist, however: dual SIM dual active (DSDA) support, which is another first for the Snapdragon 7 platform. Both active radios on 7+ Gen 2 support 5G and 4G communications, allowing dual SIM users to use essentially whatever network they'd like on either radio. This is another premium feature, that until now, had been limited to Qualcomm's Snapdragon 8 platform.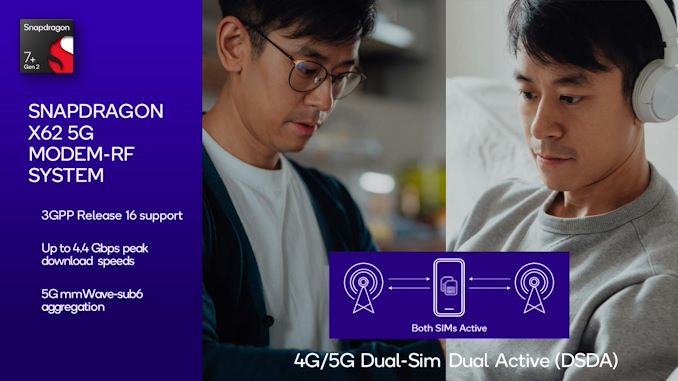 As for non-cellular connectivity, the 7+ Gen 2 uses a FastConnect 6900 radio system. This is a relatively modest update over the earlier 6700 radio, bumping up Bluetooth support to version 5.3 of the protocol, and increasing the peak bandwidth of the 2x2 stream Wi-Fi 6E radio to 3.6Gbps thanks to dual-band simultaneous (DBS) support.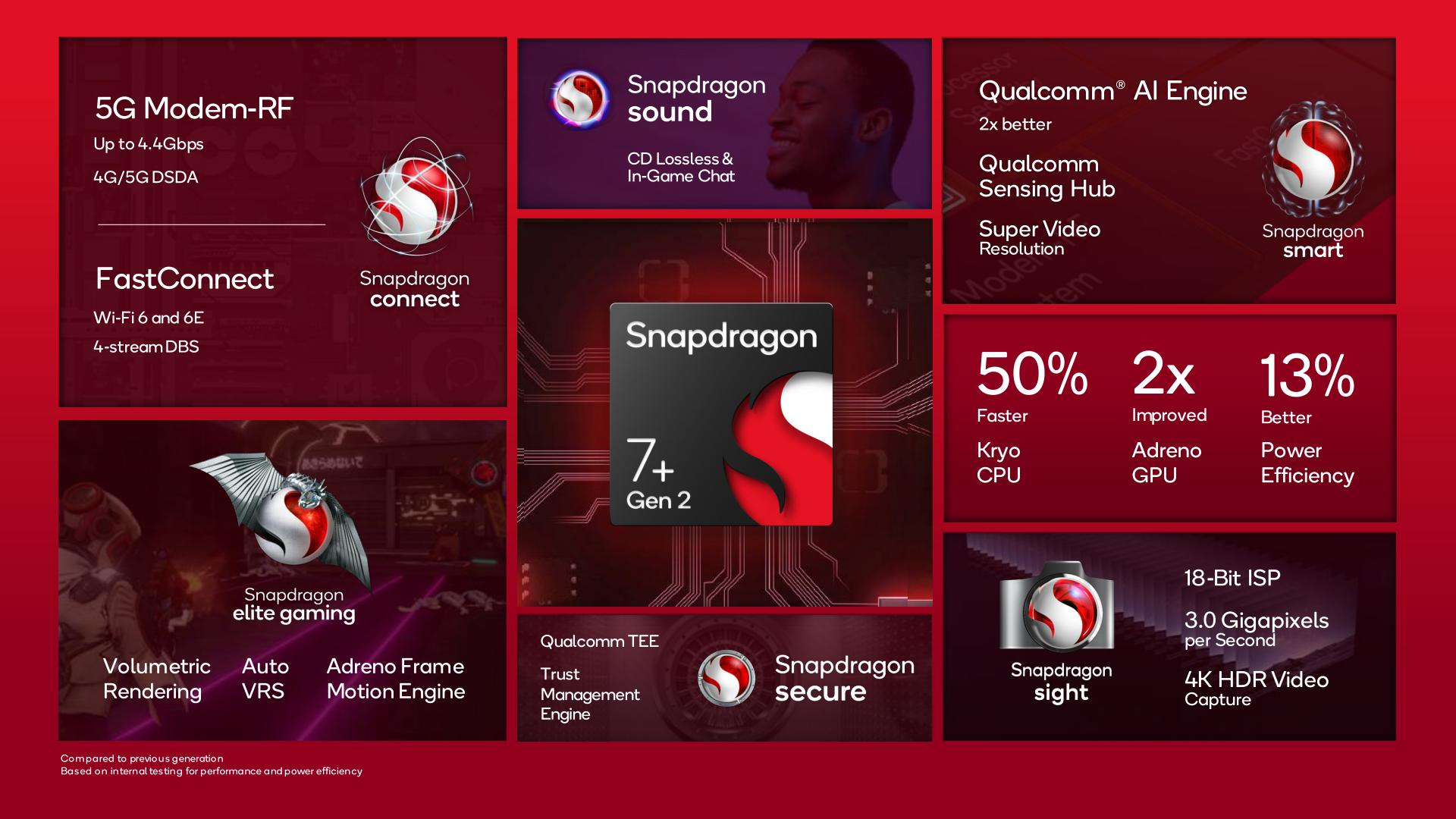 Wrapping things up, the Snapdragon 7+ Gen 2 will be coming to market very quickly. According to Qualcomm, handsets using the SoC will be available later this month, with Redmi and Realme among the OEMs slated to release phones based around the new chip.
Source: Qualcomm